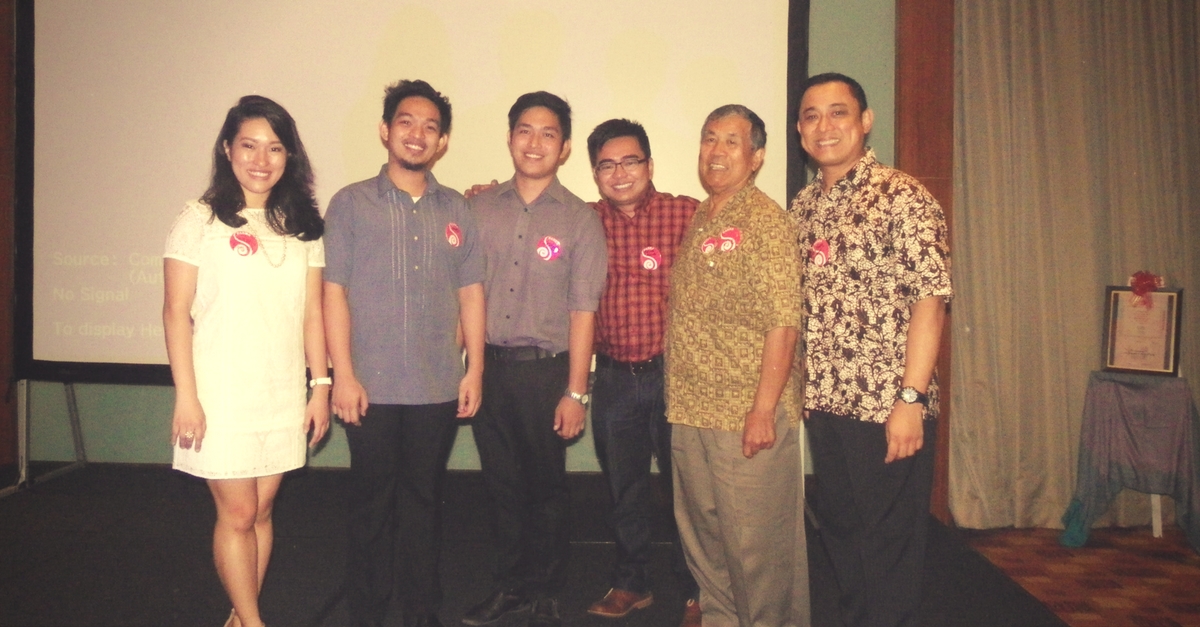 Professor Santamaria (right) with fellow participants (L to R: Regina Angelica Bautista, York University; Amiel Kim Quan Capitan, PWU, Philippines; Jose R. Taton Jr., PWU, Philippines; 
Patrick Alcedo, York University, Canada; 
Ricardo D. Trimillos, University of Hawaii at Manoa). Photo by Brian Viray.
---
Professor MCM Santamaria of the UP Asian Center presented a paper, "Language Convergence and Identity in Performance: Exploring Intercultural Encounter in the Sama-Bajau Sangbaian Pangigalan Tribute Songs" at the 4th Symposium of the International Council of Traditional Music Study Group on Performing Arts of Southeast Asia (ICTM-PASEA) recently held from 30 July to 8 August 2016 in Penang, Malaysia.
His paper attempts "to interrogate the sangbaian pangigalan as a rich source of knowledge about the diverse culture of the Sama-Bajau. It presented a review of the evolution of the sangbaian pangigalan from its earliest form as a chant preceding a dance performance to its latest form that combine song and dance presented in various festivities. Using the Kemp Pallesen's notion of language convergence, it analyzed the contents of the lyrics of four contemporary sangbaianpangigalan songs as produced in commercial VCD/DVD form. It presented the view of the sangbaian pangigalan as a linguistic register for the igal dance in its contemporary form. Looking at the sangbaian pangigalan as a register, it has analyzed language convergence in the use of dance labels and aesthetic concepts as well as linguistic devices and processes such as the use of loan words, code switching and outright appropriation from foreign textual sources."   
Professor MCM Santamaria has a Doctor of Law in Political Science from Kyoto University, Japan. His research interests include Performance Studies, Politics, Japan and Southeast Asia, and Sama-Bajau studies. He teaches several graduate courses at the UP Asian Center that cover Japanese Culture and Society, Philippine Artistic Expressions, Southeast Asian Culture and Society, and Theater and Society in East Asia, among others. View his faculty profile.
The International Council for Traditional Music (ICTM) is an academic institution dedicated to the study of artistic expression in the form of dance and music globally. It is also in formal consultative relations with the UNESCO. The ICTM has over 20 study groups specialized in various types of music from numerous regions and countries.
As a study group of the ICTM, the Performing Arts of Southeast Asia (ICTM-PASEA)  was officially established in 2009 in Malaysia to bridge a gap of communication and interaction among scholars of Southeast Asian music and dance. To promote its mission, the study group convenes a symposium every two years in a different country in Southeast Asia and presents academics in this field with an opportunity to engage with like-minded scholars.
---
The UP Asian Center offers M.A. programs in Asian Studies with four fields of specialization: Northeast Asia, Southeast Asia, South Asia, and West Asia. The Center also has an M.A. program in Philippine Studies that allows students to major in Philippine society and culture, Philippine foreign relations, or Philippine development studies. The Center offers a Ph.D. program in Philippine Studies in conjunction with the College of Arts and Letters and the College of Social Sciences and Philosophy. Get an overview of these programs. The Asian Center also houses a peer-reviewed, open-access journal, Asian Studies: Journal of Critical Perspectives on Asia. It has published several books and monographs, and hosts or organizes various lectures and conferences.