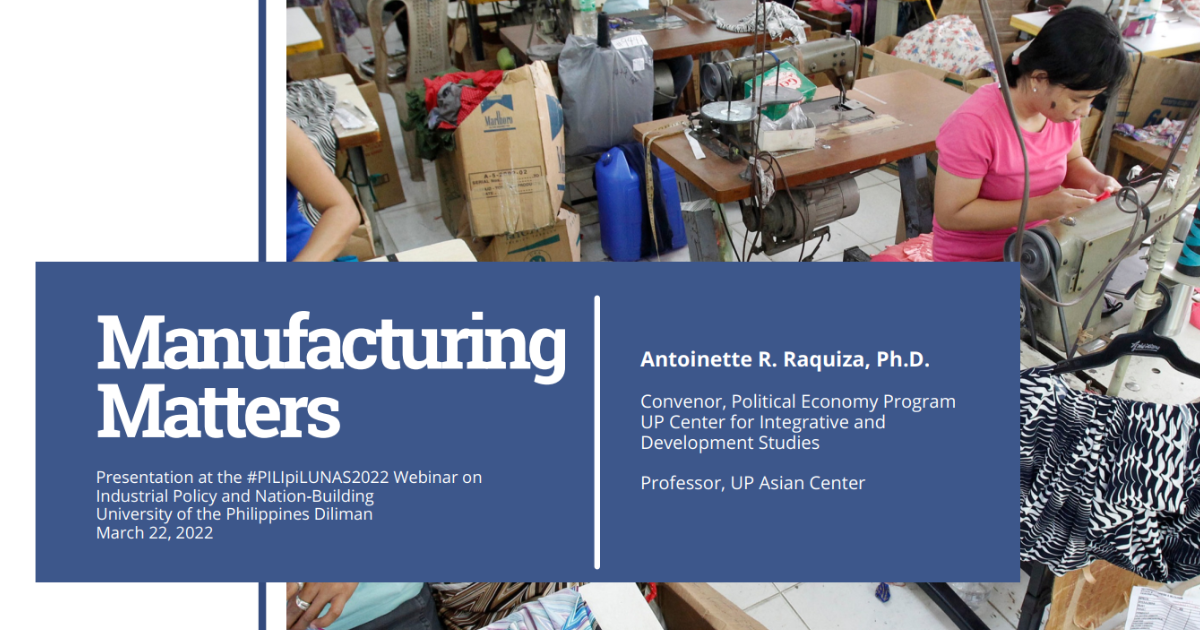 Professor Antoinette Raquiza of the UP Asian Center discussed the importance of manufacturing in development at a webinar, "Industrial Policy and Nation-Building" held on 22 March 2022 via Zoom.
Manufacturing Matters
In her presentation, "Manufacturing Matters," Dr. Raquiza discussed the relation of the Philippines' industrial policy to global trends, and the country's role in the global consumer market.
Dr. Raquiza argues that the Philippine experience is unique in the Southeast Asia because unlike other countries that grew their economies through industrializing, it did so through trade in services. The Philippine growth has largely been fueled by the overseas Filipino workers' remittances that, in 2019, role to more than US$33.5 billion. This revenue stream, in turn, has fueled household consumption that contributed more than 73% to the country's GDP. According to Dr. Raquiza, the impact of this revenue stream on the domestic economy may be gleaned from the dramatic expansion of services industries that cater to remittance-receiving households, at the expense of manufacturing. Dr. Raquiza suggested that this development pattern partly accounts for why the country has the lowest labor productivity and smallest merchandise trade sector when compared to the other Southeast Asian liberal economies (notably, Indonesia, Thailand, and Malaysia). The country's rapid growth has also failed to improve income inequality.
In this light, Dr. Raquiza called on government to leverage the country's growing domestic market to grow Philippine manufacturing. Citing a 2015 survey of business establishments done by the Philippine Statistics Authority (2018), she said that manufacturing firms, while making up only 11% of firms, employed one of five workers, paid almost 22% of total compensation, accounted for 31% of the country's total earnings, and was biggest contributor to the total value added at almost 26%. These figures as well the experiences of other ASEAN liberal economies, she argued that 1) even in the Philippine context of high growth, manufacturing matters if we are to achieve sustainable and inclusive development; and 2) the growth of domestic manufacturing will require no less than a high-capacity yet pragmatic developmental state.
Policy Recommendations
Dr. Raquiza specified seven (7) policy recommendations that would make Philippine manufacturing come into its own: promote knowledge-based innovation-driven development; raise public investment in research and development; mobilize revenues from the trade in services toward funding manufacturing; improve tax administration and adopt a sectoral approach to tax reforms; incentivize small and medium enterprises that produce intermediate goods; recall retail trade liberalization; and explore different institutional arrangements in the public service delivery to promote national interest.
Dr. Raquiza emphasized during the Q&A the importance of support from the government and linkages between the university and industry toward developing competitive domestic industries. According to her, in other countries, it is the government that provides the opportunities for joint collaborations in manufacturing: between universities and industries, between foreign and domestic investors, and between the micro, small, and medium enterprises and big companies.
---
Task Force on a Blueprint for Building the Nation, UP Diliman
The webinar is organized by the Task Force on a Blueprint for Building the Nation under the Office of the Chancellor, University of the Philippines Diliman, which is chaired by Dr. Antoinette Raquiza. View her full profile.
---
Development Studies @ UP Asian Center
The convenor of the Political Economy Program of the UP Center for Integrative and Development Studies, Dr. Raquiza is the author of State Structure, Policy Formation and Economic Development in Southeast Asia: The Political Economy of Thailand and the Philippines (Routledge 2012) and the book chapter, "Philippine Services Sector: Domestic Policy and Global Markets," which appeared in Southeast Asia Beyond Crises and Traps: Economic Growth and Upgrading (Palgrave Macmillan 2017).
Dr. Raquiza teaches political economy, late development, and Southeast Asian Studies courses at the UP Asian Center, which offers development studies as an area of specialization under the MA Philippine Studies Program. This semester, Professor Raquiza is teaching Nationalism and National Development (Asian Studies [AS] 203). View program offerings @ UP Asian Center.
---
The Asian Center, University of the Philippines Diliman offers M.A. degrees in Asian Studies with four fields of specialization: Northeast Asia, Southeast Asia, South Asia, and West Asia. The UP Asian Center also has an M.A. program in Philippine Studies that allows students to major in Philippine society and culture, Philippine foreign relations, or Philippine development studies. It also offers a Ph.D. program in Philippine Studies in conjunction with the College of Arts and Letters and the College of Social Sciences and Philosophy. For an overview of these graduate programs, click here. As an area studies institution, the Asian Center also publishes Asian Studies: Journal of Critical Perspectives on Asia, the latest issue of which can be downloaded at the journal's website.