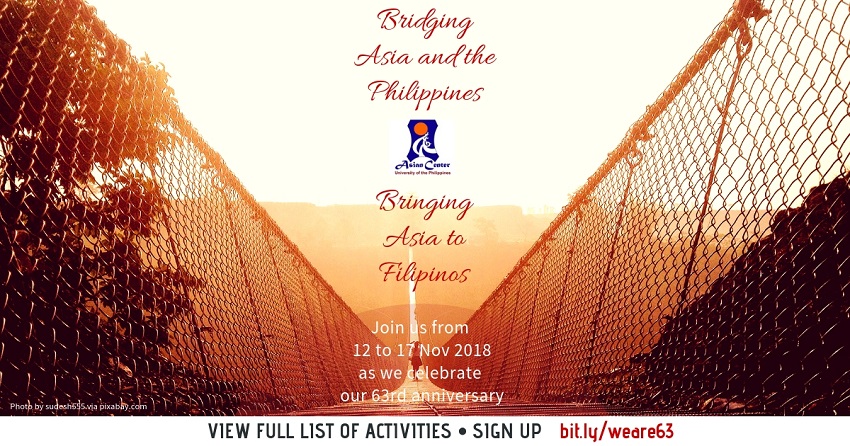 The UP Asian Center is celebrating its 63rd anniversary with the theme, "Bridging Asia and the Philippines, Bringing Asia to Filipinos," through week-long activities from 12 to 17 November 2018 at the UP Asian Center, Quezon City. Each day of the celebration highlights a specific region/aspect of Asia. Guests are invited to lectures, food demonstrations and other activities to learn about and appreciate the Asian regions. All events are free and open to the public. Walk-ins are welcome, but interested participants are encouraged to sign up.
(12–17 NOVEMBER): MAUZEK: ASIAN SOCIETY THROUGH EVERYDAY OBJECTS
Mauzek is an exhibit that offers a glimpse of Asian society told through everyday objects from different Asian countries. The Exhibit ends on 17 November 2018 at 12:30 pm
12 NOVEMBER | OPENING OF MAUZEK
8:30 AM – 8:40 AM: Opening Remarks by Dean Joefe Santarita, Asian Center
8:40 AM – 9:00 AM: A Brief History of the UP Asian Center
9:00 AM – 9:30 AM: "Philippine Studies in the Pacific" | A Lecture by Gary Domingo, Philippine Ambassador to New Zealand
9:30 AM – 10:00 AM: Opening of "Mauzek Exhibit: Asian Society through Everyday Objects"
3:00 PM – 4:00 PM: "Why Study Asia? Liberal Democracy and the Moral Dimension of Asian Studies" A Lecture by Janus Nolasco
4:00 PM – 5:00 PM: "The Semiotics of Fashion in Asia" A Lecture by Gilbert Que
---
13 NOVEMBER: THE PHILIPPINES AND EAST ASIA: STRENGTHENING TIES | A FORUM
9:00 AM–10:30 AM: Philippines-China Exchanges and Developments | A Talk by Herman Tiu Laurel
11:00 AM–12:30 PM: KOICA's Strong Partnership with the Philippines | A Talk by Ms. Maria Regina Arquiza, KOICA
1:30 PM – 3:00 PM: Infrastructure Projects in Metro Manila and Training Programs of the Japan International Cooperation Agency (JICA) | A Talk by Mr. Patrick San Juan, JICA
3:00 PM – 4:00 PM: Mini-Lectures on Mauzek Exhibit Items
---
14 NOVEMBER: PINOY LIFE: THE LIGHTER SIDE OF THINGS
3:00 pm–5:00 pm

"Pinoy Life: The Lighter Side of Things" | Exhibit
"Selling the Exotic Ethnic: On the Practice of Visual Merchandizing in Filipiniana Stores and Display" | A Lecture by Corinne Romabiles, Assistant Professor, Mapua University
---
15 NOVEMBER | A TASTE OF ASIA: A MINI FOOD FESTIVAL
3:00 PM – 4:00 PM: Mini-Lectures on Mauzek Exhibit Items
3:00 PM – 5:00 PM

East Asian Cuisine
Vietnamese Spring Rolls
Indian cuisine (c/o Royal Indian Curry House)
Rendang (Indonesian cuisine)
---
16 NOVEMBER | SIGHTS, SOUNDS, STROKES: THE MUSIC, FOOD, AND CALLIGRAPHY OF PERSIA
2:00 PM – 5:00 PM

Musical performance (Traditional Iranian music)
Persian calligraphy demonstration
Photo exhibit
Traditional Persian food
---
17 NOVEMBER | CLOSING CEREMONY (CANCELLED)
3:00 PM – 5:00 PM

Pep Talks by UP Asian Center Alumni (Cancelled)
Quiz Show (Cancelled)
Closing Program (Cancelled)
INQUIRIES
For queries, please send an email to This email address is being protected from spambots. You need JavaScript enabled to view it.
SCHEDULE CHANGES
Schedules may change without the website being updated. Please register to the event you are planning to attend to ensure you receive any scheduling changes, or kindly check this page from time to time.
---
The Asian Center offers M.A. degrees in Asian Studies with four fields of specialization: Northeast Asia, Southeast Asia, South Asia, and West Asia. The Center also has an M.A. program in Philippine Studies that allows students to major in Philippine society and culture, Philippine foreign relations, or Philippine development studies. The Center offers a Ph.D. program in Philippine Studies in conjunction with the College of Arts and Letters and the College of Social Sciences and Philosophy. For an overview of these graduate programs, click here. The Asian Center also publishes Asian Studies: Journal of Critical Perspectives on Asia, the latest issue of which can be downloaded at the journal's website. For other news and upcoming events at the Asian Center, click here.