In celebration of its 61st anniversary this November, the UP Asian Center will be holding several events throughout the month: a multidisciplinary conference on disasters; a symposium on empire and nationalism in Asia; a policy forum on investments in the Philippines; a forum on Russia-ASEAN relations; and a photo exhibit on rice in Asia and the Philippines. The public is welcome to attend all events free of charge.
Noah's Pudding Day: A Taste of Turkish Tradition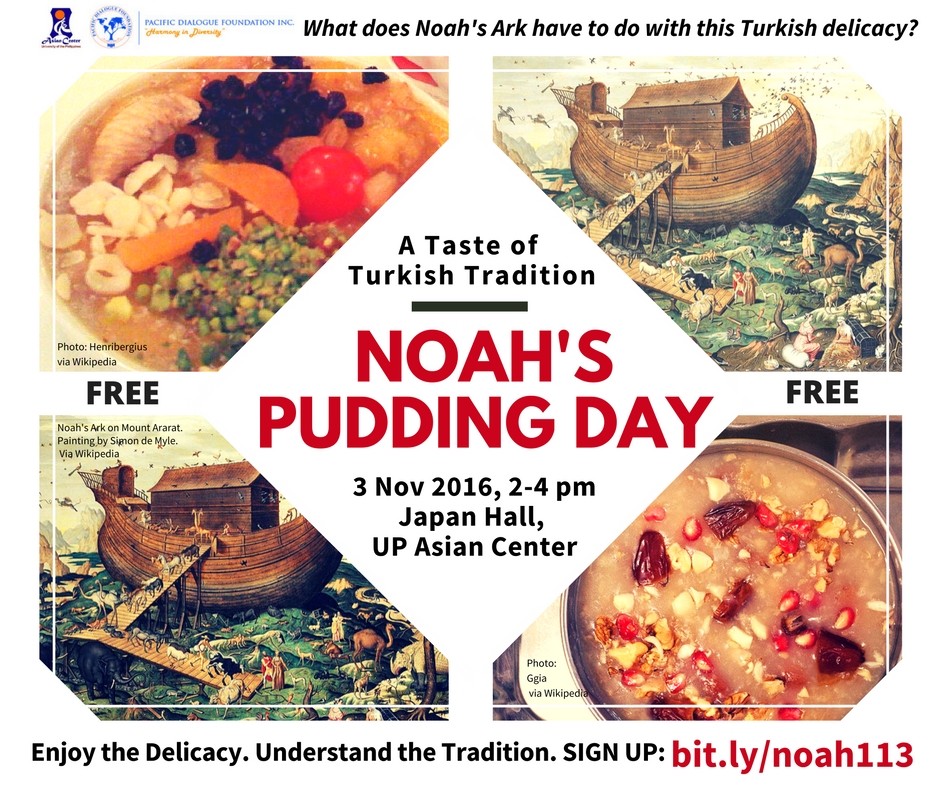 Participants will enjoy free servings of Noah's Pudding, a traditional Turkish dessert consisting of grain, dried fruits, and nuts. In addition, a representative from the Pacific Dialogue Foundation will discuss the historical, religious, social, and cultural significance of Noah's Pudding Day, a cultural event celebrated every October in Turkey. The event aims to promote understanding and appreciation of a cultural tradition of a West Asian country.
3 November 2016, 2 pm–4 pm, Japan Hall, UP Asian Center. READ MORE and SIGN UP.
Disaster and Disciplines: A UP Diliman Intercollegiate Conference
This conference features various UP Diliman-based experts who will share insights on disasters as viewed from their respective disciplines.
18 November 2016, 8 am–5 pm, UP Asian Center. READ TOPICS and SIGN UP.

Empire and Nationalism: Comparative Perspectives on Asia | A Symposium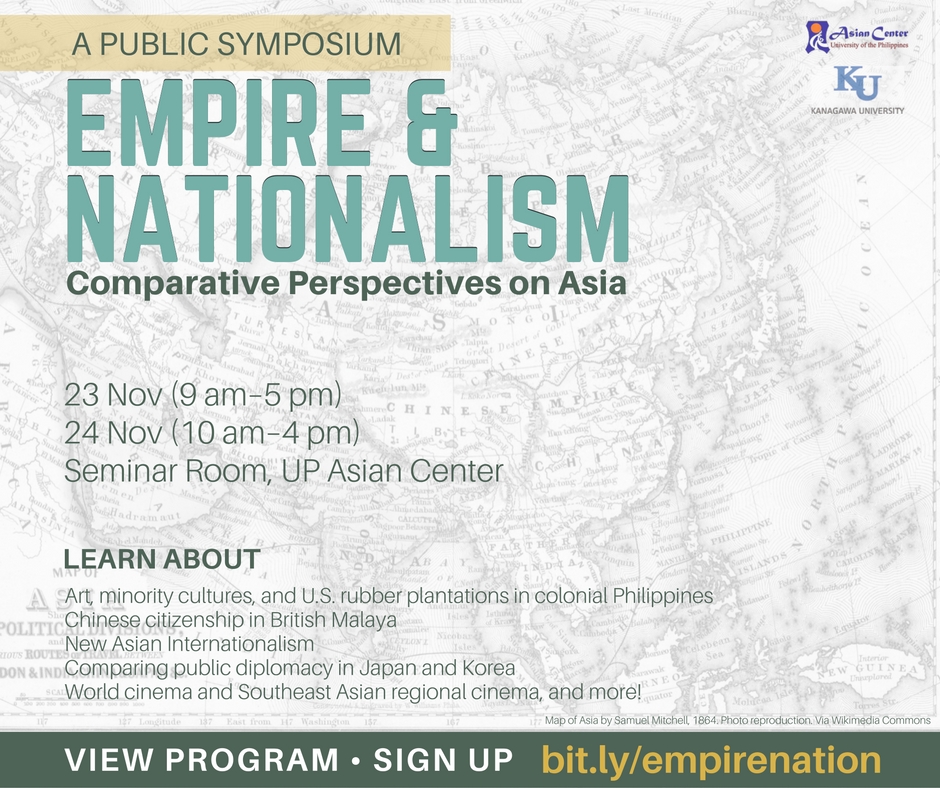 Part of the research project of Kanagawa University led by Prof. Yoshiko Nagano, this symposium, which also features speakers from UP Diliman, revisits and reflects on the crossroads of the discourse on formal/informal imperialism and official/unofficial nationalism in the context of the emergence of global history vis-a-vis various forms of national history.
23-24 November 2016; 9 am–5 pm (23 Nov); 10 am – 4 pm (24 Nov) Seminar Room, UP Asian Center. READ TOPICS and SIGN UP.
Making Investments Work: Paradigms, Patterns, Prospects | A Policy Forum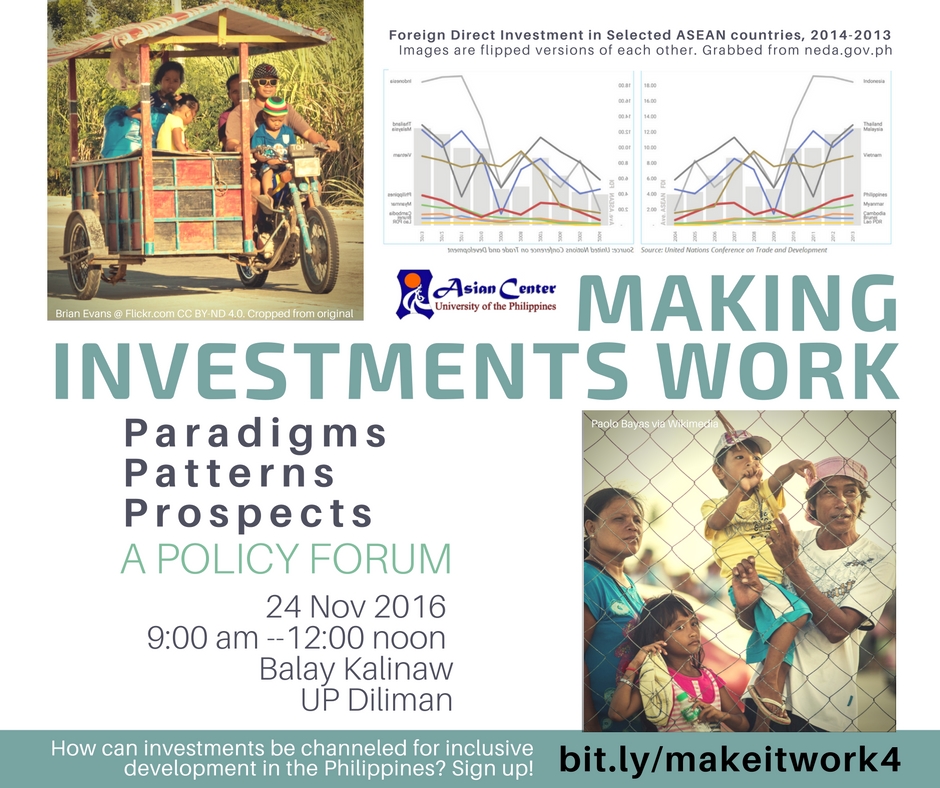 The forum aims to bring together policy experts that will discuss the challenges confronting Philippine political economy. They will discuss several issues, including, but not limited to, the following: pattern of foreign investment flows in the Philippines vis-a-vis Southeast Asia; the interaction of foreign and domestic businesses; the role of policy in directing investments towards industries in ways that can build competitive advantage for the Philippines; and the need to channel investments for inclusive and sustainable development.
24 November 2016, 9 am–12 noon, Balay Kalinaw, UP Diliman. READ MORE and SIGN UP.
Russia-ASEAN Relations: Overtures and Opportunities | A Public Forum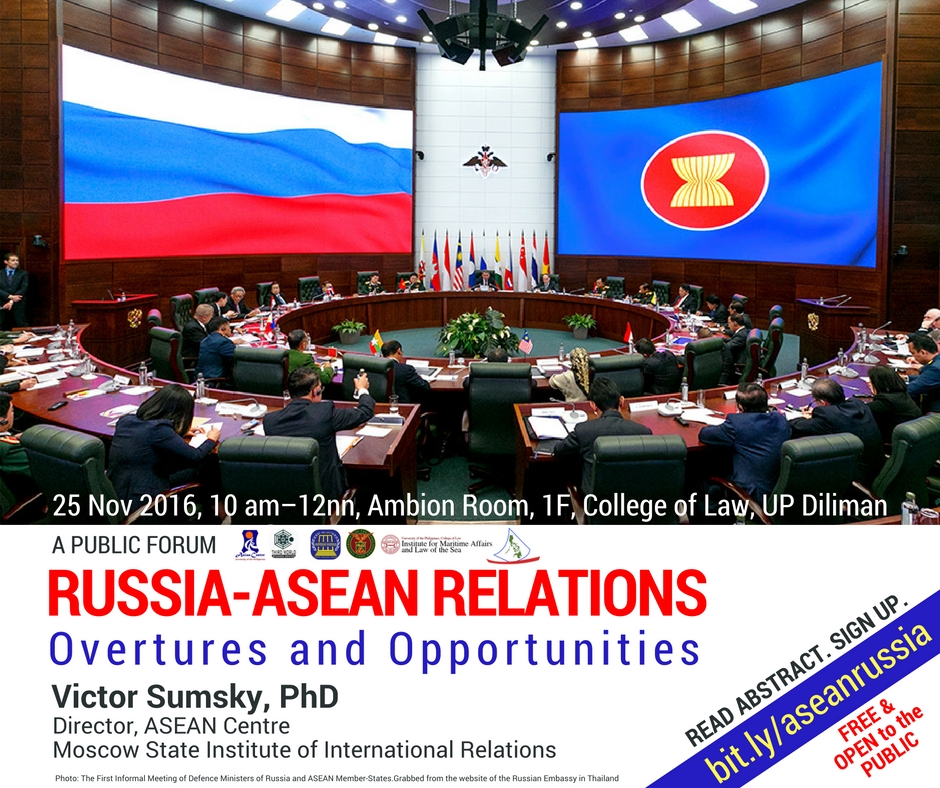 How does Russia see its role in the region's geopolitical dynamics in which the US and a rising China present distinct poles? What are Russia's economic, political and security interests in Southeast Asia and the Philippines, in particular? The public forum aims to tackle these questions, at a time when the Philippine government itself has signified its willingness to explore a strategic partnership with Russia.
25 November 2016, 10 am–12 noon, Ambion Room, College of Law, UP Diliman. READ MORE and SIGN UP.
R.I.C.E: Reaching Interconnectedness through Culture and Exchange | Photo Exhibit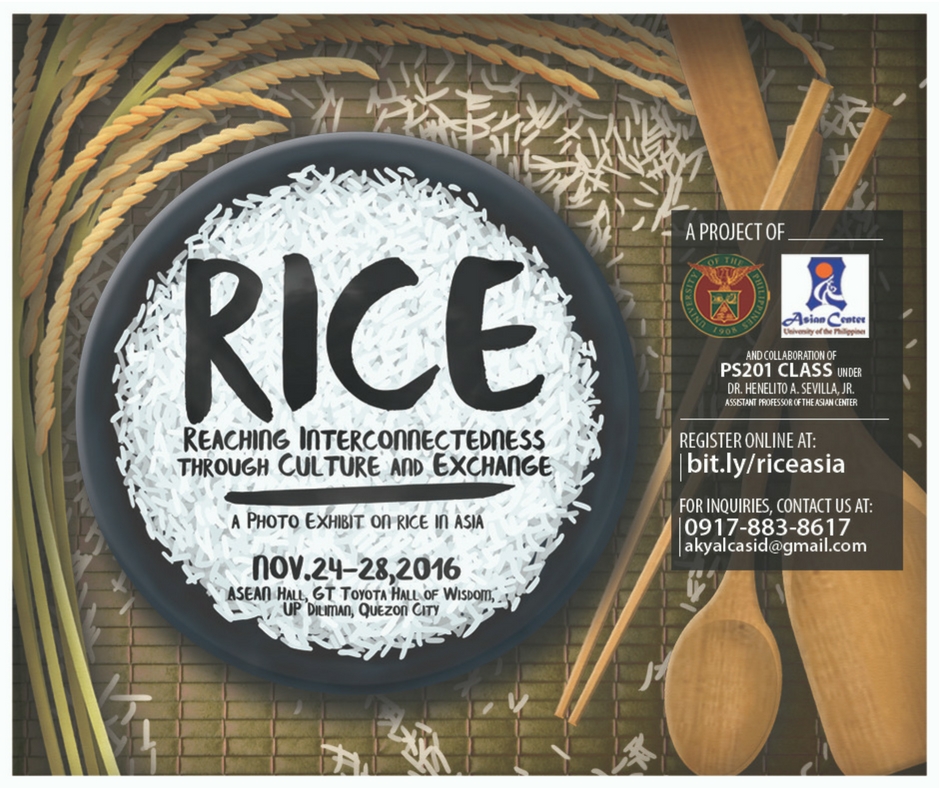 This exhibit aims to trace the impact of rice production, distribution, and consumption across various regions in Asia, and the impact of these processes on the Philippines' relations with neighboring countries. Free servings of different rice-based delicacies in Asia will also be given during the exhibit opening on 24 November, 2 pm.
24–28* November 2016, ASEAN Hall, UP Asian Center, Exhibit opens 2 pm. READ MORE and SIGN UP (*An earlier version of this press release had the exhibit from 23-25 November. Please be guided accordingly.)
Teaching Asia: A Teacher Training Seminar on Asian Studies
23–25 November 2016, UP Asian Center, Not Open to the Public. Event by Invitation Only.
---
In compliance with the instructions by President Ramon Magsaysay, the UP Asian Center was established on 27 November 1995 as the Institute of Asian Studies. The Institute became a degree-granting college of the University of the Philippines in 1968 under Republic Act 5334. The Center was absorbed in 1973 into the Philippine Center of Advanced Studies (PCAS), a government think tank which was later abolished in 1979. Read more about the history of the UP Asian Center.
For inquiries, please email the Information Office of the UP Asian Center at 981.8500 local 3586 or email: This email address is being protected from spambots. You need JavaScript enabled to view it..
---
The UP Asian Center offers M.A. programs in Asian Studies with four fields of specialization: Northeast Asia, Southeast Asia, South Asia, and West Asia. The Center also has an M.A. program in Philippine Studies that allows students to major in Philippine society and culture, Philippine foreign relations, or Philippine development studies. The Center offers a Ph.D. program in Philippine Studies in conjunction with the College of Arts and Letters and the College of Social Sciences and Philosophy. Get an overview of these programs. The Asian Center also houses a peer-reviewed, open-access journal, Asian Studies: Journal of Critical Perspectives on Asia. It has published several books and monographs, and hosts or organizes various lectures and conferences.