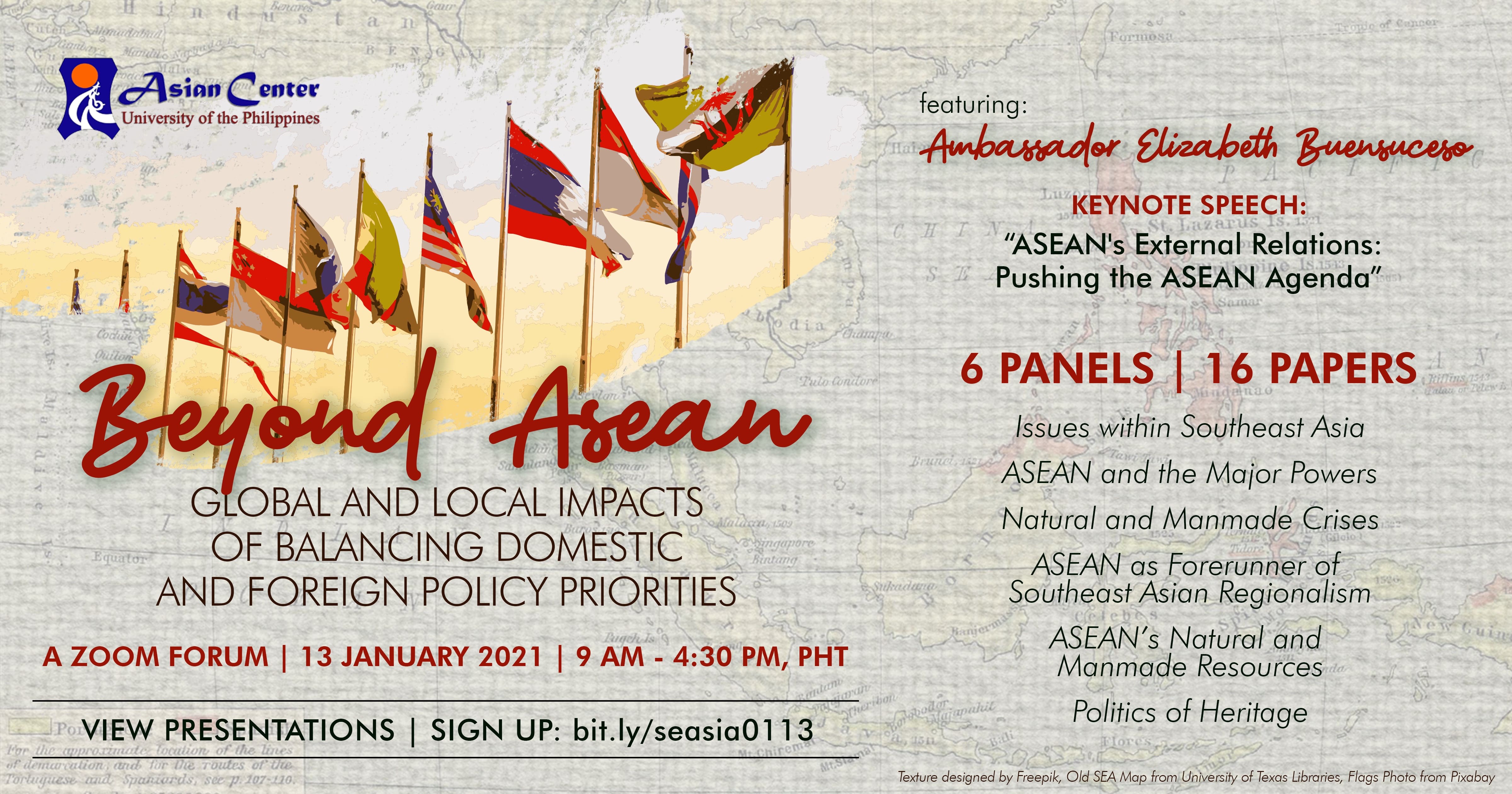 The UP Asian Center will hold a virtual research conference, "Beyond ASEAN: Global and Local Impacts of Balancing Domestic and Foreign Policy Priorities," on 13 January 2021, 9:00 am – 4:30 pm, Philippine time via Zoom. The event is free and open to the public, but interested participants are required to register using an authenticated Zoom account.
This conference will feature sixteen (16) graduate student presentations from graduate students of the UP Asian Center. It focuses on various facets of Southeast Asian states and on ASEAN affairs, from geopolitics, diplomacy, and oil and gas to COVID-19, precolonial history, and the Fourth Industrial Revolution.
KEYNOTE ADDRESS: 9:30 am

ASEAN'S EXTERNAL RELATIONS: PUSHING THE ASEAN AGENDA
Ambassador Elizabeth P. Buensuceso
The keynote will be delivered by Ambassador Elizabeth Buensuceso, Officer-in-Charge, Undersecretary for Policy of the Department of Foreign Affairs, Republic of the Philippines. She was also the former Chair of the Committee of Permanent Representatives at the ASEAN, and has served as former Ambassador to Laos and Norway, with concurrent accreditation to Denmark and Iceland. She has worked in the Philippine foreign service for 39 years.
PANEL 1: ISSUES WITHIN SOUTHEAST ASIA (10:55 am)

PANEL 2: ASEAN AND MAJOR POWERS (11:30 am)

PANEL 3: NATURAL AND MAN-MADE CRISES (12:20 pm)

PANEL 4: ASEAN AS FORERUNNER OF SOUTHEAST ASIAN REGIONALISM (1:15 pm)

PANEL 5: ASEAN'S NATURAL AND MANMADE RESOURCES (2:05 pm)

PANEL 6: POLITICS OF HERITAGE (2:40 pm)

A synthesis and short Q and A will follow the presentations for each panel.
WEBINAR GUIDELINES
Registration
When registering for the webinar, use the same email address that you use for your Zoom account.

If your registration is successful, you will receive a confirmation email containing the link to join the webinar. Please do not share that link. Email reminders will be sent a day and an hour before the start of the webinar.

Attendance is first-come, first-served. The webinar can only accommodate 500. A live stream will be generated only if attendance exceeds 500. In this case, a link to the livestream will be posted on this page.
Webinar Proper
For a smooth entry to the webinar, log in first to your Zoom account before clicking the invitation/join link.

Questions may be typed via the Q&A panel. You may choose to remain anonymous. The moderator and/or the main speaker will choose from the questions and answer them during the Open Forum. Please note that time constraints may not allow us to answer all queries.

The host(s) reserves the right to remove participants who send rude, inappropriate questions or messages.
ORGANIZERS
The event is organized by Asian Center graduate students from the classes of Dean Joefe B. Santarita, PhD for the 1st Semester, A.Y. 2020-2021.
---
The UP Asian Center offers M.A. degrees in Asian Studies with four fields of specialization: Northeast Asia, Southeast Asia, South Asia, and West Asia. The Center also has an M.A. program in Philippine Studies that allows students to major in Philippine society and culture, Philippine foreign relations, or Philippine development studies. The Center offers a Ph.D. program in Philippine Studies in conjunction with the College of Arts and Letters and the College of Social Sciences and Philosophy. For an overview of these graduate programs, click here. The Asian Center also publishes Asian Studies: Journal of Critical Perspectives on Asia, the latest issue of which can be downloaded at the journal's website. For other news and upcoming events at the Asian Center, click here.