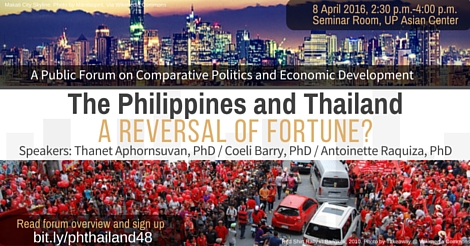 The UP Asian Center's Bugkos Research Program will host a public forum on comparative politics and economic development, "The Philippines and Thailand: A Reversal of Fortune?," on Friday, 8 April 2016, 2:30 p.m. to 4:00 p.m., Seminar Room, GT-Toyota Asian Cultural Center, Asian Center, University of the Philippines Diliman. The forum is free and open to the public; seating is first-come, first-served, but participants are encouraged to sign up to expedite the registration process on the day of the forum.
SIGN UP: ONLINE ATTENDANCE SHEET
About the Forum
Over the past decade, the Philippines and Thailand seem to have experienced a reversal of fortune. Once considered the Sick Man of Asia, the Philippines has today one of the fastest growing economies in the world. In contrast, Thailand—once heralded as East Asia's emerging fifth tiger economy—is going through what appears as a long-term economic slow-down. Much has been said about the role that politics has played in these two countries' economic trajectory. The crisis of political legitimacy in Thailand and the good governance narrative in the Philippines have figured prominently in explanations on the two countries' divergent economic performance. Nevertheless, there remains the need to identify how such political factors link up to economic development as well as interrogate the narratives of economic growth and decline from different perspectives. The public forum will examine these questions using political economy, state-society, and cultural lenses.
Three speakers will discuss the role of the Thai middle class and technocrats in political transformation and economic development; compare and contrast the nature of political and economic institutions in the Philippines and Thailand vis-a-vis the trajectories of their economies; and explore the question of recent Thai politics from cultural perspectives.
About the Speakers
---
About the Organizers
The public forum is spearheaded by the Bugkos Research Program of the Asian Center, which undertakes comparative and regional studies under the theme, "Putting Equitable Development at the Center of the Asian Century." The forum is organized in collaboration with the Department of Political Science, College of Social Sciences and Philosophy, and UP Third World Studies Center of the University of the Philippines Diliman.
---
The UP Asian Center offers M.A. degrees in Asian Studies with four fields of specialization: Northeast Asia, Southeast Asia, South Asia, and West Asia. The Center also has an M.A. program in Philippine Studies that allows students to major in Philippine society and culture, Philippine foreign relations, or Philippine development studies. The Center offers a Ph.D. program in Philippine Studies in conjunction with the College of Arts and Letters and the College of Social Sciences and Philosophy. Get an overview of these programs. The Asian Center also houses a peer-reviewed, open-access journal, Asian Studies: Journal of Critical Perspectives on Asia. It has published several books and monographs, and hosts or organizes various lectures and conferences.