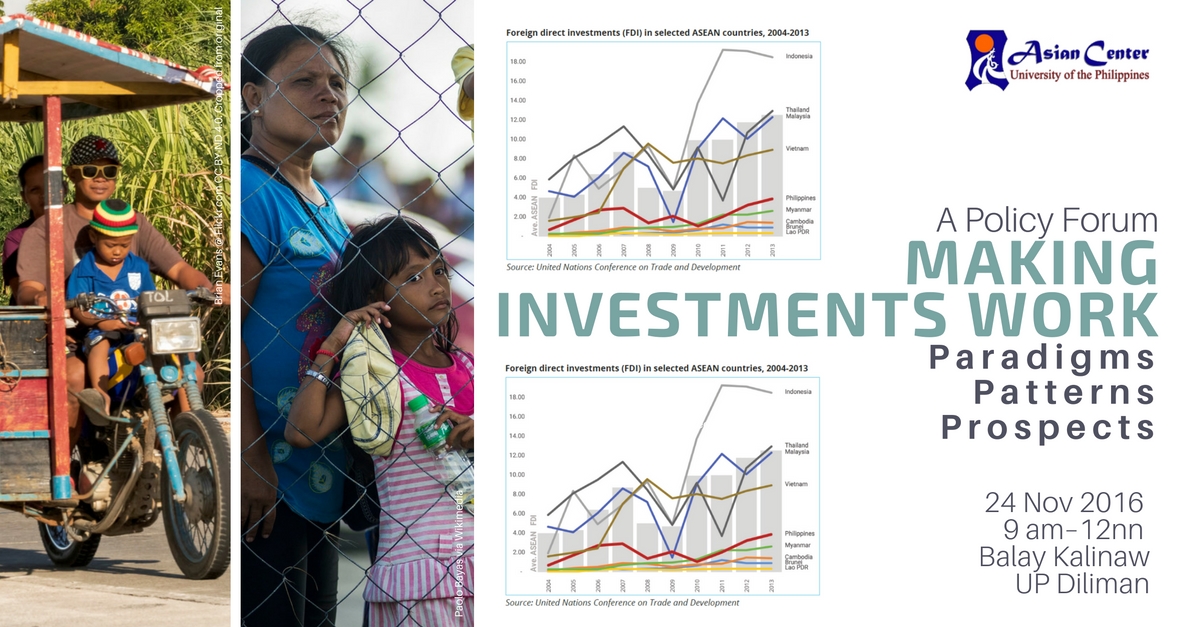 The UP Asian Center, through its Bugkos Institutional Research Program, will hold a policy forum on investments in the Philippines, "Making Investments Work: Paradigms, Patterns, Prospects," on Thursday, 24 November 2016, 9 am to 12 noon, Balay Kalinaw, University of the Philippines Diliman. The forum is free and open to the public, and seating is first-come, first-served, but participants are encouraged to register online in order to expedite the registration process on the day of the forum.
SIGN UP: ONLINE REGISTRATION SHEET
THE FORUM: OVERVIEW
The forum aims to bring together policy experts that will discuss the challenges confronting Philippine political economy. They will discuss several issues, including, but not limited to, the following:
What is the pattern of foreign investment flows in the Philippines and how does this compare with that of other Southeast Asian emerging economies?

What is the role of policy in directing investments toward industries in which the country needs to build competitive advantage?

What are the kinds of investments needed in the Philippines that will contribute toward the attainment of inclusive and sustainable development?
---
POLICY EXPERTS
The policy experts represent the private and public sectors and come from the fields of development economics, trade and industrial policy, and aid and finance.
Dr. Manuel Montes, Senior Advisor on Finance and Development, South Centre, Geneva

Dr. Josef Yap, Professorial Lecturer, University of the Philippines School of Economics and former President of the Philippine Institute for Development Studies

Dr. Luis Dumlao, Dean of the John Gokongwei School of Management, Ateneo de Manila University
Reactors from government
Elmer San Pascual, Director, Philippine Economic Zone Authority

Nestor Arcansalin, Director, Board of Investments
---
INQUIRIES
For inquiries about the policy forum, please contact the Bugkos Research Team at 981.8500 local 3579/3586 or email the Information Office of the UP Asian Center: This email address is being protected from spambots. You need JavaScript enabled to view it..
---
The UP Asian Center offers M.A. programs in Asian Studies with four fields of specialization: Northeast Asia, Southeast Asia, South Asia, and West Asia. The Center also has an M.A. program in Philippine Studies that allows students to major in Philippine society and culture, Philippine foreign relations, or Philippine development studies. The Center offers a Ph.D. program in Philippine Studies in conjunction with the College of Arts and Letters and the College of Social Sciences and Philosophy. Get an overview of these programs. The Asian Center also houses a peer-reviewed, open-access journal, Asian Studies: Journal of Critical Perspectives on Asia. It has published several books and monographs, and hosts or organizes various lectures and conferences.