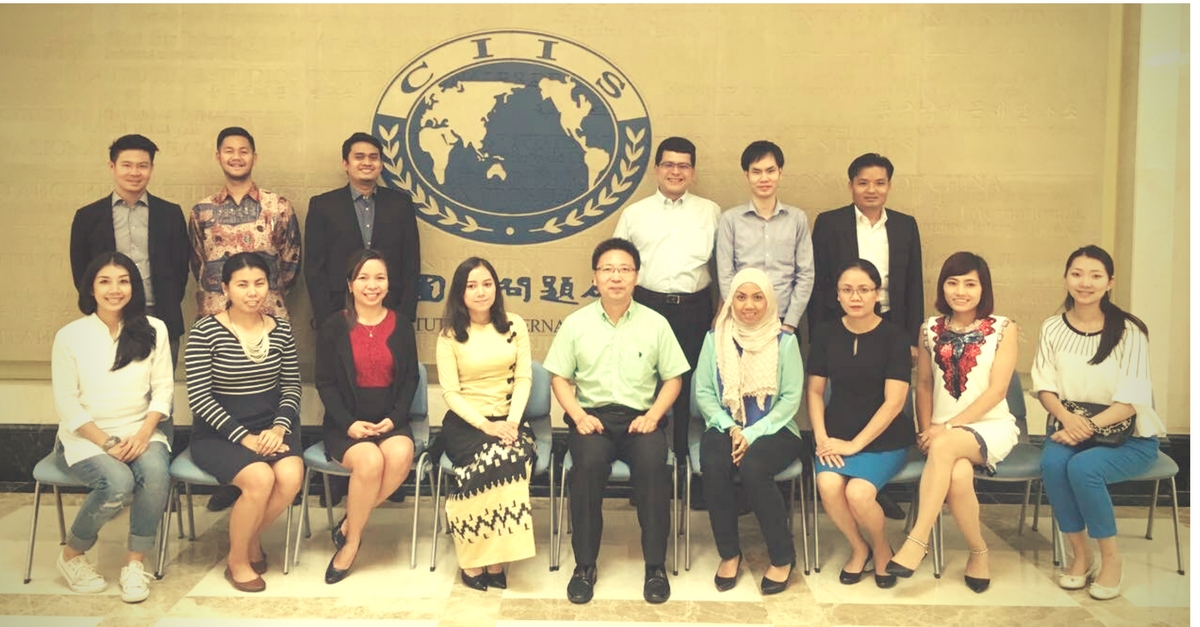 Delegation from Asian Center and ASEAN-based think tanks taking part in the Young ASEAN Scholars Program. Photo provided by Ms. Ivy Ganadillo (Seated 3rd from left). Ms. So is seated second from left. 
---
 A student and an alumna of the UP Asian Center, Ms. Ivy Ganadillo and Ms. Karen So respectively, joined a group of young scholars from ASEAN think tanks for the Young ASEAN Scholars Program for the One Belt, One Road Initiative, which was held from 15 to 22 August 2016 in the People's Republic of China.
Organized by the Ministry of Foreign Affairs of the People's Republic of China,  the Young ASEAN Scholars Program included trips to Beijing, Guilin, Nanning and Guangzhou to discuss the Belt and Road Initiative between China and ASEAN Countries, and featured a number of lectures by the China Institute of International Studies, visits to cultural and historical places, and participation at the ASEAN-China Day Fair at the China-ASEAN Centre in Beijing. The event is part of the celebration for the 25th anniversary of China-ASEAN Dialogue Relations. It invited ASEAN embassies to participate in a day of cultural exchange through cultural performances and exhibits.
Along with the other ASEAN delegates, Ms. Ganadillo and Ms. So, who is now teaching at De La Salle University, took part in meetings with:
Head of Department of Asian Affairs at the Ministry of Foreign Affairs in Beijing
Young diplomats of the Department of Asian Affairs

Head of Foreign Affairs Office of Guilin

Head of the Foreign Affairs Office of Guangxi

Head of the Foreign Affairs Office of Guangdong Province

China ASEAN Research Institute of Guangxi University

School of International Studies of Jinan University
Presentations during these meetings included:
Southeast Asia and the Maritime Silk Road in 21st Century

The Belt and Road and the Capacity Cooperation in the 13th Five-Year Plan

Practical cooperation between China ASEAN under frame of The Belt and Road

The 13th Five-year Plan of China
Ms. Ganadillo is majoring in China Studies, while Ms. So specialized in Southeast Asian Studies. Learn more about the Asian Center's graduate programs. 
---
The UP Asian Center offers M.A. programs in Asian Studies with four fields of specialization: Northeast Asia, Southeast Asia, South Asia, and West Asia. The Center also has an M.A. program in Philippine Studies that allows students to major in Philippine society and culture, Philippine foreign relations, or Philippine development studies. The Center offers a Ph.D. program in Philippine Studies in conjunction with the College of Arts and Letters and the College of Social Sciences and Philosophy. Get an overview of these programs. The Asian Center also houses a peer-reviewed, open-access journal, Asian Studies: Journal of Critical Perspectives on Asia. It has published several books and monographs, and hosts or organizes various lectures and conferences.