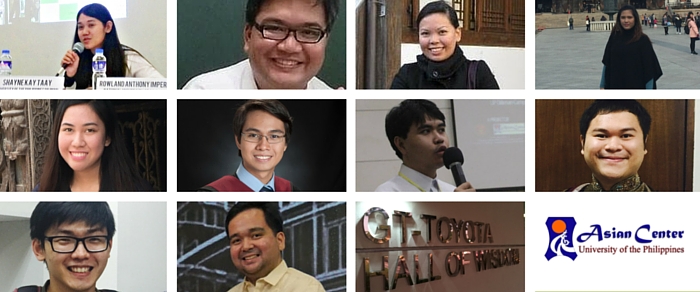 Asian Center graduate students awarded at the 2016 Parangal sa Mag-aaral (L-R): Shayne Taay, Angelo Arriola, Emme Suelto, Jhoanna De Leon, Ven Inting, Paulo Villar, Virgilio Gener, Gilbert Que, Wayne Uyseco, and Yvan Yonaha. Not in photo: Clarissa Camaya, Jeremiah Adriano, Brenson Andres, and Gabriel Honrada. 
---
Twelve UP Asian Center graduate students were recognized for their academic performance at a ceremony, the 2016 Parangal sa Mag-aaral, held last 18 May 2016 at the University Theater, University of the Philippines Diliman. Below are the students who received awards as University Scholars either for the second semester, A.Y. 2014-2015 and the first semester, A.Y. 2015-2016. University Scholars are students whose General Weighted Average (GWA) within a semester is 1.45 or higher:
Jeremiah S. Adriano

Brenson Y. Andres

Angelo Christianne D.M. Arriola

Clarissa M. Camaya

Jhoanna Andrea E. De Leon

Virgilio Angelo G. Gener

Gabriel Joel P. Honrada

Ven Carmen D'Marie V. Inting

Shayne Kay L. Taay

Wayne Winter J. Uyseco

Paulo Benedicto C. Villar

Yvan Ysmael T. Yonaha
At the same time, Gilbert Que received the Student Achiever award for winning 1st Place in a photography contest organized by the Indian Embassy in the Philippines last 26 January 2015. The Student Achiever award is granted to students who have received national and international awards, as well as recent alumni who topped professional licensure examinations. Mr. Que is a recent graduate of the UP Asian Center; he majored in South Asian Studies, finishing a master's thesis on the role of Bollywood in the identity-formation of second-generation South Asian migrants to the Philippines. 
---
The UP Asian Center offers M.A. degrees in Asian Studies with four fields of specialization: Northeast Asia, Southeast Asia, South Asia, and West Asia. The Center also has an M.A. program in Philippine Studies that allows students to major in Philippine society and culture, Philippine foreign relations, or Philippine development studies. The Center offers a Ph.D. program in Philippine Studies in conjunction with the College of Arts and Letters and the College of Social Sciences and Philosophy. Get an overview of these programs. The Asian Center also houses a peer-reviewed, open-access journal, Asian Studies: Journal of Critical Perspectives on Asia. It has published several books and monographs, and hosts or organizes various lectures and conferences.