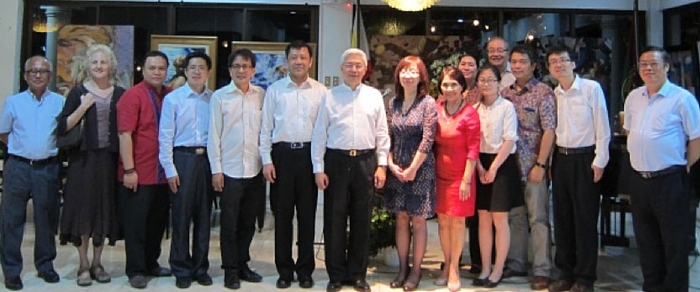 Photo: CICIR delegates together with UP Asian Center Dean Joefe Santarita, UP Diliman Chancellor Michael Tan, UP President Alfredo Pascual, Professors Aileen Baviera, Chito Santa Romana, and Jay Batongbacal. Courtesy of Asia Pacific Pathways to Progress Foundation, Inc. (APPFI).
---
Last April 14-17 2016, Asia Pacific Pathways to Progress Foundation, Inc. supported the University of the Philippines Asian Center in hosting a delegation from the China Institutes for Contemporary International Relations (CICIR) – one of China's most infuential think tanks in the field of Chinese foreign relations. The party was led by Professor Ji Zhiye, President of CICIR, and included four  other analysts – Professors Li Li, Song Qingrun, Zhang Xuegang and Nie Huihui – all focusing on Southeast Asia and Oceania Studies. The goal of the delegation was to build deeper understanding of the Philippines and to foster cooperation through academic exchanges involving  the two institutions.
UP President Alfredo E. Pascual welcomed the delegates by hosting a dinner at the Executive House of the university.  The dinner was also attended by professors and lecturers of the university including UP Diliman Chancellor Michael Tan, Asian Center Dean Joefe Santarita, Chinese Director of the Confucius Institute-UP Diliman Dr. Jimmy Jianping Wu, UP – Center for Integrative and Development Studies Director, Dr. Edna Estifania A. Co, Dean of UP School of Economics Dr. Orville Jose. C. Solon, Institute for Maritime Affairs and Law of the Sea Director and College of Law Professor Atty. Jay Batongbacal, UP School of Economics Professorial Lecturer Dr. Calla Wiemer, and Asian Center Professors Dr. Aileen Baviera, Dr. Tina Clemente and Mr. Chito Sta Romana.
One of the important activities during the visit was a roundtable discussion where among the topics tackled were major power relations, current issues in Asia Pacific security, Philippines-China bilateral relations and maritime disputes.  The lead discussants for major power relations and Asia Pacific security issues were Prof. Ji Zhiye and Dr. Aileen Baviera, while Prof. Zhang Xuegang and Prof. Chito Sta. Romana gave remarks on  Philippines-China bilateral relations.
The delegates paid a courtesy call on Senate President  Franklin M. Drilon. During their meeting, Senator Drilon spoke  about the significance of people-to-people relationship and improving  contacts among the citizens of China and the Philippines. The meeting highlighted the importance of  a peaceful resolution of the South China Sea disputes,  finding ways to cooperate and to not let the issue hurt overall relations.
To better understand the situation of the Philippines' economic development, the delegates met with representatives from the Philippine Ports Authority and had a brief tour of Manila's North Harbor, as well as of Hermosa Ecopark Industrial Zone in Bataan. They were briefed about the operations of the two organizations and Philippine policies and practices regarding  foreign investments in the Philippines.
Following the activities arranged by the UP, APPFI took the delegates to Bataan for a quick sightseeing tour and a glimpse into  rich Filipino history and culture. They visited  Mt. Samat Shrine and World War 2 Museum, St. Joseph Cathedral and Las Casas Filipinas de Acuzar.
The visit gives prominence to the desire  for a peaceful resolution of the South China Sea disputes and a better relationship and cooperation not only between  the governments but also among the peoples of the Philippines and China. APPFI supports exchanges like these that promote regional and international discourses on peace, development and cultural understanding.
This post is officially published in the APPFI website as "APPFI and UP Asian Center Cooperate on Hosting Top China Think Tank Delegation".
---
The UP Asian Center offers M.A. degrees in Asian Studies with four fields of specialization: Northeast Asia, Southeast Asia, South Asia, and West Asia. The Center also has an M.A. program in Philippine Studies that allows students to major in Philippine society and culture, Philippine foreign relations, or Philippine development studies. The Center offers a Ph.D. program in Philippine Studies in conjunction with the College of Arts and Letters and the College of Social Sciences and Philosophy. Get an overview of these programs. The Asian Center also houses a peer-reviewed, open-access journal, Asian Studies: Journal of Critical Perspectives on Asia. It has published several books and monographs, and hosts or organizes various lectures and conferences.