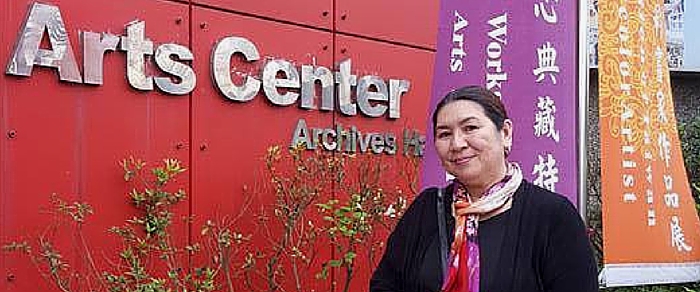 Photo: Professor Baviera in Ming Chuan University, courtesy of Professor Baviera 

---
Professor Aileen Baviera of the UP Asian Center was invited to deliver two lectures on Philippines-China relations at Ming Chuan University from 21 to 24 March 2016 in Taipei, Taiwan.
Both lectures looked at Philippines-China relations. The first lecture was delivered to a masters class in Cross-Straits Relations, where students were mid-level government officials from various security and law-enforcement agencies. Dr. Baviera then gave another talk on Philippines-China Relations to an undergraduate class. 
Professor Baviera's visit was organized by Dr. Wu Hsin-Hsing, Dean of Social Sciences, who was also former Representative of the Taipei Economic and Cultural Office (TECO) in Manila, Philippines. During his time in TECO, Dr. Wu facilitated the donation of computers to the UP Asian Center.
Dr. Aileen SP. Baviera is Professor at the Asian Center, University of the Philippines Diliman. She specializes on and writes about contemporary China studies, China-Southeast Asia relations, Asia-Pacific security, territorial and maritime disputes, and regional integration. The editor in chief of the journal, "Asian Politics & Policy," she is the author of many academic publications, including the forthcoming  "The Domestic Mediations of China's Influence in the Philippines," which will appear in Rising China's Influence in Developing Asia, edited by Evelyn Goh and published by Oxford University Press. She completed her Ph.D. in Political Science at the University of the Philippines Diliman. VIEW FULL PROFILE.
---
The UP Asian Center offers M.A. degrees in Asian Studies with four fields of specialization: Northeast Asia, Southeast Asia, South Asia, and West Asia. The Center also has an M.A. program in Philippine Studies that allows students to major in Philippine society and culture, Philippine foreign relations, or Philippine development studies. The Center offers a Ph.D. program in Philippine Studies in conjunction with the College of Arts and Letters and the College of Social Sciences and Philosophy. Get an overview of these programs. The Asian Center also houses a peer-reviewed, open-access journal, Asian Studies: Journal of Critical Perspectives on Asia. It has published several books and monographs, and hosts or organizes various lectures and conferences.