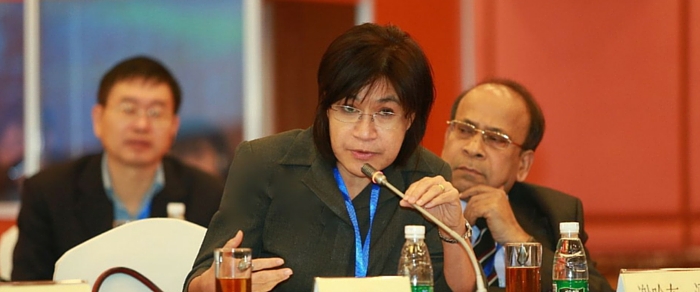 Photo: Antoinette Raquiza during the "Building the Belt and Road" Dialogue in Shenzhen, China. Courtesy of the Fudan Development Institute. 

---
Antoinette Raquiza, Ph.D. Associate Professor at the UP Asian Center delivered a presentation at the "Building the Belt and Road: Connection, Innovation and Sustainable Development: Dialogue and Silk Road Think Tank Association Conference," which was held from 22 to 24 February 2016, in Shenzhen, China. 
Her presentation, "ASEAN and the Belt and Road Policy Initiative: Prospects and Challenges" is featured in the website of the Asia-Pacific Pathways to Progress Foundation, Inc. The essay discussed notable trends in and offers insights on China-ASEAN trade relations, China-Philippines economic linkages, and the challenges and opportunities faced by Southeast Asian economies, especially in light of China's Belt and Road initiative. Here are some excerpts from Dr. Raquiza's commentary. 
Comparing China's Rise with that of Previous Global Powers 
"Up until the first half of the 20th century, rising global powers had to contend with closed and segmented markets.  In contrast, China's rise since the 1990s has largely been a product and comes during a period of open markets and free trade... China's path parallels those of others in the developing world that are globalizing and seeking ways to gain from the greater flow of goods, services, ideas, and capital. 
China's Rise and ASEAN's Balancing Act
"Specifically for Southeast Asia, the Maritime Silk Road brings great opportunities but also, perhaps by virtue of its ambition, presents risks for smaller countries. Issues, notably steeper competitive pressures and territorial and maritime disputes, remain. It is not surprising, therefore, that Southeast Asia, which sits along strategic sea lanes and boasts of fast growing economies, appears to be contested. Leaders from the region are today engaging in a delicate balancing act among major powers – all apparently toward maintaining autonomy and preserving our hard-won peace and prosperity."
China's Maritime Silk Road and ASEAN Economic Community
....[T]he formation of the AEC reflects an attempt of Southeast Asia's small states to increase their leverage in the international community.  Thus, there is a need to study how the Maritime Silk Road Initiative will interact, if not dovetail, with ASEAN's goal of regional integration.
The conference was organized by the China Center for Contemporary World Studies, Shenzhen Municipal Government, and Fudan University. 
Antoinette R. Raquiza, Ph.D. is Associate Professor at the Asian Center, University of the Philippines Diliman, where she teaches Asian studies. She heads the Asian Center's "Bugkos" research program that examines emerging development patterns, processes, and paradigms, defining Asia and the Philippines in transition. Dr. Raquiza earned her PhD in Political Science at the City University of New York Graduate Center and is the author of State Structure, Policy Formation, and Economic Development: The Political Economy of Thailand and the Philippines (Routledge 2012). VIEW FULL PROFILE.
---
The UP Asian Center offers M.A. degrees in Asian Studies with four fields of specialization: Northeast Asia, Southeast Asia, South Asia, and West Asia. The Center also has an M.A. program in Philippine Studies that allows students to major in Philippine society and culture, Philippine foreign relations, or Philippine development studies. The Center offers a Ph.D. program in Philippine Studies in conjunction with the College of Arts and Letters and the College of Social Sciences and Philosophy. Get an overview of these programs. The Asian Center also houses a peer-reviewed, open-access journal, Asian Studies: Journal of Critical Perspectives on Asia. It has published several books and monographs, and hosts or organizes various lectures and conferences.