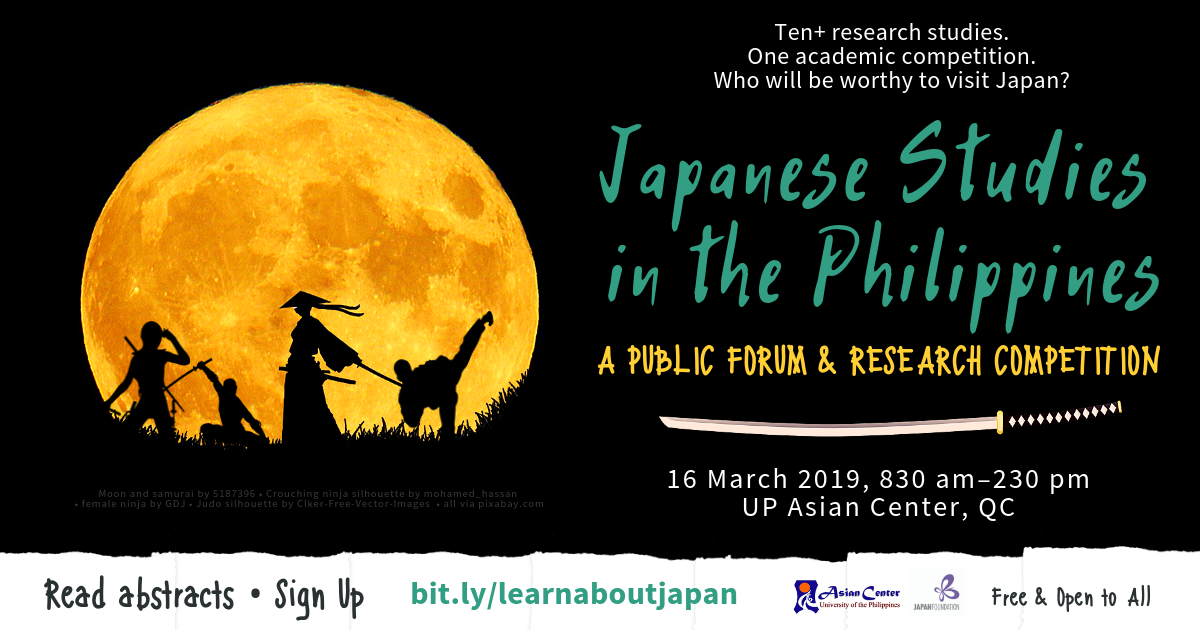 The UP Asian Center and the Japan Foundation Manila will be holding a public forum, "Japanese Studies in the Philippines," on 16 March 2019, 8:30 AM – 2:30 PM, at the UP Asian Center, Quezon City. The forum is free and open to the public. Seating is first-come, first-served. Walk-ins are welcome, but interested participants are encouraged to sign up.
PANEL 1: ART, HISTORY AND SOCIAL MEMORY IN JAPAN (9:15 AM)

• Ethical Responses to being Zainichi: An Analysis of the Characters of Min Jin Lee's Novel 'Pachinko' (2017) by Nicole Tablizo
• From 'Barefoot Gen' (1983) to 'In This Corner of the World' (2016): The Image of the Second World War in Post-postwar Japan by Jose Mathew Luga
• A Past(s) (Re)Collected: A Review of "Perilous Memories: The Asia-Pacific War(s) by Bianca Claveria
• Of Mourning and Memories: The Death and Grieving Customs of Japan as Portrayed in the Narratives of March 2011 Post-Disaster Films by Dyan de los Reyes
PANEL 2: PHILIPPINES – JAPAN CULTURAL EXCHANGES (10:50 AM)
• A Taste of Japan: An Inquiry into Japan's Gastrodiplomacy and the Spread of Japanese Chain Restaurants in the Philippines by Shiela Se
• Towards a 'Stronger' Philippines-Japan Strategic Partnership by Erika Nañes
• Japan in Philippine Poetry in English: Imagery and Influence from a Sociohistorical Perspective by Thomas Chaves
• Ishin Denshin: An Intercultural Music Experience with Japanese Folk Songs by Andre Feria
VIEW ABSTRACTS
CULTURAL PERFORMANCES AND AWARDING
There will be cultural performances after lunch to be followed by the announcement of winners. Four of the presenters will join an all-expenses paid study tour in Japan.
ABOUT THE COMPETITION
The research competition aims to encourage Japan-related research among Filipino students, to disseminate knowledge and exchange perspectives on Japanese Studies. The public forum and research competition features paper presentations from undergraduate and graduate students in the Philippines. The event is organized by the UP Asian Center and the Japan Foundation, Manila
COMING AS A GROUP/CLASS?
If you're coming as part of a group or a class requirement, please inform the organizers the name of the class/group and the number of participants attending. This will help the organizers estimate attendance.
INQUIRIES & VICINITY MAP
For queries, please email This email address is being protected from spambots. You need JavaScript enabled to view it.. View vicinity map.
---
The Asian Center offers M.A. degrees in Asian Studies with four fields of specialization: Northeast Asia, Southeast Asia, South Asia, and West Asia. The Center also has an M.A. program in Philippine Studies that allows students to major in Philippine society and culture, Philippine foreign relations, or Philippine development studies. The Center offers a Ph.D. program in Philippine Studies in conjunction with the College of Arts and Letters and the College of Social Sciences and Philosophy. Get an overview of these graduate programs. The Asian Center also publishes an open-access, peer-reviewed journal, Asian Studies: Journal of Critical Perspectives on Asia.