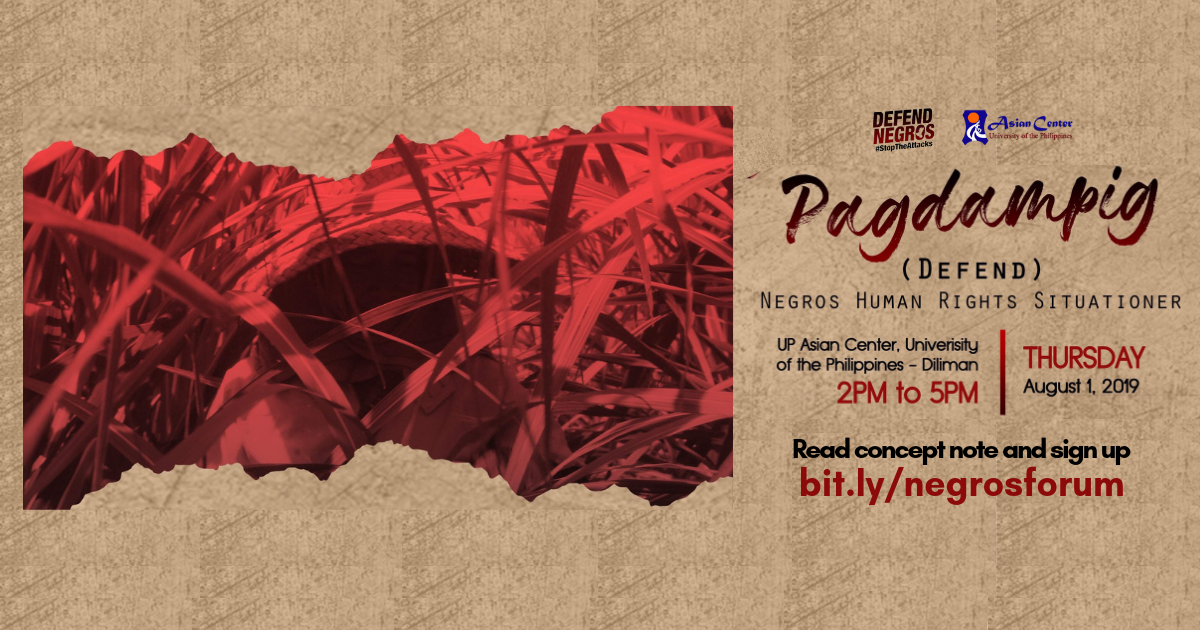 The Defend Negros #StopTheAttacks Network will hold a public forum, "Pagdampig: Negros Human Rights Situationer" at the UP Asian Center, Quezon City, 1 August 2019, 2 pm to 5 pm. The lecture is free and open to the public. Seating is first come, first served. Walk-ins are welcome but encouraged to sign up.
ABOUT THE FORUM

The spate of killings in Negros Island that has so far claimed 87 lives since President Duterte assumed power places the whole island in a continuing state of terrorism. All of the victims were unarmed civilians (lawyers, teachers, rights defenders, activists, church people, and farmers) of which the youngest is a one-year-old baby boy killed alongside his father. Many were gunned down in their own homes or in makeshift huts, several while in their sleep. Fifteen were killed from July 23 to 28.
The death toll notably spiked and steadily increased when President Duterte signed the Memorandum Order 32 (MO 32) on 22 November 2018 which authorizes the deployment of more troops to parts of Visayas and the Bicol Region to supposedly implement "measures to suppress and prevent lawless violence ... in order to prevent further loss of innocent lives." This memorandum reinforces guidelines under state of national emergency wherein the AFP and PNP can conduct warrantless arrests, searches, and seizures. The method employed bore peculiar similarities with the "tokhang style" of armed operations as shown in the conduct of Oplan Sauron where 14 people in three towns of Negros Oriental were killed on 30 March 2019. It is as if the Order was issued to simply legalize the killings.
Silence towards this chilling reality will only further embolden the perpetrators to continue their merciless attacks. This is not just a pressing concern of Negros. As Prof. Taguiwalo wrote, "Today it is Negros. Tomorrow it can be your province." Negros is a mirror reflecting the painful truths we now contend with as a country.
We therefore invite you to attend this forum and listen to the stories of families who witnessed firsthand the atrocities committed to their loved ones. A comprehensive discussion on the current political situation in Negros will be delivered by the Defend Negros #StopThe Attacks Network. This is a gathering to call for consciences to be disturbed and humanity to be restored. A call for true actions to put a stop to all attacks on human rights and to ultimately put an end to the senseless killings in Negros and elsewhere in the country — From Defend Negros #StopTheAttacks
ABOUT THE ORGANIZER

Defend Negros, Stop the Attacks is a formation of Negrenses based in the Manila (includes those who have roots in Negros Island). Non-Negrenses are also part of the network as advocates.
INQUIRIES
For queries, please email This email address is being protected from spambots. You need JavaScript enabled to view it.. View vicinity map.
---
The Asian Center offers M.A. degrees in Asian Studies with four fields of specialization: Northeast Asia, Southeast Asia, South Asia, and West Asia. The Center also has an M.A. program in Philippine Studies that allows students to major in Philippine society and culture, Philippine foreign relations, or Philippine development studies. The Center offers a Ph.D. program in Philippine Studies in conjunction with the College of Arts and Letters and the College of Social Sciences and Philosophy. For an overview of these graduate programs, click here. The Asian Center also publishes Asian Studies: Journal of Critical Perspectives on Asia, the latest issue of which can be downloaded at the journal's website. For other news and upcoming events at the Asian Center, click here.