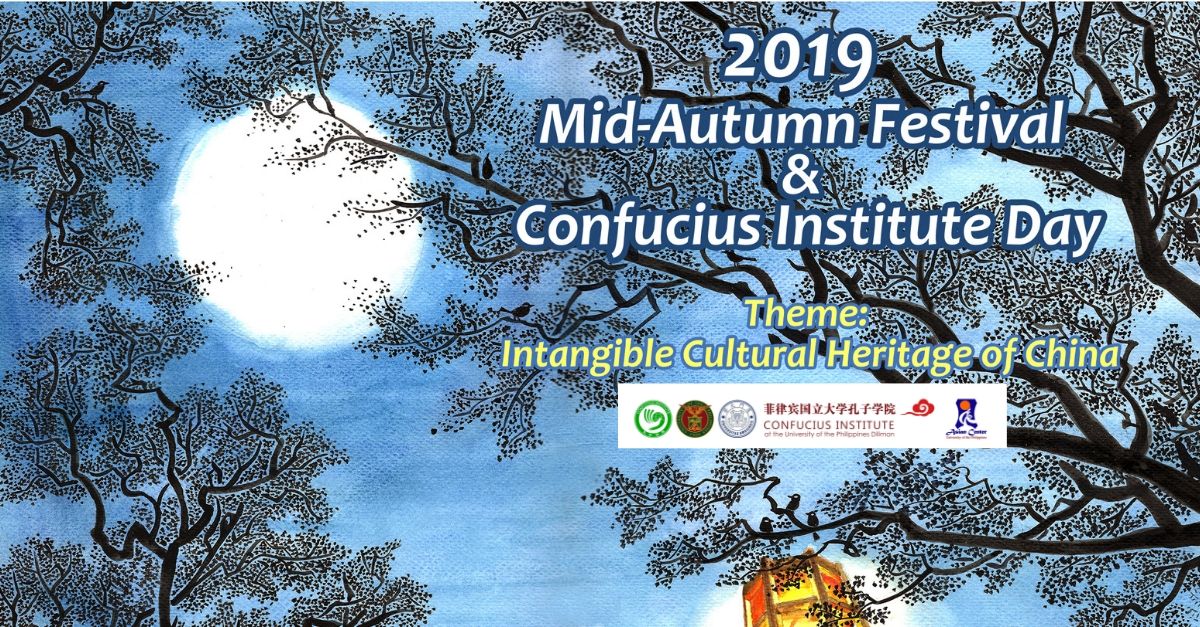 The Confucius Institute of the University of the Philippines Diliman, together with the UP Asian Center, will be organizing several activities as part of "The Intangible Cultural Heritage of China: The 2019 Mid-Autumn Festival and Confucius Institute Day" on 11 September 2019, 10 am to 4 pm, GT-Toyota Asian Center Auditorium, UP Asian Center, QC. The event is free and open to the public, but seating and slot availability is on a first-come, first-served basis. Activities include lecture and demo on traditional Chinese medicine and Chinese art and culture.
ON-SITE REGISTRATION AVAILABLE
Traditional China Medicine: Integrating Body, Mind, and Spirit: Lecture and Demo (10 am–12 nn)
Following the opening remarks and introductions, the event will feature a lecture and demo of Dr. Qian Xiaoyan, who a Professor at Xiamen University's Medical College and has been engaged in TCM acupuncture teaching and clinical practice for more than 30 years. She has been selected into the International Cooperation and Exchange Expert Database by the State Administration of TCM. Her expertise in acupuncture is exceptional is cosmetology, facial paralysis, insomnia, weight loss, and gynecology.
Accompanying her is Dr. Zhao Yufang obtained her PhD in Internal Medicine of Traditional Chinese Medicine at Zhejiang Chinese Medical University of China in 2008 and her Masters degree of Pediatrics of TCM in 2002. She has been working at the TCM department of Xiamen University as a lecturer and TCM doctor since 2002. As a TCM doctor, she is a clinical expert in treating common diseases of children and digestive diseases of adults.
Cultural Programs and Activities (1 pm–4 pm)
Participants can go around the venue and take part/watch in the following activities
Chinese Cultural Extravaganza
Lantern Painting
Woodblock Printing
Calligraphy
Paper Cutting
Tea Art
Peking Opera Mask Painting
OTHER SCHEDULES
These activities will also be held on 12 September 2019, 10 am to 4 pm, at the University of Makati, Makati City, and on 13 September 2019, 10 am to 4 pm, at the Newpoint Mall, Angeles City.
INQUIRIES
View the vicinity map. To learn more, please contact the University of the Philippines' Confucius Institute via email This email address is being protected from spambots. You need JavaScript enabled to view it.. Visit the CI website at www.ci.upd.edu.ph.
---
The Asian Center offers M.A. degrees in Asian Studies with four fields of specialization: Northeast Asia, Southeast Asia, South Asia, and West Asia. The Center also has an M.A. program in Philippine Studies that allows students to major in Philippine society and culture, Philippine foreign relations, or Philippine development studies. The Center offers a Ph.D. program in Philippine Studies in conjunction with the College of Arts and Letters and the College of Social Sciences and Philosophy. For an overview of these graduate programs, click here. The Asian Center also publishes Asian Studies: Journal of Critical Perspectives on Asia, the latest issue of which can be downloaded at the journal's website. For other news and upcoming events at the Asian Center, click here.