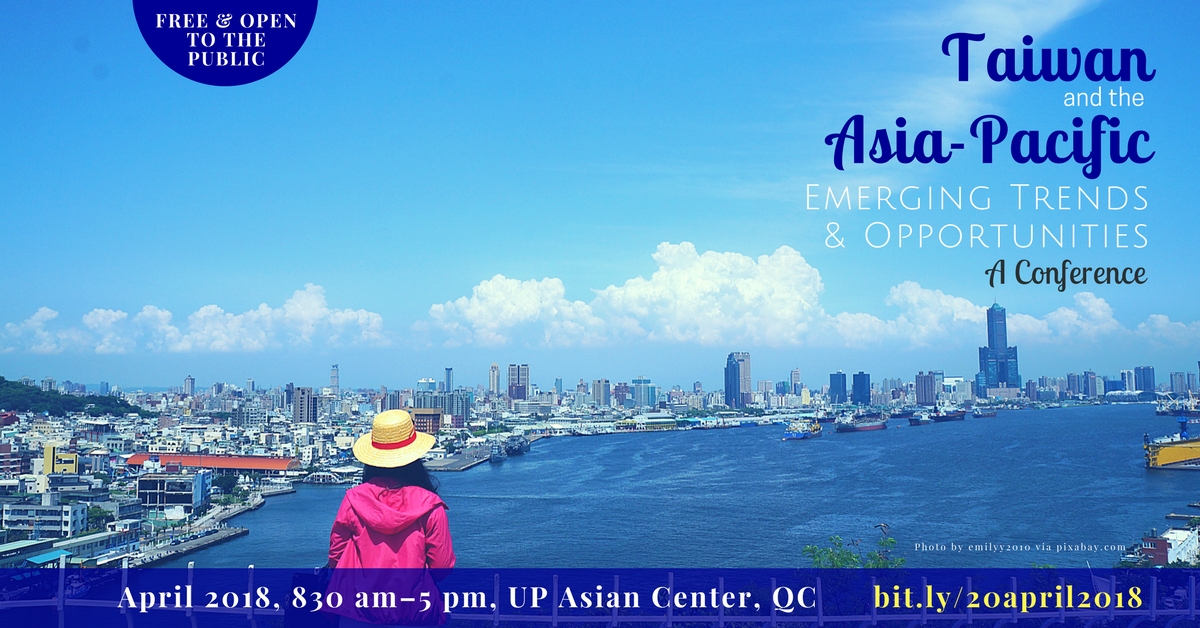 An international conference, Taiwan and the Asia-Pacific: Emerging Trends and Opportunities, will be held on 20 April 2018, 8:30 am to 5:00 pm at the Asian Center, University of the Philippines Diliman. The conference is free and open to the public, but participants are requested to sign up. 
The international conference features eleven presentations covering three panels: Development Initiatives and Cooperation; Sociocultural Engagements; and Power Relations. Please click on the titles to view the abstracts.
WELCOME REMARKS AND KEYNOTE ADDRESS (9:00 AM – 10:30 AM)
DEVELOPMENT INITIATIVES and COOPERATION (10:45 AM – 12:00 NN)
SOCIOCULTURAL ENGAGEMENTS (1:00 PM – 3:00 PM)
POWER RELATIONS (3:10 PM — 4:20 PM)
ABOUT THE CONFERENCE
Organized by the UP Asian Center and Taipei Economic and Cultural Office (TECO) in the Philippines, "Taiwan and the Asia-Pacific: Emerging Trends and Opportunities" will seek to address concerning Taiwan's New Southbound Policy in the context of recent economic and geopolitical developments in the region, including the rise of China and the changing security-architecture.
INQUIRIES
For inquiries, please email This email address is being protected from spambots. You need JavaScript enabled to view it.
YOU MAY BE INTERESTED IN
---

The Asian Center offers M.A. degrees in Asian Studies with four fields of specialization: Northeast Asia, Southeast Asia, South Asia, and West Asia. The Center also has an M.A. program in Philippine Studies that allows students to major in Philippine society and culture, Philippine foreign relations, or Philippine development studies. The Center offers a Ph.D. program in Philippine Studies in conjunction with the College of Arts and Letters and the College of Social Sciences and Philosophy. For an overview of these graduate programs, click here. The Asian Center also publishes Asian Studies: Journal of Critical Perspectives on Asia, the latest issue of which can be downloaded at the journal's website. For other news and upcoming events at the Asian Center, click here.