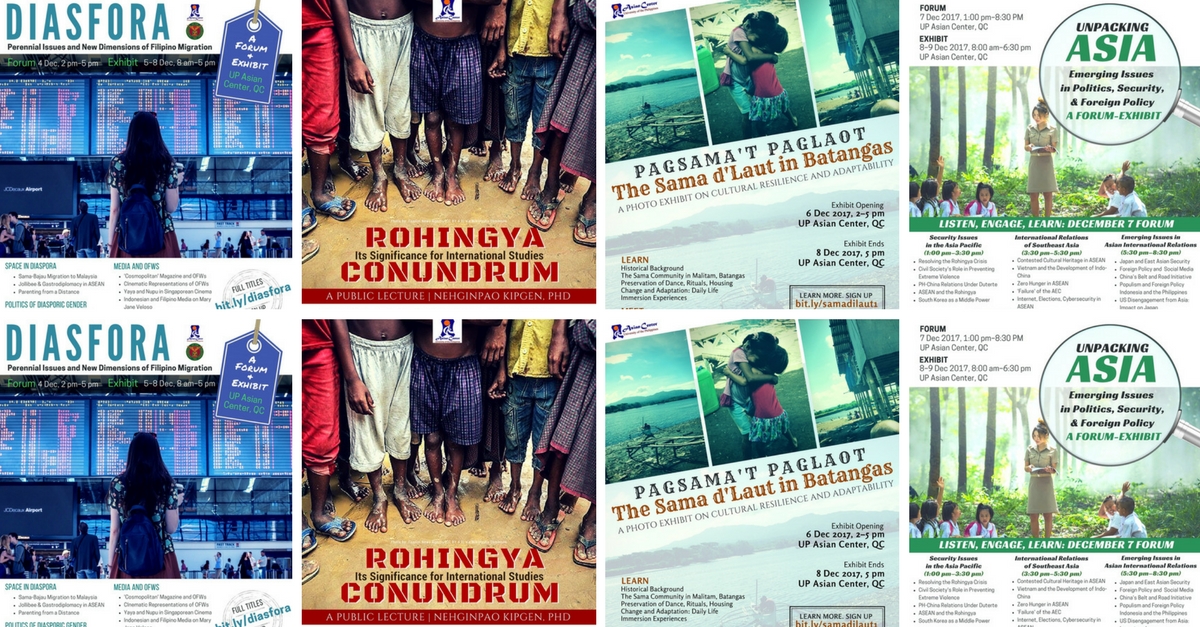 A collage of event posters
---
The UP Asian Center is inviting the public to attend the final public events of 2017 from 4–7 December 2017: a forum-exhibit on the Filipino diaspora; a public lecture on the Rohingya; a photo-exhibit on the Sama d"Laut community in Batangas; and forum-exhibit on emerging issues in Asian politics and foreign policy.  All events are free and open to the public, but participants are requested to sign up online.
Take a closer look at the contemporary Filipino diaspora at a forum-exhibit at Philippines Hall, UP Asian Center, Quezon City. The forum will be held on 4 December, 2017, 2:00 pm to 5:00pm, while the exhibit will be open from 5 December to 8 December, 8:00 am to 5:00 pm.
On 4 December, graduate students of the Philippine Studies (PS) 216 class under Dean Santarita will present their research, through posters, on various facets of the Filipino diaspora. There will be ten (10) presentations on Jollibee and gastrodiplomacy in ASEAN, Badjao migration from the Philippines to Malaysia; transnational parenting of Filipino labor migrants; representations of Filipino caregivers; the experiences of Filipino migrant children returning to the Philippines; the experiences of Filipino gay teachers in international schools; and cinematic representations of overseas Filipinos, including the media portrayal of Mary Jane Veloso.
---
This public lecture will be held on 5 December 2017, 2:00 p.m. to 4:00 p.m., Seminar Room, UP Asian Center, Diliman, Quezon City. In his abstract, Dr. Nehginpao Kipgen writes:
The conflict between Rohingya, a Muslim minority in Rakhine state in western Myanmar (Burma), and the Rakhine Buddhists has been an international concern since 2012 when violence first erupted in recent years. The latest wave of violence started on August 25 when Muslim militants staged coordinated attacks on 30 Myanmar police posts and an army base. The military responded with counterinsurgency operations of its own, which has resulted in the death of over a hundred and the displacement of hundreds of thousands. The August 25th attack occurred just hours after the advisory commission led by former U.N. Secretary-General Kofi Annan released its official report advising the government on long-term solutions for the violence-riven state. The protracted violence is a threat not only to Myanmar's internal peace and stability but also for the country's relations with the international community, particularly its immediate neighbor Bangladesh and the Muslim-majority countries in Southeast Asia, such as Malaysia and Indonesia, that have expressed concerns over the Rohingyas' treatment in the past. The religious component of the conflict could potentially inflame tensions around the region, and even contribute to new terrorist activities. This talk will focus on three fundamental issues: the Rohingya conundrum, possible solutions, and its implications in international studies.
---



DECEMBER 6: Pagsama't Paglaot: The Sama d'Laut in Batangas 
Graduate students taking up Philippine Studies (PS) 201 class under Dr. Henelito Sevilla, Jr., will launch this photo exhibit on 6 December 2017, 2:00 pm to 5:00 pm at the UP Asian Center, Quezon City. The exhibit, which depicts the lives and experiences of the Sama d'Laut community in Wawa, Batangas City, will be open until 5 p.m., 8 December 2017.
Historical Background

The Sama Community in Malitam, Batangas

Preservation of Dance, Rituals, and Housing

Change and Adaptation: Daily Life

Immersion Experiences
---
DECEMBER 7: Unpacking Asia: Emerging Issues in Politics, Security, and Foreign Policy
The forum will be held on 7 December 2017, 1:00 pm to 8:30 pm, while the exhibit will be open for viewing from 8 to 9 December 2017, 8:00 am to 6:30 pm at the Philippines Hall.
In the 7 December forum, twenty-one (21) graduate students of Professor Aileen Baviera this semester will present their research, via posters, from 1:00 pm to 8:30 pm, 7 December 2017.
Various facets of ASEAN and China's expanding role in Southeast Asia will be tackled, as will the role of digital technology and cybersecurity in the region's domestic and international politics. There are presentations on China's Belt and Road Initiative, the Rohingya Crisis, the ASEAN Economic Community, and Philippines-China Relations under Duterte.
---
INQUIRIES And ATTENDANCE 
If you are planning to come with/as a big group (a class or delegation), please inform us the number of participants at   This email address is being protected from spambots. You need JavaScript enabled to view it.. It would also be best if their names could be registered online or if you could send us a list of their names. 
---
The UP Asian Center offers M.A. degrees in Asian Studies with four fields of specialization: Northeast Asia, Southeast Asia, South Asia, and West Asia. The Center also has an M.A. program in Philippine Studies that allows students to major in Philippine society and culture, Philippine foreign relations, or Philippine development studies. The Center offers a Ph.D. program in Philippine Studies in conjunction with the College of Arts and Letters and the College of Social Sciences and Philosophy. Get an overview of these programs. The Asian Center also houses a peer-reviewed, open-access journal, Asian Studies: Journal of Critical Perspectives on Asia. It has published several books and monographs, and hosts or organizes various lectures and conferences.