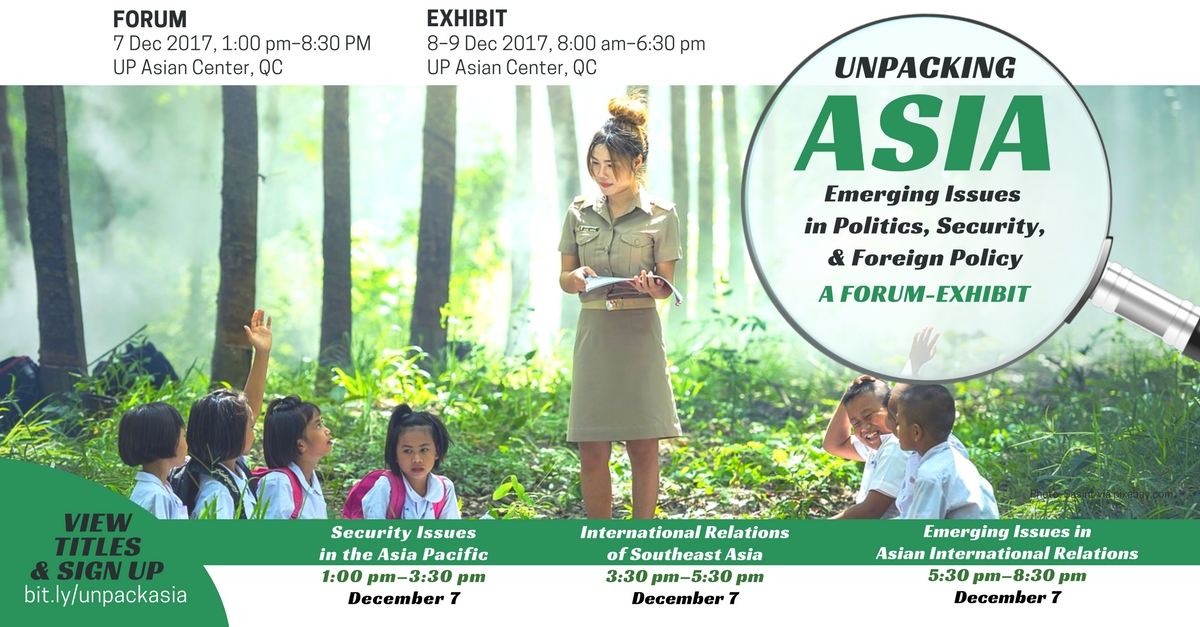 Get an overview of perennial and emerging topics in Asian politics, security and international relations at a forum-exhibit, Unpacking Asia: Emerging Issues in Politics, Security, and Foreign Policy, on 7 to 9 December 2017, Japan Hall, UP Asian Center, Quezon City.
The forum will be held on 7 December 2017, 1:00 pm to 8:30 pm, while the exhibit will be open for viewing from 8 to 9 December 2017, 8:00 am to 6:30 pm at the Philippines Hall. Both the forum and the research exhibit are free and open to the public, but participants are requested to sign up. 
ABOUT THE FORUM-EXHIBIT
In the 7 December forum, the public is invited to learn from, engage, and discuss Asian politics with twenty-one (21) graduate students of Professor Aileen Baviera this semester. They will present their research, via posters, from 1:00 pm to 8:30 pm, 7 December 2017.
Various facets of ASEAN and China's expanding role in Southeast Asia will be tackled, as will the role of digital technology and cybersecurity in the region's domestic and international politics. There are presentations on China's Belt and Road Initiative, the Rohingya Crisis, the ASEAN Economic Community, and Philippines-China Relations under Duterte.
The poster presentations are grouped into three panels. Please refer to schedule.
Security Issues in the Asia-Pacific (1:00 pm–3:30 pm)
Of Citizenship, Democracy, and International Intervention: Towards Resolving the Hybrid Humanitarian Crisis of the Rohingya People

by Pat Fongwan



Civil Society's Role in Preventing Extreme Violence

by Jennifer Kleskie



Indonesia Online: An Analysis of Threats and Responses from a Cybersecurity Lens

 by Cheska Diaz



Dealing with the Rohingya Crisis: ASEAN and the Principle of Non-Interference

by Ed Vitenio



Changing Winds: Duterte's Position Towards China and its Implications for ASEAN and the Philippines

by Paige Occeñola



South Korea as a Regional Middle Power: Implications for Philippine Security

by Nile Alegato
International Relations of Southeast Asia (3:30 pm–5:30 pm)
Contested Cultural Heritage and Community-Building in ASEAN

by Ace Vincent Molo



Vietnam and the Development of the Indochinese Sub-Region

by Misha Borbon



Achieving Zero Hunger: Challenges, Prospects and Implications for ASEAN Regional Cooperation

by Rowee Decena



The Political Economy of the Seeming 'Failure' of the ASEAN Economic Community

by Slye Serrano



Internet and Elections in Singapore and Malaysia: Implications for ASEAN Democracy

by Dale Rivera



ASEAN and Myanmar in the Face of Democracy

by Marielle Crisostomo



Security Threats in the Southeast Asian Cyber Domain: A Comparative Study of Indonesia's, Singapore's and the Philippines's Responses to Cybersecurity Issues

by Charmaine Centino
Emerging Issues in Asian International Relations (5:30 pm–8:30 pm)
Can Japan Play a Leadership Role in East Asian Security?

by Maru Bañez



Disseminating Foreign Policy through Social Media: The Case of Southeast Asia

by Gene Torres



Belt and Road Initiative Approach: Restructuring China's Engagement through its Economic Strategies

by Anna Manguerra



Understanding Populism and Foreign Policy through Public Opinion: Indonesia and the Philippines in Comparative Perspective

by Nash Rasul



The Belt and Road Initiative as China's Infrastructure Diplomacy

by Harold Diokno



The Implications of Korea-Philippines Relations on Korean-Filipinos (KOPINOS)

by Marco Angulo



US Disengagement from Asia: Impact on Japan's Interests, Implications for Foreign Polic

y by Nica Carreon
The forum aims to promote awareness of Asian politics, and build constructive and informed dialogue on the various issues, perspectives, and methods used by states, security practictioners, and diplomats in dealing with emerging challenges of the region.
ABOUT THE EXHIBIT
The posters will be available for public viewing from 8 to 9 December, 8 am to 6:30 pm, Japan Hall, UP Asian Center, QC. 
ABOUT PROFESSOR BAVIERA
The three 'panels' correspond to graduate courses at the UP Asian Center, which are being taught by Professor Aileen Baviera this semester. She specializes on and writes about contemporary China studies, China-Southeast Asia relations, Asia-Pacific security, territorial and maritime disputes, and regional integration. The editor in chief of the journal, "Asian Politics & Policy," she is the author of many academic publications, including the "The Domestic Mediations of China's Influence in the Philippines," which appears in Rising China's Influence in Developing Asia, published by Oxford University Press. She completed her Ph.D. in Political Science at the University of the Philippines Diliman. VIEW FULL PROFILE.
VENUE And VICINITY MAP
Vehicles entering the UP Asian Center (GT-Toyota Asian Cultural Center) grounds can only do so via the gate on Magsaysay Avenue that is near a UP guardhouse, a few meters away from Katipunan Avenue, and across Maynilad. A small gate for pedestrians on Guerrero St. lies across the College of Law parking lot and a few meters away from a waiting shed, where the Ikot jeepney, and jeepneys from Philcoa and SM North pass by. VIEW VICINITY MAP and GOOGLE STREET VIEW
INQUIRIES And ATTENDANCE
If you are planning to come with/as a big group (a class or delegation), please inform us the number of participants at This email address is being protected from spambots. You need JavaScript enabled to view it.. It would also be best if their names could be registered online or if you could send us a list of their names. 
---
The UP Asian Center offers M.A. degrees in Asian Studies with four fields of specialization: Northeast Asia, Southeast Asia, South Asia, and West Asia. The Center also has an M.A. program in Philippine Studies that allows students to major in Philippine society and culture, Philippine foreign relations, or Philippine development studies. The Center offers a Ph.D. program in Philippine Studies in conjunction with the College of Arts and Letters and the College of Social Sciences and Philosophy. Get an overview of these programs. The Asian Center also houses a peer-reviewed, open-access journal, Asian Studies: Journal of Critical Perspectives on Asia. It has published several books and monographs, and hosts or organizes various lectures and conferences.