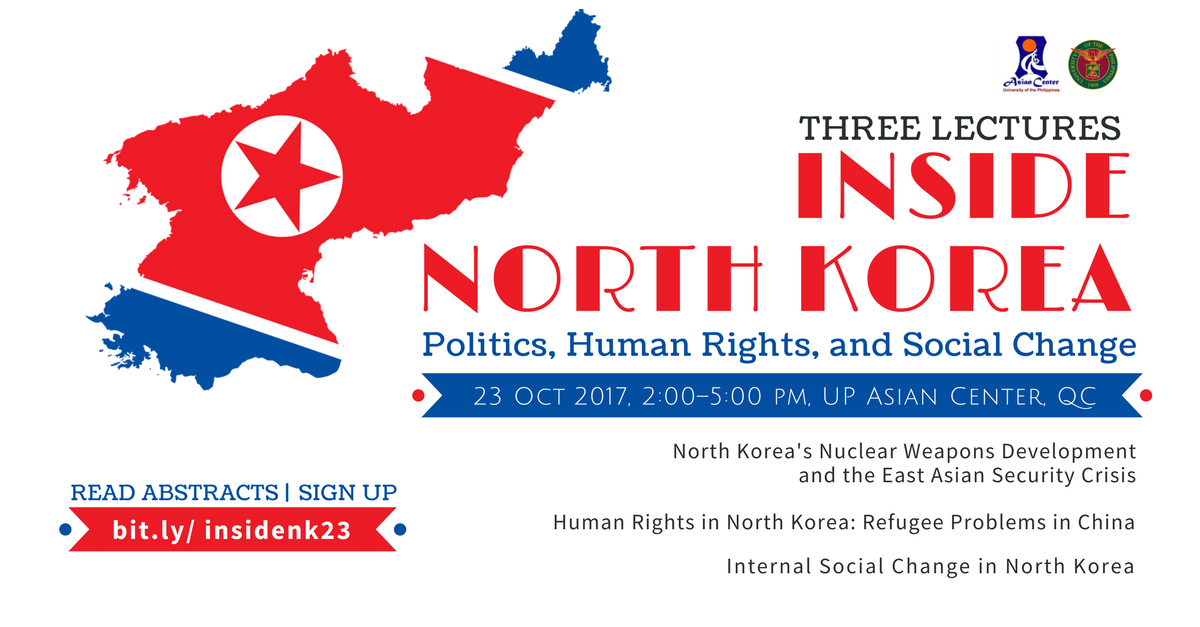 The UP Asian Center will be hosting three lectures themed Inside North Korea: Politics, Human Rights and Social Change on 23 October 2017, 2:00 pm to 5:00 pm, Seminar Room, UP Asian Center, QC. The lectures are free and open to the public, but seating is first-come, first-served; participants are encouraged to sign up. 
North Korea's Nuclear Weapons Development and the East Asian Security Crisis | Se-Jun Park
Recently, North Korea conducted sixth nuclear tests, and has developed missile technology to reach US territory and conducted missile launch tests. The US government has announced that it will resort to a military option if North Korea does not stop developing nuclear weapons, and that it will sanction all countries and business units that deal with North Korea.The United States' President Donald Trump and North Korean Foreign Minister Ri Yong Ho have exchanged tough messages at the recently held UN General Assembly. In this presentation, Dr. Se-Jun Park will talk about why North Korea started developing nuclear weapons, and the reason why the North Korean nuclear issue can't be resolved despite international efforts. He will also discuss conflict between China and United States over the North Korean nuclear issue, explore how it will impact East Asian security, and discuss ways to solve the North Korean nuclear issue.
Human Rights in North Korea: Refugee Problems in China | Hyun-Ju Kim
An economic crisis in North Korea began in the 1990, when many North Koreans starved to death due to food shortages. Since the late 1990s, a lot of North Korean refugees have escaped to China, where 300,000 North Korean refugees currently live, according to The International Refugee Agency. China, however, does not recognize North Korean refugees, defining them as illegal immigrants. Chinese police arrest defectors and return them to North Korea, where citizens have been sent to concentration camps for violent torture and forced labor. This predicament has created a climate of anxiety among the refugees, who are naturally wary of the police. At the same time, many of the North Korean women are exposed to human trafficking. In this lecture, Hyun-Ju Kim will explain why North Korean refugees have escaped and discuss the efforts of the international community to solve the human rights problems of North Korean refugees in China and North Korea. 
Internal Social Change in North Korea | Jessi Kim
North Korea established itself as a centrally planned economy. However, after the collapse of the socialist bloc, the state has become virtually a market economy following the Chinese model. However, But North Korea still controls the market economy, and is afraid of opening it to the outside world. The North Korean regime feels that doing so will make the political system unstable. This lecture will discuss the relationship between the government's market economy control and the private market economy. We will also talk about the government's external media control and the actual reality of the people's external media viewing. Despite the North Korean authorities' control, marketization and inflow of external information are changing North Koreans. Finally, it is said that the demand for democratization in North Korea is an important power to change the system and regime of North Korea.
ABOUT THE SPEAKERS
Before residing in South Korea, Mr. Se-Jun Park worked as a doctor in North Korea. He now serves as the Executive Director of Woori Hana. He has conducted research on North Korean issues, and is presently pursuing his doctorate in Political Science. 

Hyun-Ju Kim left North Korea and lived in China for two years before coming to South Korea, where she is now a university student. 

Jessi Kim left North Korea and lived in China for a few years prior to coming to South Korea where she is currently a university student. From a young age, Ms. Kim has been active in the field of business. 
ABOUT WOORI HANA
Woori Hana considers itself to be the 'Voice of North Korea' and is a volunteer-led organization that provides leadership and English training programs for young North Korean refugees living in South Korea.
YOU MAY ALSO BE INTERESTED IN:
---
The UP Asian Center offers M.A. degrees in Asian Studies with four fields of specialization: Northeast Asia, Southeast Asia, South Asia, and West Asia. The Center also has an M.A. program in Philippine Studies that allows students to major in Philippine society and culture, Philippine foreign relations, or Philippine development studies. The Center offers a Ph.D. program in Philippine Studies in conjunction with the College of Arts and Letters and the College of Social Sciences and Philosophy. Get an overview of these programs. The Asian Center also houses a peer-reviewed, open-access journal, Asian Studies: Journal of Critical Perspectives on Asia. It has published several books and monographs, and hosts or organizes various lectures and conferences.