An article, "Territorial and Maritime Disputes in the West Philippine Sea: Foreign Policy Choices and their Impact on Domestic Stakeholders" by Professor Aileen Baviera of the UP Asian Center has been published in the peer-reviewed journal, Public Policy.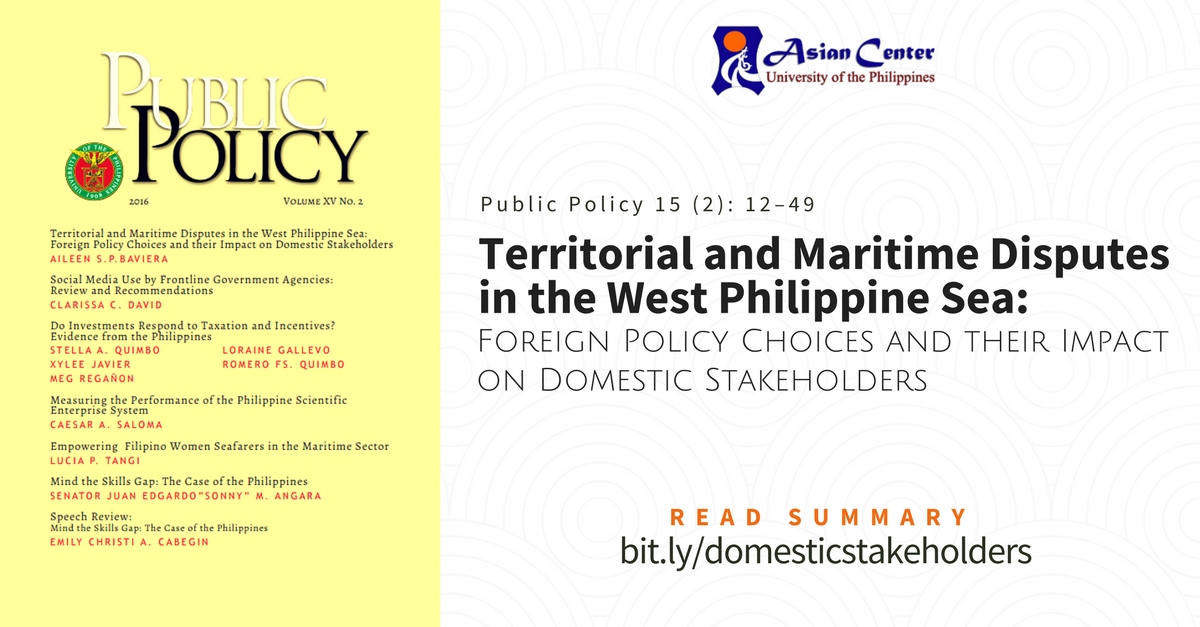 An article, "Territorial and Maritime Disputes in the West Philippine Sea: Foreign Policy Choices and their Impact on Domestic Stakeholders" by Professor Aileen Baviera of the UP Asian Center has been published in the peer-reviewed journal, Public Policy.
In her article, Professor Baviera asks whether and to what extent domestic stakeholders matter  to Philippine foreign policy decisions, and examines how such stakeholders (were) affected by the disputes and the country's foreign policy decisions relating to the disputes.  
Domestic stakeholders refer to sectors and "organizations or institutions who have an interest in the maritime disputes and can affect or be affected by foreign policy decisions, behavior and outcomes pertaining to the disputes," (17) which involved Panatag Shoal, Kalayaan Islands, and Reed Bank. She identified the following domestic stakeholders:
Defense and Maritime Law Enforcement Frontliners
Provincial and Municipal Governments
Fisherfolk Communities and Fishing Companies
Energy Players
Stakeholders in Trade, Investments, and Tourism with China
Civil Society (Chinese Filipino community)
Defense and maritime law enforcement frontliners, including the Philippine Navy and the Philippine Coast Guard felt at one point that "maritime and territorial disputes have been treated mainly as a legal and diplomatic issue…." (18). This focus has come "...at the expense of instituting more pro-active programs for the country's defense and security." (20)
Secondly, Dr. Baviera notes the "poor coordination" between the central and local governments such Kalayaan Municipality; Masinloc, Zambales; and Infanta, Pangasinan. "Local government executives of frontline provinces take little interest in the broader foreign policy goals of the state," (25) while state leaders rarely capitalize on the knowledge and capacities of local governments, who are better informed and well-placed to respond to local realities.
Thirdly, Filipino fishermen "blamed the Philippine government for disrupting harmonious relations that had prevailed earlier among fishers of different nationalities." Facing harassment, the fishermen feel that "they are at the mercy of strong nations and that their government is helpless to change the situation." (28)
The energy sector has also suffered because of the disputes, with Philippine energy players having been warned to stay away from Reed Bank, for instance.   While it has provided protection for energy projects in Malampaya, "the government does not have sufficient resources nor a mandate to accord the same treatment to all NOC (national oil company) and IOC (international oil company) projects." (30)
Fourth, the disputes had "no observable effects on trade ties at the "macro level" (31)  Banana exports were banned for a while, and tourists from China declined, but China "continued to be the [Philippines'] top import source and third largest export market" (31). Chinese investment increased in 2014, but Chinese investors became more cautious in their investment options.
Lastly, in her discussion of civil society, Professor Baviera notes that the Chinese Filipino community "are divided, in part, along generational lines." At the risk of "oversimplification," she writes, "the older generation may tend to be pro-China, while the younger ones are more pro-Filipino" (36). There is much research, she says, that needs to be done to flesh out nuances of the impact on and perception of Chinese Filipinos towards the disputes.
In conclusion, Professor Baviera recommends that "development diplomacy based on domestic stakeholders' interest and needs should be placed front and center of the next stage of Philippine statecraft on the West Philippine sea issue. " (39) She calls for "better inter-agency harmonization of its policy priorities and improving central-local governments' understanding of their respective roles," among many others.
This article appeared in Volume 15, Issue No. 2 of Public Policy, published by the UP Center for Investigative and Development Studies. You may view the abstracts and buy the issue at the UP CIDS website here. 
ABOUT THE AUTHOR
Dr. Aileen SP. Baviera is Professor at the Asian Center, University of the Philippines Diliman. She specializes on and writes about contemporary China studies, China-Southeast Asia relations, Asia-Pacific security, territorial and maritime disputes, and regional integration. The editor in chief of the journal, "Asian Politics & Policy," she is the author of many academic publications, including the "The Domestic Mediations of China's Influence in the Philippines," which appears in Rising China's Influence in Developing Asia, edited by Evelyn Goh and published by Oxford University Press. She completed her Ph.D. in Political Science at the University of the Philippines Diliman. VIEW FULL PROFILE.
RELATED RESOURCES
---
The UP Asian Center offers M.A. programs in Asian Studies with four fields of specialization: Northeast Asia, Southeast Asia, South Asia, and West Asia. The Center also has an M.A. program in Philippine Studies that allows students to major in Philippine society and culture, Philippine foreign relations, or Philippine development studies. The Center offers a Ph.D. program in Philippine Studies in conjunction with the College of Arts and Letters and the College of Social Sciences and Philosophy. Get an overview of these programs. The Asian Center also houses a peer-reviewed, open-access journal, Asian Studies: Journal of Critical Perspectives on Asia. It has published several books and monographs, and hosts or organizes various lectures and conferences.