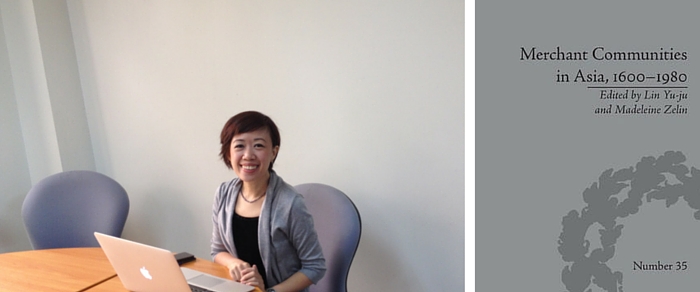 Left: Dr. Tina Clemente, Asian Center file photo. Right: Cover of "Merchant Communities in Asia, 1600–1980.
---
 Dr. Tina Clemente, Associate Professor at the UP Asian Center, wrote "Spanish Colonial Policy Toward Chinese Merchants in Eighteenth-Century Philippines," a chapter in a book, "Merchant Communities in Asia, 1600–1980" which was edited by Lin Yu-Ju and Madeleine Zeilin and published in 2015 by Pickering & Chatto. 
Below is an excerpt from Dr. Clemente's chapter. 
"By focusing on the eighteenth century, a reform era in Spain's Empire, this chapter analyses the relationship between the Spanish colonial government and Chinese merchants through the policy of Chinese expulsions and makes reference to other containment policies as they relate to expulsions. The chap- ter explores the complicated policy tensions that accompanied the centrality of Chinese commerce in Spanish Philippines. Through an analysis of Chinese expulsions, we learn about the socio-economic and political contexts of colonial governance, the push and pull of vested interests and institutional change in the imperial programme. The chapter contributes to the scholarship of transnational merchant communities by providing the case of Chinese traders with minority status in a colonial paradigm within the context of empire, in which issues of political economy played out across a vast realm. The persecution of Chinese traders in eighteenth-century Philippines presented here is an important part of merchants' narratives and, in a larger view, of comparative historyand global history, allowing the reader to draw similarities and differences in regard to the exploits of Chinese traders in the rest of Asia.4" 
For this work, Dr. Clemente received an International Publication Award in January 2016. The IPA is given to UP faculty and personnel whose research has been published in internationally peer-reviewed publications. In 2015, she also received an IPA for another book chapter, " Environmental Governance in the Philippines: Challenges and Prospects, whch appeared in "Environmental Challenges and Governance: Diverse Perspectives from Asia" (Routledge).
Dr. Tina Clemente is Associate Professor at the Asian Center, University of the Philippines Diliman. She handles several graduate courses at the UP Asian Center, including Social and Economic Development in China, Theories of Development, and Special Problems in Asian Studies, among others. She completed her Ph.D. in Economics from the School of Economics, University of the Philippines Diliman. View her full faculty profile.
---
 The UP Asian Center offers M.A. degrees in Asian Studies with four fields of specialization: Northeast Asia, Southeast Asia, South Asia, and West Asia. The Center also has an M.A. program in Philippine Studies that allows students to major in Philippine society and culture, Philippine foreign relations, or Philippine development studies. The Center offers a Ph.D. program in Philippine Studies in conjunction with the College of Arts and Letters and the College of Social Sciences and Philosophy. Get an overview of these programs. The Asian Center also houses a peer-reviewed, open-access journal, Asian Studies: Journal of Critical Perspectives on Asia. It has published several books and monographs, and hosts or organizes various lectures and conferences.