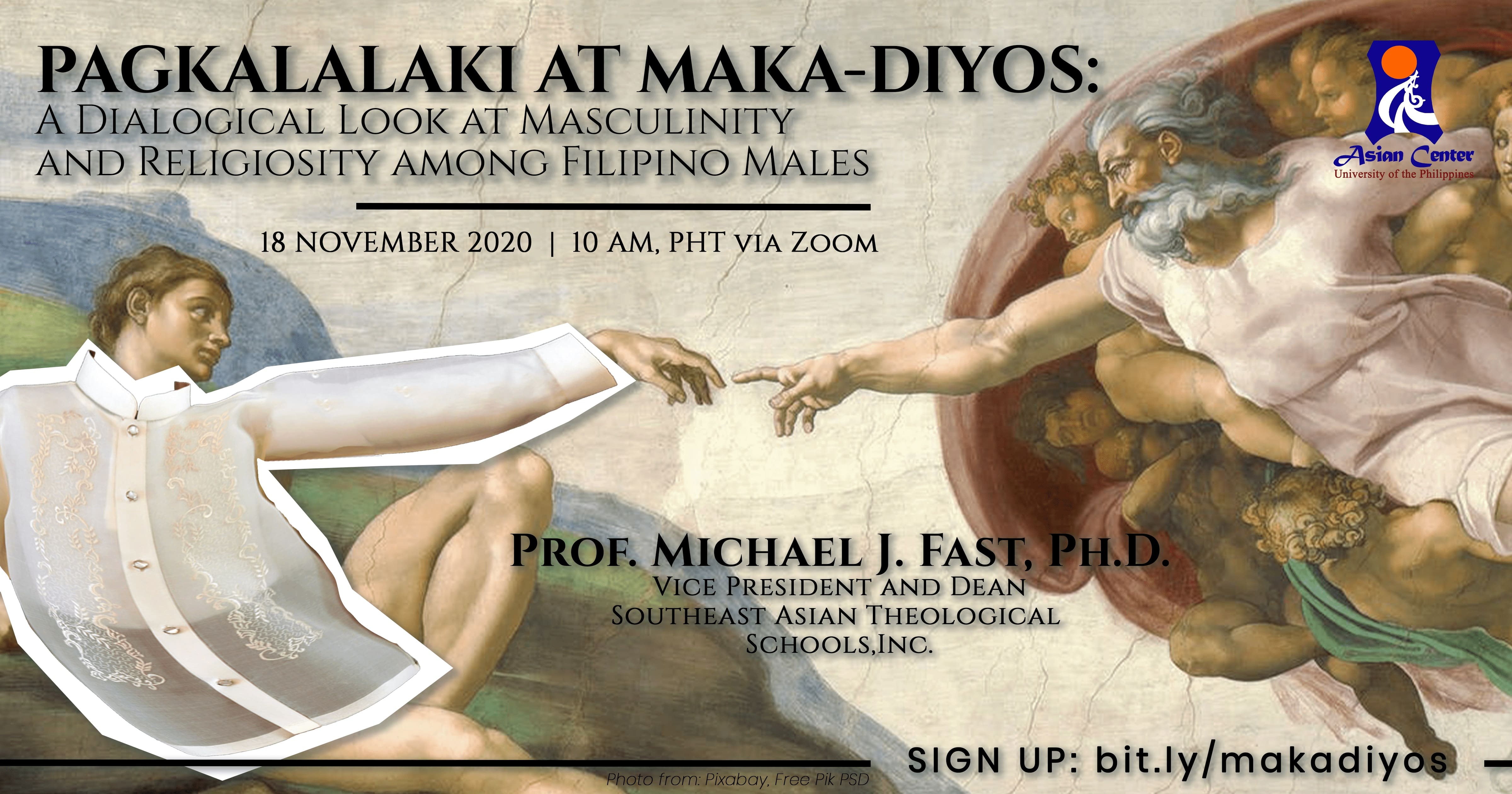 The replay of the webinar, "Pagkalalaki at Maka-Diyos: A Dialogical Look at Masculinity and Religiosity among Filipino Males" conducted on 18 November 2020, is now available on YouTube.
ABSTRACT
This study examines how Filipino men understand and express religiosity (maka-Diyos) and masculinity (pagkalalaki) and how these two concepts inform our understanding of religious change (pagbabalik-loob). Central to this research is how the dynamics between pagkalalaki and maka-Diyos is mediated by factors such as family status, gender, class, national advocacy, religious congregation, age, chronotope; and how these, as a whole, shape the lives of Filipino men.
The speaker used a Bakhtinian dialogic framework mediated through Walls' transmission and appropriation concepts and de Mesa's pagbabalik-loob and cultural appreciation in examining Filipino male perceptions of pagkalalaki and maka-Diyos.
This study debunks popular misconceptions about the Filipino male's lack of maka-Diyos. Men's identity as Filipinos is not in danger due to lack of maka-Diyos and men reveal an understanding of maka-Diyos that informs national discourse. Men are active in regular religious activities. They see these concepts as important. They have a complex epistemological process that includes ancient, communal, revelatory, and empirical sources. This leads them to believe in and respond to the supernatural. They understand what their pagkalalaki means and how to express it, but concepts of religion and religiosity may or may not play a role in these beliefs. It also leads them to find solutions to the problems and challenges that they face in the world.
THE SPEAKER
Dr. Michael J. Fast is the Academic Vice-President and Dean of the South East Asian Theological Schools, Inc. He is also an ordained minister with the Baptist General Conference of Canada. Aside from the study presented in the webinar, Dr. Fast has conducted research on how two Swedish and Filipino immigrant groups in Canada work out issues of transmission and appropriation of faith in the formation of a religious denomination.
Dr. Fast obtained his BA in Religious Studies from the University of Saskatchewan, his M.Div. from the Canadian Baptist Seminary, and his PhD in Philippine Studies from the UP Asian Center. He is currently teaching a series of courses on how churches can thrive in the new normal.
UP ASIAN CENTER @ 65

This activity is part of a webinar series held in celebration of Asian Center's 65th Anniversary, with the theme "Asian Center @ 65: Zealously Cultivating Ideas, Ceaselessly Inspiring Minds Across Asia." Visit the page to view other webinars for 25 November and 2 December 2020.
INQUIRIES
Please email
This email address is being protected from spambots. You need JavaScript enabled to view it.

for inquiries.
---
The UP Asian Center offers M.A. degrees in Asian Studies with four fields of specialization: Northeast Asia, Southeast Asia, South Asia, and West Asia. The Center also has an M.A. program in Philippine Studies that allows students to major in Philippine society and culture, Philippine foreign relations, or Philippine development studies. The Center offers a Ph.D. program in Philippine Studies in conjunction with the College of Arts and Letters and the College of Social Sciences and Philosophy. For an overview of these graduate programs, click here. The Asian Center also publishes Asian Studies: Journal of Critical Perspectives on Asia, the latest issue of which can be downloaded at the journal's website. For other news and upcoming events at the Asian Center, click here.