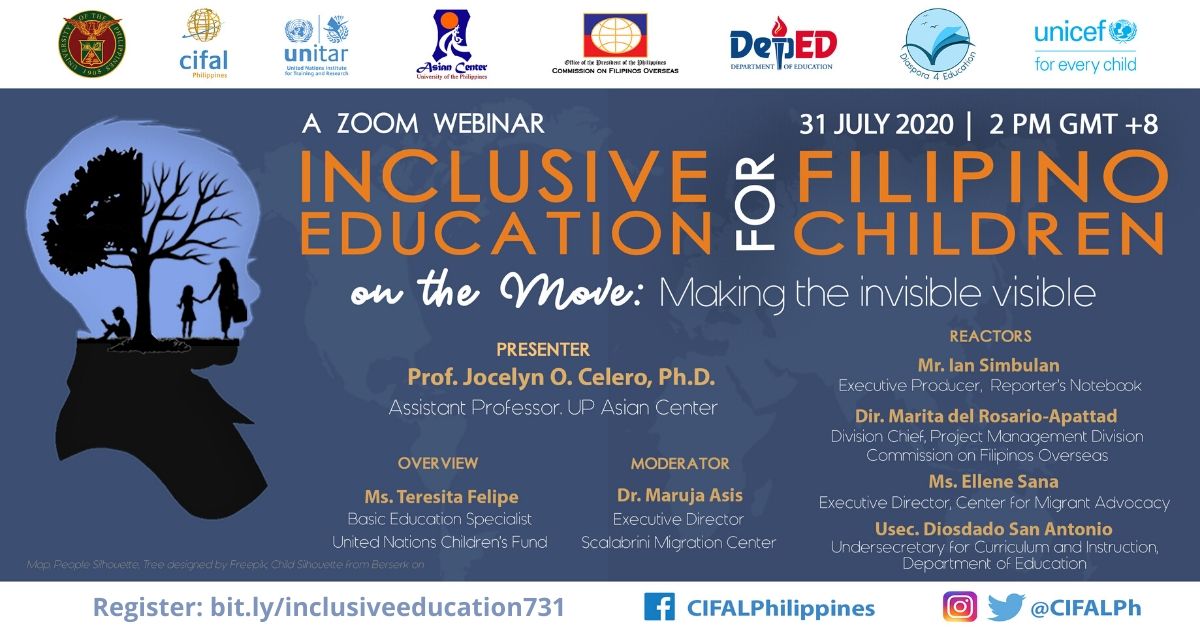 The replay of the webinar, "Inclusive Education for Filipino Children on the Move: Making the Invisible Visible," held on 31 July 2020, is now availale on YouTube.
The Webinar
The webinar will provide an overview of the existing laws, policies and programs in relation to educational experiences of Filipino migrant children. The online discussion aims to offer a venue by which stakeholders such as policymakers, government agencies, citizen groups, academics, and migrant families could explore ways to strengthen the capacity to address the issues of access to education for Filipino migrant children.
Main Speaker
Jocelyn O. Celero is Assistant Professor at the Asian Center, University of the Philippines-Diliman. She obtained her Ph. D. in International Studies at Waseda University, Tokyo, Japan in 2016. Her dissertation examined the transnational life trajectories of 1.5- and second-generation Japanese-Filipinos. She has published on migration and transnationality of Filipino migrants and Japanese-Filipinos. In 2017, she was a New Scholar Associate at the Center for Global Social Policy, the University of Toronto to contribute to the "Gender, Migration, and the Work of Care in the Asia-Pacific" Research. Since 2019, she has also served as Fellow and Focal Person for CIFAL Philippines.
Reactors, Panelists, and Moderator
The following will share their comments on the presentation and their own insights about the issue:
• Ian Simbulan, Executive Producer, The Reporter's Notebook
• Marita del Rosario-Apattad, Director, Project Management Division, Commission on Filipinos Overseas
• Ellene Sana, Executive Director, Center for Migrant Advocacy
• Diosdado San Antonio, Undersecretary for Curriculum and Instruction, Department of Education
An overview will be provided by Ms. Teresita Felipe, Basic Education Specialist of the United Nations Children's Fund. The webinar will be followed by a Q&A and will be moderated by Dr. Maruja Asis, Executive Director of the Scalabrini Migration Center.
Backgrounder
There are an estimated 272 million international migrants around the globe, representing 3.5% of the world's population (United Nations Department of Economic and Social Affairs 2019, International Organization for Migration 2020). Of this number, 30 million are children (United Nations Children's Fund 2018). In the Philippines, around 205,715 Filipinos aged 14 years old and below left the country between 2007-2017 (Commission on Filipinos Overseas 2017). This age group constitutes the youngest and the largest percentage of Filipinos who move overseas for a variety of motivations.
Migrant children across the globe often face systemic challenges in continuing education obtained in home countries, and accessing education in destination countries. As a migrant source country, the Philippines must grasp the current and available child-migrant related programs of the host countries, the accessibility, quality and type of such educational opportunities afforded to child-migrants, and programs provided by the Philippine government for repatriated children of Filipino migrants.
The Global Compact for Safe, Orderly and Regular Migration (GCM), guided by its rights-based and child-sensitive approach, advances the inclusion of migrant children in national child protection systems as well as in all migration policies and programs that impact children as captured by the GCM Objective 7: address and reduce vulnerabilities in migration. In addition, the 2030 Agenda for Sustainable Development pushes for SDG 4: "Ensure inclusive and equitable quality education and promote lifelong learning opportunities for all," including migrant children.
Organizers
The webinar is organized by UP-CIFAL Philippines, UP Asian Center, Commission on Filipinos Overseas, Department of Education, Diaspora 4 Education, and United Nations Children's Fund (UNICEF).
---
The Asian Center offers M.A. degrees in Asian Studies with four fields of specialization: Northeast Asia, Southeast Asia, South Asia, and West Asia. The Center also has an M.A. program in Philippine Studies that allows students to major in Philippine society and culture, Philippine foreign relations, or Philippine development studies. The Center offers a Ph.D. program in Philippine Studies in conjunction with the College of Arts and Letters and the College of Social Sciences and Philosophy. The Asian Center also publishes Asian Studies: Journal of Critical Perspectives on Asia.