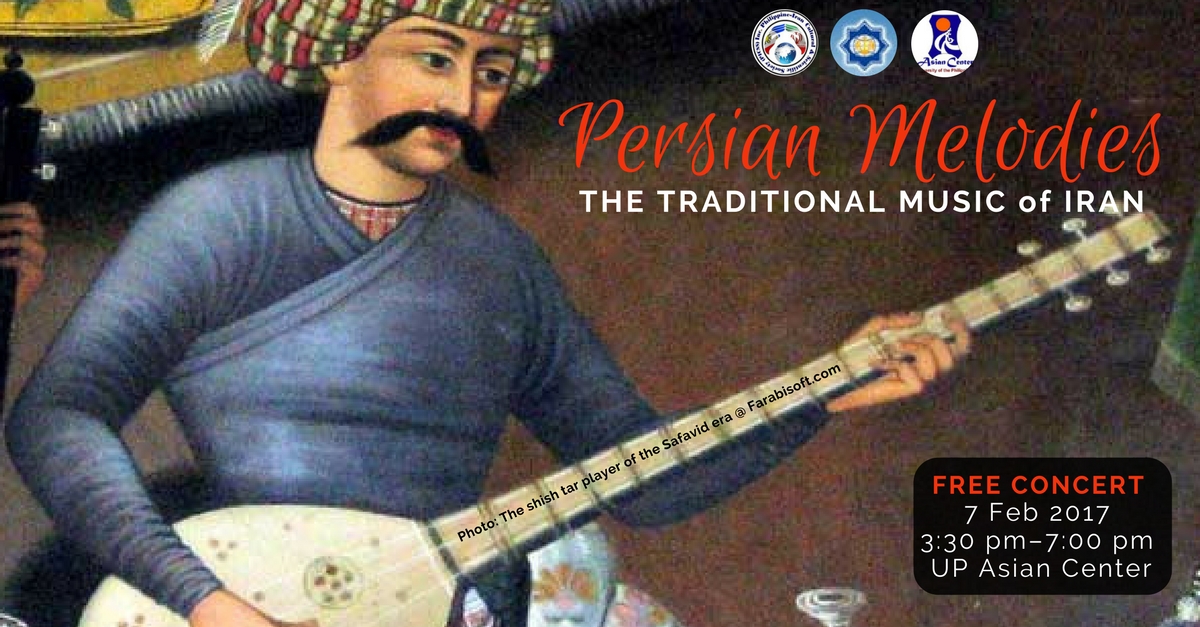 The UP Asian Center will be hosting a free concert, "Persian Melodies: The Traditional Music of Iran" on 7 February 2017, 3:30 p.m. to 7 :00 p.m., GT-Toyota Asian Center Auditorium, UP Asian Center. The concert is open to the public, but seating is first-come, first-served.
ABOUT THE CONCERT
The concert will feature performances of traditional Iranian music, which is generally performed by small groups that typically consist of a vocalist and (an) instrumentalist(s) for the rhythm and melody.
"We are happy to bring the venerable musical culture of Iran to UP," says Dr. Henelito Sevilla of the UP Asian Center, who took his Ph.D. in International Relations at the University of Tehran. "This is a rare opportunity to discover a rich musical tradition from the Western side of Asia. The concert offers a great educational and cultural experience, helping Filipinos, especially musicians and music lovers, recognize the similarities and differences between Iranian and Philippine musical traditions."
The vocalist of the group, Chavous, will sing traditional Persian melodies accompanied by several native instruments such as tar, setar, nay, dulcimer, and daf. View images and descriptions of each instrument (via Iran Chamber Society).
TENTATIVE PROGRAM
Singing of National Anthem (Iran and the Philippines)

Opening Remarks

Welcome Address

Introduction of the Musicians

Concert Proper

Film Clip

Open Forum
Dr. Henelito A. Sevilla, Jr will serve as master of ceremonies for the event. He is Assistant Professor and Assistant to the Dean for Administration and Public Affairs at the UP Asian Center.
PERFORMERS
Chavous is a five-member musical group led by Reza Gholamhosseinpour; Sajjad Dabestan Pour, vocals and dulcimer; Morteza Ghanbar Nasab Behbahani, flute; Abdolhamid Sarvarizadeh, setar and tombak; and Hamed Zamanian.
ORGANIZERS
This free concert is organized by the UP Asian Center; The Cultural Center, Islamic Republic of Iran; and the Philippine-Iran Cultural and Scientific Society (PICCS).
INQUIRIES, VENUE and VICINITY MAP
For directions, please view this vicinity map and a Google Street View map. Inquiries may be sent to This email address is being protected from spambots. You need JavaScript enabled to view it..
---
The Asian Center offers M.A. degrees in Asian Studies with four fields of specialization: Northeast Asia, Southeast Asia, South Asia, and West Asia. The Center also has an M.A. program in Philippine Studies that allows students to major in Philippine society and culture, Philippine foreign relations, or Philippine development studies. The Center offers a Ph.D. program in Philippine Studies in conjunction with the College of Arts and Letters and the College of Social Sciences and Philosophy. For an overview of these graduate programs, click here. The Asian Center also publishes Asian Studies: Journal of Critical Perspectives on Asia, the latest issue of which can be downloaded at the journal's website. For other news and upcoming events at the Asian Center, click here.