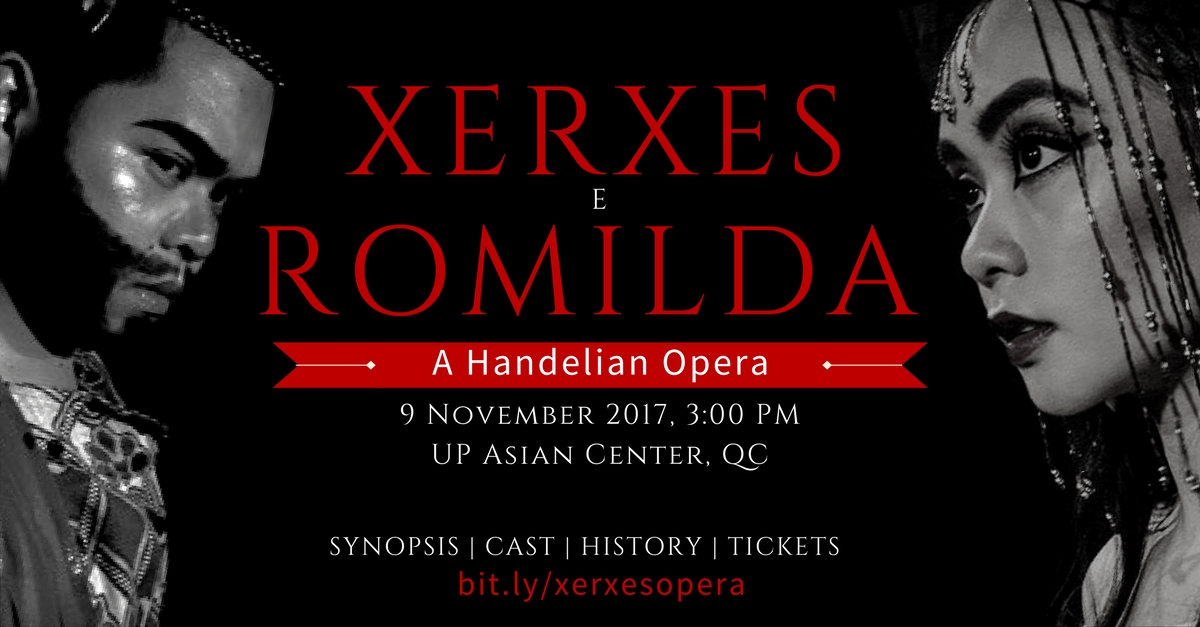 The UP Asian Center, in collaboration with the Department of Voice, Music Theater and Dance of the UP College of Music and Sinag Arts Foundation, will be staging Xerxes e Romilda, a three-act opera based on Georg Friedrich Handel's Serse on 9 November 2017, 3:00 PM, GT-Toyota Asian Center Auditorium, UP Asian Center, Quezon City.
Tickets cost PhP 600; students get 50 percent off; senior citizens and persons with disabilities, 25 percent.
STORY
Set in Persia (modern Iran) in 480 BCE, Xerxes e Romilda is based on Xerxes (Khshayarsha) I of Persia, one of the well-known Achaemenid emperors (shahanshah, king of kings), and grandson of the dynasty's founder, Cyrus the Great. He ruled from ca. 486–465 BCE and completed the construction of the imperial city of Persepolis (in Southwestern Iran).
The story revolves around Xerxes' desire to have Romilda for his own, the lover of his brother, Arsamene, and daughter of one of Xerxes's vassals. Complicating things is Xerxes's bethrothal to another woman, Amastre, who is hurt by Xerxes's infidelity and observes events while disguised as a man.
MUSIC and BACKGROUND
Xerxes e Romilda will be sung in Italian and accompanied by keyboards and a string ensemble. English translations will be provided. This production uses a libretto (the script) by Silvio Stampiglia and is based on Handel's opera, Serse, which is known for its opening aria, "Ombra Mai Fu", where Xerxes sings to a plane tree. First performed in London in April 1738, it is said to be Handel's second most-staged opera.
Xerxes e Romilda was staged as Serse a few months ago in Arezzo, Italy at the Arezzo Opera Festival of the Oberlin in Italy summer program. It was performed under the direction of Professor Alegria Ferrer of the College of Music, University of the Philippines, and Oberlin in Italy assistant faculty for summer 2016 and 2017.
Sample the music in this clip (above) featuring Malvin Macasaet (Xerxes) and Kelly Peralejo (Romilda).
HANDEL'S OPERA: HISTORICAL BACKGROUND
While Xerxes e Romilda offers Filipino audiences a chance to experience Italian opera, it also presents an interesting case study of how Europeans perceived the East before the so-called "Clash of Civilizations," and before the demonization of Iran as part of the Axis of Evil and as the land of the "mad mullah."
Handel's Serse comes from a long line of European engagement with and representation of Persia, one that includes Herodotus' Histories and Aeschylus' play, The Persians, (472 BCE) Montesquieu's The Persian Letters (1721 CE), and 300, the graphic novel adapted for film in 2006 that portrays Xerxes as a mad king hell-bent on conquest.
Persia (the Hellenized form of Fars, now a province in Iran) has had a largely negative reputation and representation among Europeans. Even so, Richard Stoneman writes in Xerxes: A Persian Life that "Persian themes were prevalent in the drama and opera of the late seventeenth and eighteenth centuries, especially in Italy." Citing Angelo Piemontese, Stoneman notes that there are "some 270 opera libretti on Persian themes, of which 108 originated in Venice, starting in 1640 with a peak in 1691, but fading out after 1736 and the end of the Safavid Empire with its close diplomatic links to Venice. [These links were] buttressed by their shared antipathy to the Ottoman Empire." This interest in Persia in Italy spread to France and England, both of which saw dramas and operas featuring Persian kings, including Handel's opera.
CAST AND PRODUCTION TEAM
Professor Alegria Ferrer directs a talented cast of artists/alumni/students: Malvin Macasaet (Xerxes); Kelly Peralejo (Romilda); Joshua Cadaliña (Arsamene); Ma Rovelyn Bautista (Atalanta); Avelino Guande (Ariodate); Maria Gereberne Lozada (Amastre); and Jonathan Abella (Elviro).
The production team includes Kyle Solar (scenographer) and Joy Rago (costume designer); Michelle Nicolasora (piano); Renato Lucas (string); Juanito Bernabe (Production Manager); and Alegria Ferrer (Director).
Professor Ferrer has a vast experience as an opera stage director. She is an Aliw Awards Hall of Fame awardee in the Female Classical Category and is included in the Cultural Center of the Philippines (CCP) Encyclopedia of the Arts. She has been nominated for Best Stage Director (Musical) for the Aliw Awards 2017.

ALIW AWARDS NOMINATIONS
Xerxes e Romilda has received three nominations for the Aliw Awards 2017: Best Original Musical Production; Best Stage Director for a Musical (Alegria Ferrer); and Malvin Macasaet (Best Classical Performer, Male)
ORGANIZERS
The opera is presented by the Department of Voice, Theater and Dance, UP College of Music; UP Asian Center; UP Office for Initiatives in Culture and the Arts; Sinag Arts Foundation, Inc; and UP Office of the Vice-Chancellor for Academic Affairs.
TICKETS and INQUIRIES
Tickets cost PhP 600, with 50 percent discount for students and 25 percent off for senior citizens and persons with disabilities. Please present a valid ID to avail of the discounts. Tickets are available at Room 105, Hall of Wisdom, UP Asian Center. VIEW VICINITY MAP.
For inquiries, you may also contact Professor Alegria Ferrer at +63.926.223.2810 or This email address is being protected from spambots. You need JavaScript enabled to view it.; and Kristian Earl Montejo at This email address is being protected from spambots. You need JavaScript enabled to view it.
---
The UP Asian Center offers M.A. degrees in Asian Studies with four fields of specialization: Northeast Asia, Southeast Asia, South Asia, and West Asia. The Center also has an M.A. program in Philippine Studies that allows students to major in Philippine society and culture, Philippine foreign relations, or Philippine development studies. The Center offers a Ph.D. program in Philippine Studies in conjunction with the College of Arts and Letters and the College of Social Sciences and Philosophy. Get an overview of these programs. The Asian Center also houses a peer-reviewed, open-access journal, Asian Studies: Journal of Critical Perspectives on Asia. It has published several books and monographs, and hosts or organizes various lectures and conferences.