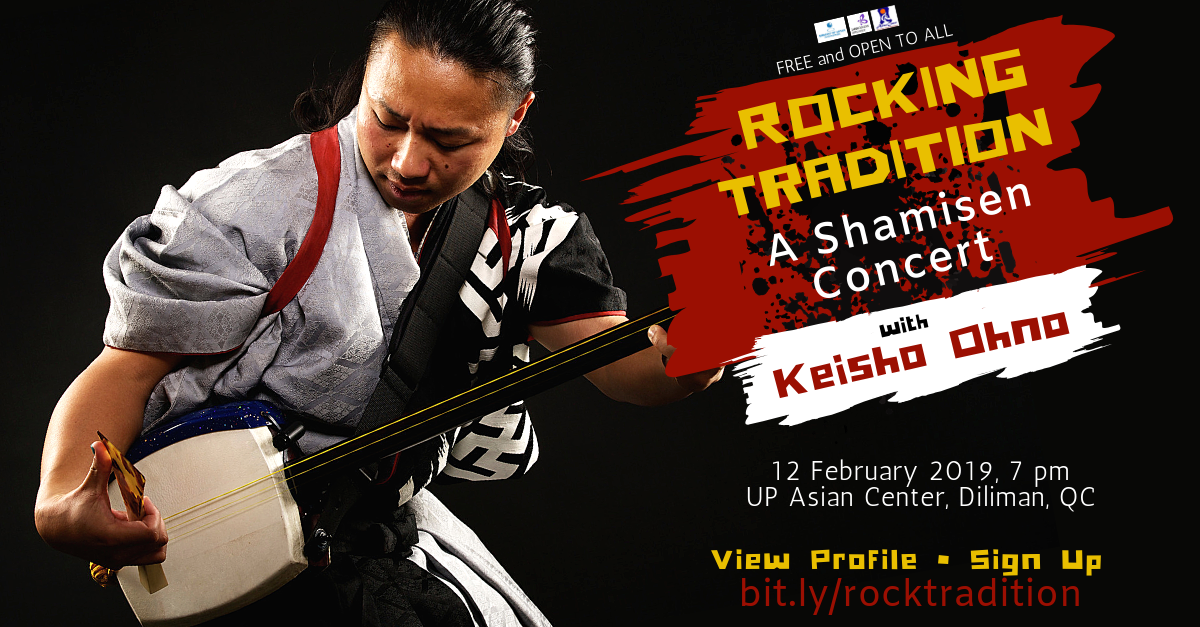 Photo: Keisho Ohno provided by concert co-organizer.
---
Discover traditional Japanese music with a rock-band twist at "Rocking Tradition: A Shamisen Concert with Keisho Ohno" on 12 February 2019, 7 PM, UP Asian Center, Quezon City. The performance is free and open to the public. Seating is first come, first served. Walk-ins are welcome, but attendees are encouraged to sign up.
THE PERFORMER
Keisho Ohno was accredited as a master (natori) of the tsugaru shamisen at the early age of 12. He performed at the FIFA World Cup in Africa in 2010, and at the FIFA Women's World Cup in Germany in 2011. That same year, Keisho was the "key performer" at the Japan Expo in Paris. His recent international performances were at the "Organization for Economic-cooperation and Development (OECD) Ministerial Board of Directors Meeting in Paris, participated by 34 developed countries," in 2014 and at the Kuwaiti National Founding event in 2015.
In 2006, he became the first tsugaru shamisen player to perform at the South by Southwest, the world's largest music fair held in the US. This was followed by a five-city tour in France and Luxemburg in 2008. Since then, he has "gained a steady artistic foothold" by performing yearly in European cities in Germany, France, Belgium and the Netherlands.
Keisho is known for always challenging "nouvelle performance and high musical technique." His music, which combines the shamisen with rock tunes, is exemplified by his motto, "Keeping traditional music as well as destroying it." He has released five albums in his career: Shamisen-damashii -Shami Spirits (2007); Samurai (2008); KAMOME (2011), which also debuted in Europe from a French label; SPARK (2013); and KEI (2013), which features traditional shamisen pieces. Visit his site.
THE TSUGARU SHAMISEN
The tsugaru shamisen is a traditional Japanese musical instrument with 3 strings. It originated from Tsugaru region in the Aomori prefecture. Of the three types of shamisen, the tsugaru shamisen is the biggest, characterized by its broad neck.1 It is played by plucking the strings very hard with a "straight wooden stick" called the bachi.2
ORGANIZERS
The free concert is organized by the UP Asian Center, Japan Foundation Manila, and the Embassy of Japan in the Philippines.
INQUIRIES
For queries, please email This email address is being protected from spambots. You need JavaScript enabled to view it.. View vicinity map.
---
The Asian Center offers M.A. degrees in Asian Studies with four fields of specialization: Northeast Asia, Southeast Asia, South Asia, and West Asia. The Center also has an M.A. program in Philippine Studies that allows students to major in Philippine society and culture, Philippine foreign relations, or Philippine development studies. The Center offers a Ph.D. program in Philippine Studies in conjunction with the College of Arts and Letters and the College of Social Sciences and Philosophy. For an overview of these graduate programs, click here. The Asian Center also publishes Asian Studies: Journal of Critical Perspectives on Asia, the latest issue of which can be downloaded at the journal's website.
---