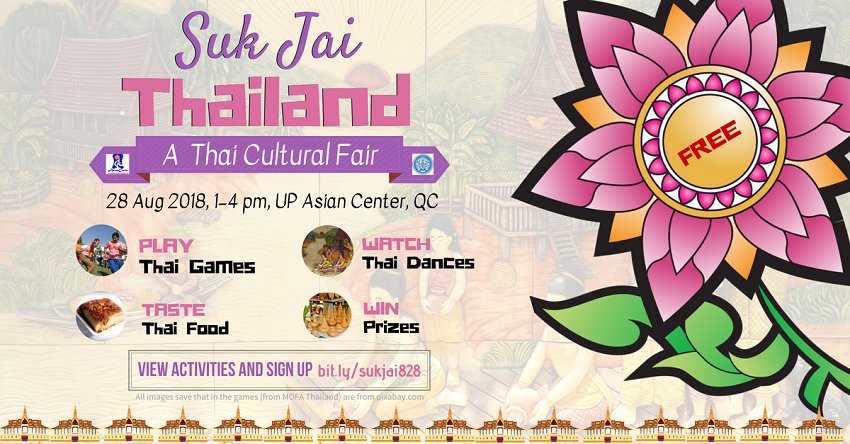 Enjoy and experience Thailand's culture through its dances, games and food at Suk Jai Thailand: A Thai Cultural Fair on 28 August 2018, 1 pm–4 pm, UP Asian Center, QC. The fair is free and open to the public. Seating and free offerings are first-come, first-served. Walk-ins are welcome, but participants are encouraged to sign up.
LIST OF ACTIVITIES: FOOD, GAMES And DANCE
"Suk Jai (happy) Thailand" is the fourth Thai cultural fair at the UP Asian Center. The fair brings to life Thai culture and entertainment through the showcase of cultural performances, traditional games, authentic Thai food, Doi Kham products (Royal Project Food Products), and Thai products from "Thailand's One Tambon, One Product" (OTOP). Participants can:
Watch 'Songkran Festival Dance' and the 'Dance of the Four Regions'


Play Thai traditional games


Sample authentic Thai cuisine


Win raffle prizes
Doi Kham Food Products Co., Ltd. was established by His majesty the King Bhumibhol Adulyadej's royal initiative project to "operate as a social business by selling processed food products to improve the quality of life for farmers and their communities" (Borsub n.d.)

OTOP showcases "unique locally made and marketed products of each Thai tambon all over Thailand," (Royal Thai Embassy, Singapore) such as handicrafts, herbal products, and household items.
THE SONGKRAN FESTIVAL
The Songkran Festival is the celebration of the "Thai New Year's Day according to the Brahmin solar calendar." It is held every April 13-15. "Songkran" is derived from Sanskrit, meaning "to move up or to step forward" (Limpisvasti n.d.). It "marks the end of the dry season and the beginning of the annual rains" (The Telegraph).
The traditional celebration of the Songkran festival involves: "cleaning houses, sprinkling water onto Buddha images, building sand pagodas on temple ground, and pouring water onto family members" and friends. (Limpisvasti n.d.).
THE DANCE OF THE FOUR REGIONS
The Dance of the Four Regions draws from the different styles of Thailand's four geographical regions and brings them together in a combination of short dances, each with their own unique steps, music, and costume.
THAI TRADITIONAL GAMES
Thailand's traditional games are easy and fun to play. They use songs and rhymes and follow simple rules. Widely available materials such as "banana stems, pebbles, sticks, cloth, etc." (Traditional Thai Games and Sports) are used in playing.
ABOUT THE ORGANIZERS
This cultural fair is organized by the UP Asian Center and Devawongse Varopakarn Institute of Foreign Affairs, Ministry of Foreign Affairs, Kingdom of Thailand (DVIFA); and UP KASANAG.
For inquiries, please email the Information Office: This email address is being protected from spambots. You need JavaScript enabled to view it.