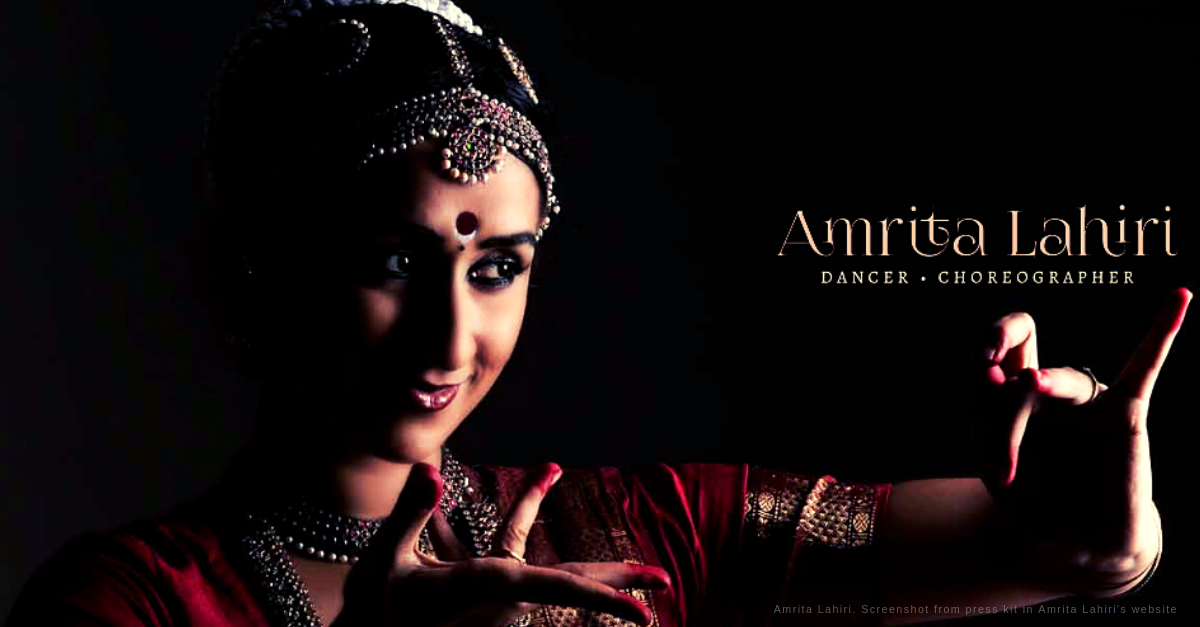 Photo: Amrita Lahiri, screenshot from press kit on her website.
---
Discover classical Indian dance from dancer and choreographer Amrita Lahiri on 25 January 2019, 3:00 pm–5:00 pm, at the UP Asian Center, Quezon City. The event is free and open to the public. Seating is first-come, first-served, but participants are encouraged to sign up.
ABOUT THE CLASSICAL INDIAN DANCE
Classical Indian dances were said to be "originally performed in the temples" to entertain gods and goddesses. They draw on myths but have evolved to portray themes on contemporary Indian society. The dances originate from a long "tradition of fine arts, and folk music and dance." They feature, among other things, mudras, or "signs of hand," which signify a "language of expression."1
AMRITA LAHIRI
Amrita Lahiri is an Indian classical dancer specializing in Kuchipudi. Critics describe her as 'gifted with a radiant stage presence', and her dance performances and choreographies have been acclaimed for their elegance and dynamism. She is empaneled as an artist with the Indian Council for Cultural Relations, and has toured as a soloist in India, USA, Switzerland, South Korea, Africa, and Southeast Asia, presenting Kuchipudi from its traditional origins to its contemporary forms. She presents the beauty and joy of dance, while maintaining the precision and soul of the classical Kuchipudi form.
Amrita began dancing at age 7 in Washington, D.C. studying under Anuradha Nehru until she shifted to New Delhi at age 15. After her solo debut (arangetrum) at the India International Centre in New Delhi in 1996, she continued to perform Kuchipudi, and also started learning Bharatanatyam under Leela Samson. Amrita toured extensively with Leela Samson's group Spanda, performing with her guru. While in New Delhi, Amrita studied under Swapnasundariand Seetha Nagajothy. In Chennai, she studied under Jaikishore Mosalikanti. Her dance reflects the influences of all of these outstanding gurus, and the experience of many performances.
From this firm foundation of training, Amrita has innovated with choreographies of her own, inspired primarily by poetry. Her recent choreographies are 'Prakriti' (2018), 'Samudra-Mother Ocean' (2016), 'Sharanam' (2015), 'Murchhana' (2014), and 'Chitra' (2012). 'Chitra' (2012) was based on Rabindranath Tagore's Chitrangada, which was described as "…true to Tagore throughout. The style of dance alone was Kuchipudi and yet it all gelled perfectly. It was as much a tribute to the skill of the dancer/choreographer as it was to Tagore." In 2014, she danced 'Murchhana' in New Delhi's Kamani auditorium. A noted critic wrote of Murchhana that it had a 'quality of delightful freshness'. In 2015, Amrita innovated with Kuchipudi group choreography, with a piece called 'Sharanam', on the theme of Shiva.
Her new production in 2016 was 'Samudra- Ocean Mother', on the relationship between mother ocean and daughter earth. In 2017, she performed to critical acclaim in Singapore, Mumbai, Chennai, and New Delhi. 2018 began with a solo Kuchipudi performance at the prestigious Music Academy festival in Chennai, for which she was much lauded by her peers. Following that, Amrita created new works on the theme of nature, 'Prakriti', for Singapore Indian Fine Arts, the institute at which she teaches, performed at Esplanade in March 2018. Her performance tour of USA in April 2018 and solo performances at Esplanade, Singapore in June 2018 were received with standing ovations.
In addition to being an active performer and choreographer, Amrita has a Masters in Sociology from Jawaharlal Nehru University, New Delhi, and over 10 years of experience in arts management. She was the Head of Dance Programming at the National Centre for Performing Arts (NCPA) in Mumbai (2010-2013) where she curated and presented over 200 performances. She has also been teaching since 1999, designing workshops and classes that appeal to a range of participants. She enjoys writing on the arts, with several articles published in journals and magazines. Through her performances, writings, teaching and choreographies, Amrita strives to expand and share the specific beauties of Indian classical dance.
ORGANIZERS
The event is co-organized by the UP Asian Center; Embassy of the Republic of India in Manila; and the Indian Council for Cultural Relations.
INQUIRIES
For queries, please email to This email address is being protected from spambots. You need JavaScript enabled to view it.. View vicinity map.
---
The Asian Center offers M.A. degrees in Asian Studies with four fields of specialization: Northeast Asia, Southeast Asia, South Asia, and West Asia. The Center also has an M.A. program in Philippine Studies that allows students to major in Philippine society and culture, Philippine foreign relations, or Philippine development studies. The Center offers a Ph.D. program in Philippine Studies in conjunction with the College of Arts and Letters and the College of Social Sciences and Philosophy. For an overview of these graduate programs, click here. The Asian Center also publishes Asian Studies: Journal of Critical Perspectives on Asia, the latest issue of which can be downloaded at the journal's website. For other news and upcoming events at the Asian Center, click here.
---