---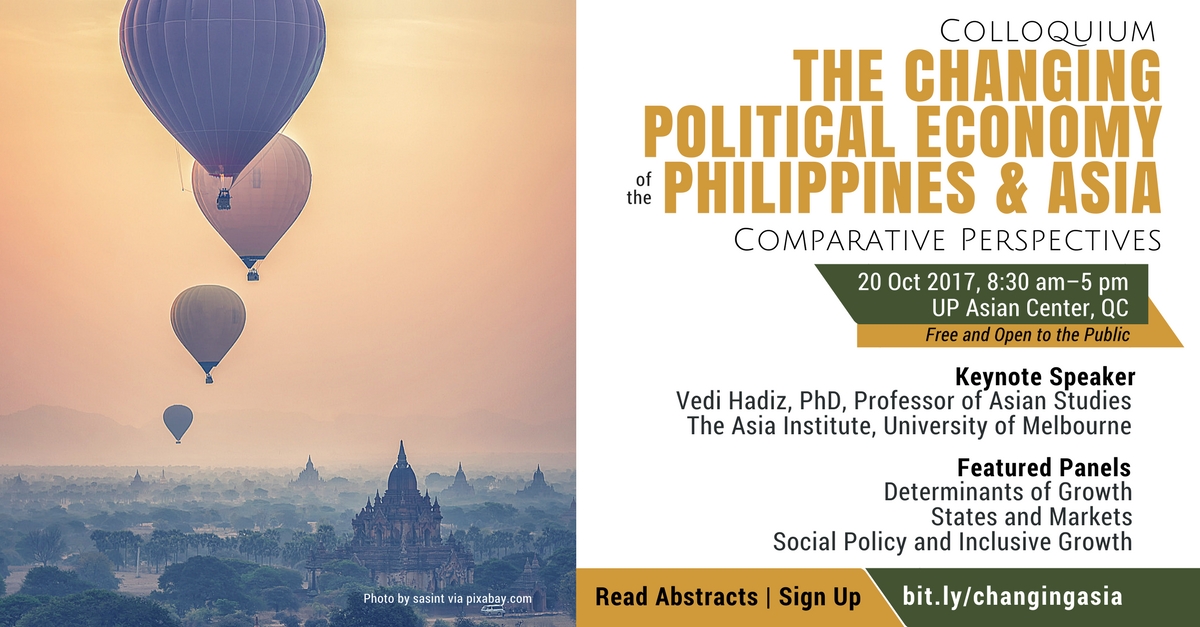 ---
The Bugkos Research Program of the UP Asian Center will be holding a colloquium, "The Changing Political Economy of the Philippines and Asia: Comparative Perspectives" on 20 October 2017, 8:30 am–5:00 pm, GT-Toyota Asian Center Auditorium, UP Asian Center, Quezon City. The colloquium is free and open to the public, but seating is first-come, first-served; walk-ins are welcome, but participants are encouraged to sign up.
The colloquium will feature studies that shed light on the various political and economic changes unfolding in Asia and the Philippines today.
PANEL 1: DETERMINANTS OF GROWTH (9:30 AM–11:00 AM)
PANEL 2: STATES and MARKETS (11:00 AM–12:40 PM)
PANEL 3: SOCIAL POLICY and INCLUSIVE GROWTH (1:40 PM–3:45 PM)
KEYNOTE SPEECH (3:45 PM–4:25 PM)
Dr. Vedi Hadiz is Professor of Asian Studies, Asia Institute, University of Melbourne. Before coming to Melbourne, he was Professor of Asian Societies and Politics at Murdoch University's Asia Research Centre and Director of its Indonesia Research Programme. He has also taught at the National University of Singapore. Professor Hadiz received his PhD in Murdoch University in 1996; his research interests "revolve around political sociology and political economy issues, especially those related to the contradictions of development in Indonesia and Southeast Asia more broadly, and more recently, in the Middle East." His latest publication isIslamic Populism in Indonesia and the Middle East. VIEW FULL PROFILE
ABOUT THE COLLOQUIUM
The colloquium is organized by the UP Asian Center; the Department of Political Science, Ateneo de Manila University; the Department of Political Science, University of the Philippines Diliman; and the ASEAN Studies Center, New Era University.
It caps the Center's two-year "Bugkos: Asia in Transition" institutional research program. READ CONCEPT NOTE and BACKGROUNDER. It has been supported by the Emerging Interdisciplinary Research Program of the University of the Philippines. For more information on Bugkos, please visit their website.
VENUE, VICINITY MAP, INQUIRIES and REGISTRATION
Please view this vicinity map or go to Google Street View. To confirm your attendance, you may also call the Bugkos Research Program Office, UP Asian Center at 981-8500 local 3586. For inquiries, you may contact the Bugkos team at This email address is being protected from spambots. You need JavaScript enabled to view it..
---
The UP Asian Center offers M.A. degrees in Asian Studies with four fields of specialization: Northeast Asia, Southeast Asia, South Asia, and West Asia. The Center also has an M.A. program in Philippine Studies that allows students to major in Philippine society and culture, Philippine foreign relations, or Philippine development studies. The Center offers a Ph.D. program in Philippine Studies in conjunction with the College of Arts and Letters and the College of Social Sciences and Philosophy. Get an overview of these programs. The Asian Center also houses a peer-reviewed, open-access journal, Asian Studies: Journal of Critical Perspectives on Asia. It has published several books and monographs, and hosts or organizes various lectures and conferences.