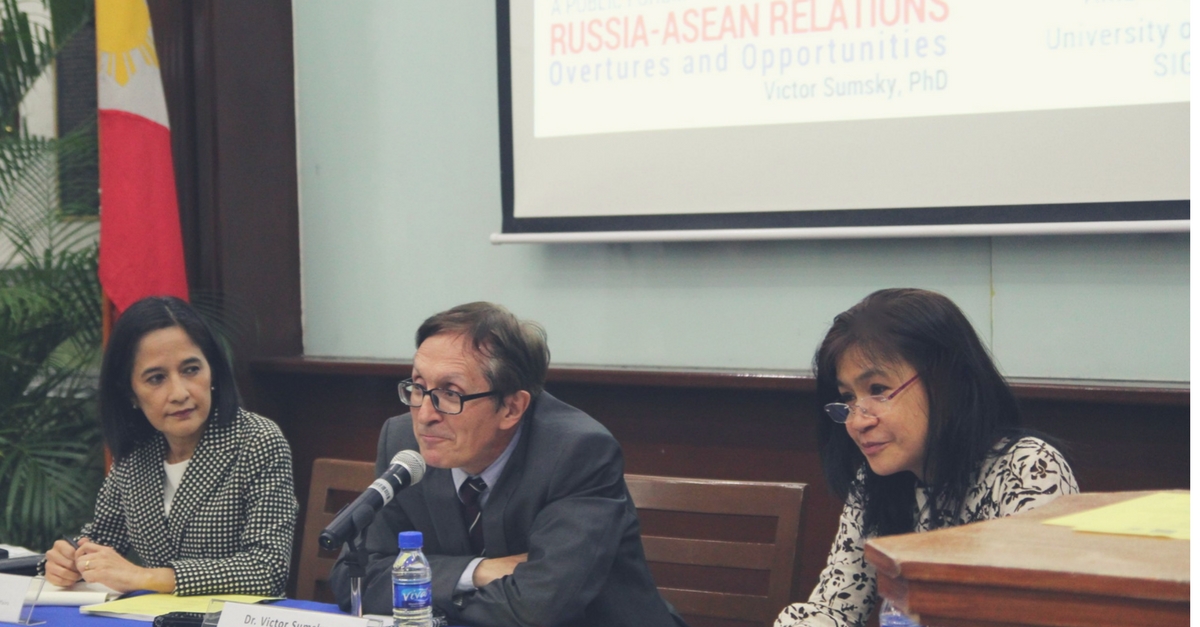 Russia first opened formal relations with ASEAN in 1991, but recently rachetted up its visibility in Southeast Asia, hosting three regional conferences in 2016 and more actively engaging in bilateral negotiations with its member-states toward forging broader and closer partnerships with its eastern neighbors. Russia's diplomatic offensive indicates its interest in claiming a place in Asia's shifting economic and security architecture. But how does Russia see its role in the region's geopolitical dynamics in which the US and a rising China present distinct poles? This was among the questions tackled in the public forum, titled "Russia-ASEAN Relations: Overtures and Opportunities," on 25 November 2016.
As the main speaker, Dr. Victor Sumsky ,who is the Director of  the ASEAN Centre, Moscow State Institute of International Relations, Russian Ministry of Foreign Affairs, discussed Russia's interests in promoting a strong ASEAN. He stressed the need for ASEAN to be more cohesive in terms of its organizational structure and to strengthen unity among its member states toward securing its central position in the changing regional security and economic architecture. Department of Foreign Affairs Director Flerida Ann Mayo , who served as a reactor, noted specific multilateral initiatives – including those with Russia – aimed at drawing more stakeholders into the ASEAN regionalization process.
Other speakers at the forum were Dr. Gisella Concepcion, UP Vice President for Academic Affairs, whose program, Emerging Interdisciplinary Research Program, has supported Bugkos, and Dr. Aaron Villaraza, Deputy Director of the Office of International Linkages UP System.  The forum was organized by the UP Asian Center (Bugkos "Asia in Transition" program) in partnership with the following: UP Third World Studies Center; the UP Department of Political Science; and the UP College of Law's Institute for Maritime Affairs and Law of the Sea and Institute of International Legal Studies.
---
The UP Asian Center offers M.A. degrees in Asian Studies with four fields of specialization: Northeast Asia, Southeast Asia, South Asia, and West Asia. The Center also has an M.A. program in Philippine Studies that allows students to major in Philippine society and culture, Philippine foreign relations, or Philippine development studies. The Center offers a Ph.D. program in Philippine Studies in conjunction with the College of Arts and Letters and the College of Social Sciences and Philosophy. Get an overview of these programs. The Asian Center also houses a peer-reviewed, open-access journal, Asian Studies: Journal of Critical Perspectives on Asia. It has published several books and monographs, and hosts or organizes various lectures and conferences.