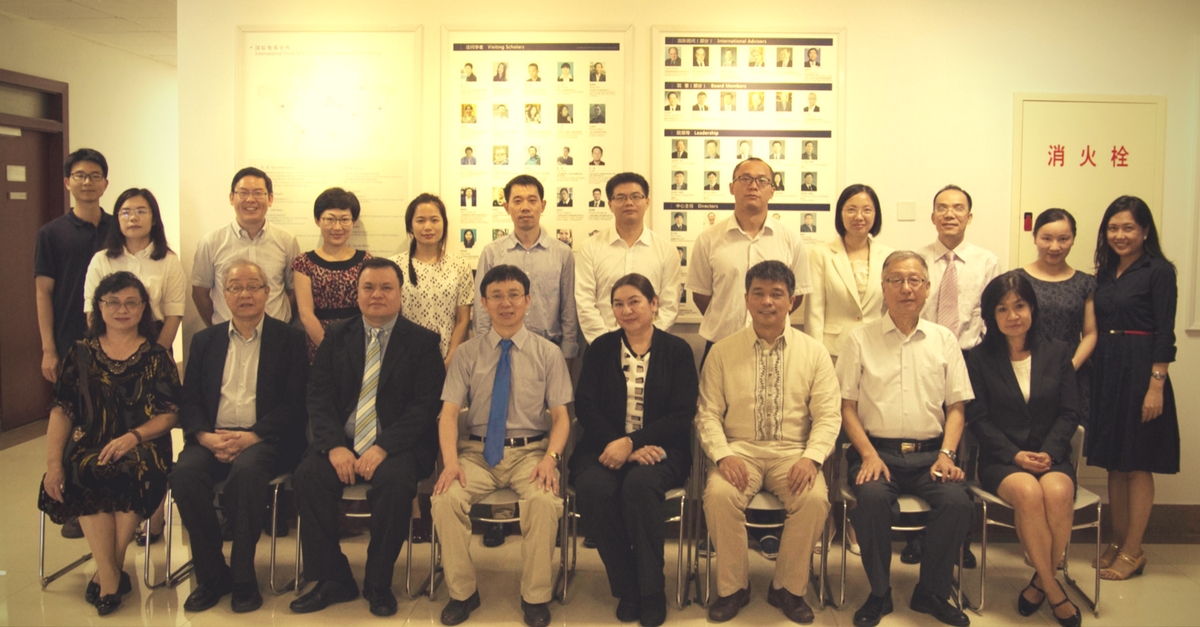 What the future holds for Philippines-China relations, in the wake of the election of a new President and the arbitral award rendered by the Permanent Court of Arbitration at The Hague on 12 July, was the focus of the conference jointly organized by the Asian Center, specifically its Bugkos research program, and the Fudan University's Center for China's Relations with Neighboring Countries (CCRNC). The conference, with the theme "Prospects and Challenges of Philippines-China Relations, Moving Forward," aimed to assess the status of relations and identify opportunities for greater cooperation between the two countries.
Divided into three parts, the conference had both the Philippine participants and their Chinese counterparts sharing their analyses on the diplomatic, economic, and political aspects of Philippines-China relations. Mr. Chito Sta. Romana, lecturer at the Asian Center and recently appointed consultant to Special Envoy to China, former President Fidel V. Ramos, spoke on the Current State and Prospects of Philippines-China Relations. Atty. Jay Batongbacal of the UP Law Center and Institute for Maritime Affairs and Law of the Sea and Asian Center Professor Dr. Aileen Baviera presented on Post-arbitration Scenarios for the Philippines, China and ASEAN and Managing Post-arbitration Political Security Challenges through Dialogue and Confidence Building, respectively. Exploring the expansion of economic cooperation in relation to China's 21st Century Maritime Silk Road initiative were Drs. Tina Clemente and Antoinette Raquiza. Finally, Asian Center Research Associate Sascha Gallardo gave a presentation on Filipino Media and Public Opinion on Philippines-China Relations.
From China, the participants came from various universities and were as follows: Fudan University Professors Dr. WU Xinbo, Dr. SHI Yuanhua, and Dr. QI Huaigao; Wuhan University Professor Dr. LUO Guoqiang; Xiamen University Professor Dr. SHEN Hongfang; Peking University Associate Professor Dr. CHEN Shaofeng; Jinan University Associate Professor Dr. DAI Fan; CICIR Research Fellow CHEN Qinghong; National Institute for South China Sea Studies Research Fellow LIN Yongxin; and, World Affairs Editor WU Xiaofang. The Chinese scholars presented four papers likewise tackling diplomatic, political, and economic relations between the two countries.
In his opening remarks, Asian Center Dean, Dr. Joefe Santarita, called for the holding of more dialogues among academics toward contributing to the peaceful resolution of the maritime dispute. The activity was supported by the University of the Philippines's Office of the President under President Alfredo E. Pascual's Track II diplomacy initiatives and Fudan University's CCRNC.
---
The UP Asian Center offers M.A. programs in Asian Studies with four fields of specialization: Northeast Asia, Southeast Asia, South Asia, and West Asia. The Center also has an M.A. program in Philippine Studies that allows students to major in Philippine society and culture, Philippine foreign relations, or Philippine development studies. The Center offers a Ph.D. program in Philippine Studies in conjunction with the College of Arts and Letters and the College of Social Sciences and Philosophy. Get an overview of these programs. The Asian Center also houses a peer-reviewed, open-access journal, Asian Studies: Journal of Critical Perspectives on Asia. It has published several books and monographs, and hosts or organizes various lectures and conferences.