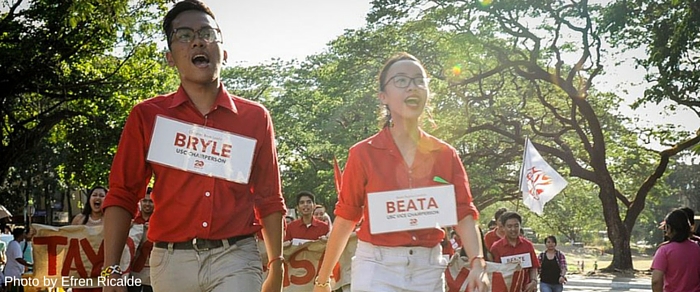 Photo: Beata Carolino (R) with USC Chair-elect Bryle Leaño. 
---
On the back of 8,409 votes, Beata Carolino, a student taking up MA in Asian Studies at the UP Asian Center, was elected on 21 April 2016 as Vice Chairperson of the University Student Council (USC), University of the Philippines Diliman, for Academic Year 2016-2017.
Ms. Carolino is a member of STAND UP (Student Alliance for the Advancement of Democratic Rights in UP), a "premiere student leadership formation and largest party-alliance of organizations, fraternities and sororities in UP Diliman…united by the principle that education is a right and the will to struggle for a nationalist, progressive and accessible alternative." STAND UP was established in 1996. Visit STAND UP Diliman's Facebook page.
She will serve for one academic year starting August 2016, alongside fellow STAND UP members, including elected chairperson Bryle Leaño, seven councilors, and ten college representatives, according to a report by the Philippine Collegian. STAND UP won 19 out of 34 USC positions.
Ms. Carolino is majoring in West Asia Studies for her graduate degree (MA in Asian Studies) at the Asian Center, University of the Philippines Diliman. According to digital flyers on STAND UP's Facebook page, she has been a student leader since her undergraduate days at the Department of Journalism, College of Mass Communication (CMC), University of the Philippines Diliman. Formerly chairperson of the STAND UP chapter in CMC and CMC Student Council chairperson, she will serve out her term as USC councilor before formally assuming her post as vice chair. She is also at present Secretary-General of the Katipunan ng mga Sangguniang Mag-aaral sa UP (League of Student Councils in UP).
Ms. Carolino was a member of the UP Journalism Club, whose motto, "critical thought and action," inspired her to promote freedom of the press and defend human rights. As a student-journalist, she conducted several projects on behalf of the marginalized, including an "in-depth" investigative report about the "skewed" bonus system for UP rank-and-file employees, and photojournalism projects on poor communities in Smokey Mountain, Manila and the Artex Compound.  She opposed proposals to defund the Philippine Collegian, UP Diliman's student paper. And in November 2015, she collaborated with other student leaders to "stand up against widespread violations human rights" when 600 lumads arrived in Manila, fleeing military persecution. Deeply committed to the cause of the victims of human rights violations, she wants to be a human rights lawyer one day. 
---
The UP Asian Center offers M.A. degrees in Asian Studies with four fields of specialization: Northeast Asia, Southeast Asia, South Asia, and West Asia. The Center also has an M.A. program in Philippine Studies that allows students to major in Philippine society and culture, Philippine foreign relations, or Philippine development studies. The Center offers a Ph.D. program in Philippine Studies in conjunction with the College of Arts and Letters and the College of Social Sciences and Philosophy. Get an overview of these programs. The Asian Center also houses a peer-reviewed, open-access journal, Asian Studies: Journal of Critical Perspectives on Asia. It has published several books and monographs, and hosts or organizes various lectures and conferences.