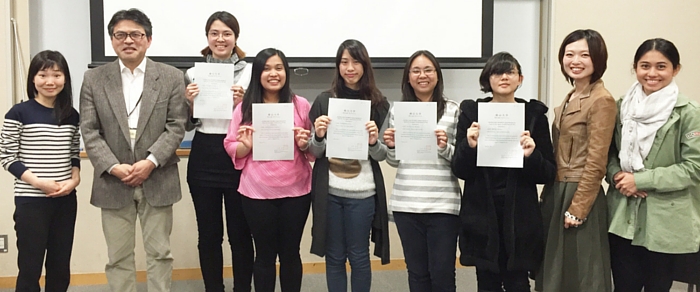 Photo: Team PH with organizers Ryoko Nanjo, Dr. Ogawa Hideki, Shoko Umdeda, and Pasita Marukee, courtesy of Lara Cartujano (4th from left). 

---
Lara Danielle Cartujano, a graduate student at the UP Asian Center, took part in a study tour, "Study and Visit Japan's Modernization and Postwar Experience 2016," from 13 to 21 March 2016. The tour included visits to Okayama, Kyoto, Hiroshima, and Yamaguchi and gathered students from different universities that are members of the ASEAN University Network (AUN).
As part of the tour, Ms. Cartujano delivered a report on the Philippines, experiences of Filipinos during the Japanese colonial period, and the Philippine Constitution.

Exploring Okayama, Kyoto, Hiroshima, and Yamaguchi
Together with participants coming from various ASEAN countries, Ms. Cartujano visited several sites, including the Fushimi Inari Shrine in Kyoto, the Korakuen and Okayama Castle in Okayama, the Yamato Kure Maritime Museum and Hiroshima Memorial Museum in Hiroshima, and the Kaiten Memorial Museum in Yamaguchi. Visiting several war and modernization related places in Japan gave the students, according to the AUN's overview of the program, "the chance to know how the Japanese struggled after the war, how they were united as a nation and rebuild their country, and how the values learned from these experiences manifest in today's era."
About the Study Tour
The study programme, prepared by Okayama University and the UN, indicates, "With the strong and good relations between ASEAN and Japan, the program aims to showcase the culture, tradition and the people of Japan to the ASEAN students to further strengthen its people to people relationship and to enhance social interaction and communication skill, as well as to explore its diverse perspectives and integrate it to their academic excellence. The program is also a good venue for networking and building long-lasting friendships with the future leaders of the ASEAN region." The study tour was organized and sponsored by the Japan Ministry of Education, Culture, Sports, Science and Technology (MEXT) in partnership with Okayama University and the ASEAN University Network.
---
The UP Asian Center offers M.A. degrees in Asian Studies with four fields of specialization: Northeast Asia, Southeast Asia, South Asia, and West Asia. The Center also has an M.A. program in Philippine Studies that allows students to major in Philippine society and culture, Philippine foreign relations, or Philippine development studies. The Center offers a Ph.D. program in Philippine Studies in conjunction with the College of Arts and Letters and the College of Social Sciences and Philosophy. Get an overview of these programs. The Asian Center also houses a peer-reviewed, open-access journal, Asian Studies: Journal of Critical Perspectives on Asia. It has published several books and monographs, and hosts or organizes various lectures and conferences.