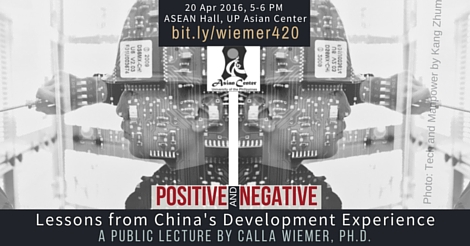 The UP Asian Center will be hosting a public lecture, "Positive and Negative Lessons from China's Development Experience" by Calla Wiemer, Ph.D. on Wednesday, 20 April 2016, 5:00 p.m. to 6:00 p.m, ASEAN Hall, Hall of Wisdom, Asian Center, University of the Philippines Diliman. The lecture is free and open to the public; seating is first-come, first-served, but participants are encouraged to sign up to expedite the registration process on the day of the forum.


About the Speaker
Calla Wiemer is a Professorial Lecturer at the University of the Philippines School of Economics, UP Diliman campus and Senior Research Fellow with the UPecon Foundation. She serves as Editor-in-Chief of the Journal of Asian Economics and President of the American Committee on Asian Economic Studies. Her major academic pursuit at present is writing a textbook titled "Macroeconomics for Emerging East Asia". She is also organizing a symposium issue for JAE on "Money and Exchange Rates in Emerging Asia" and writing the lead piece. Calla received her Ph.D. in economics in 1984 from the University of Wisconsin-Madison with dissertation research conducted at Nanjing University. She has taught at the University of Hawaii at Manoa where she was tenured, the National University of Singapore, Claremont McKenna College, and IES Abroad, Beijing Foreign Studies University.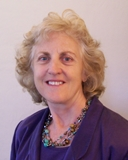 As a specialist on the Chinese economy, she has carried out research and consulting on a wide range of topics including macroeconomic imbalances, saving behavior, exchange rate management,  cross-border economic relations, human development, GDP measurement, household employment choice,  rural taxation, public health, and the rural to urban transition. Her China-based consulting work has positioned her with the National Development and Reform Commission, the National Bureau of Statistics, and the Development Research Center of the State Council. Photo and profile courtesy of the UP School of Economics. 
About the Lecture
The lecture is organized by Dr. Tina Clemente as part of her AS 235.1 (Social and Economic Development in China) class. Dr. Clemente, Associate Professor at the UP Asian Center, will also serve as moderator.
---
The UP Asian Center offers M.A. degrees in Asian Studies with four fields of specialization: Northeast Asia, Southeast Asia, South Asia, and West Asia. The Center also has an M.A. program in Philippine Studies that allows students to major in Philippine society and culture, Philippine foreign relations, or Philippine development studies. The Center offers a Ph.D. program in Philippine Studies in conjunction with the College of Arts and Letters and the College of Social Sciences and Philosophy. Get an overview of these programs. The Asian Center also houses a peer-reviewed, open-access journal, Asian Studies: Journal of Critical Perspectives on Asia. It has published several books and monographs, and hosts or organizes various lectures and conferences.