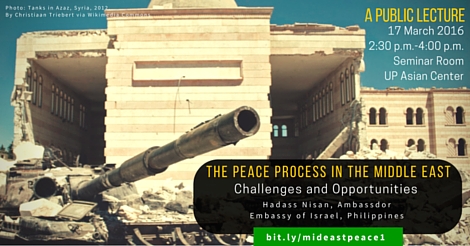 The UP Department of Political Science, in cooperation with the UP Asian Center, is organizing a public lecture, "The Peace Process in the Middle East: Challenges and Opportunities," on 17 March 2016, 2:30 p.m. to 4:00 p.m., Seminar Room, Hall of Wisdom, GT-Toyota Asian Cultural Center, Asian Center, University of the Philippines Diliman. The lecture is free and open to the public; seating is available on a first-come, first-served basis, but participants are encouraged to sign up to expedite the registration process on the day of the forum.
About the Lecture
The past few years has been a critical time for the Middle East. Democratic uprisings, which started in Tunisia, spread to other countries in the regions, a phenomenon that caught everyone by surprise. At any rate, these events have opened a new chapter in the region's domestic politics. At the same time, perennial economic problems, the threat of extremism, and conflicts trouble Afghanistan, Iraq, Pakistan, Yemen, and Somalia, posing plenty of concern to people in and out of the Middle East. Moreover, the Israeli-Arab peace process and the nuclear negotiations with Iran remain significant challenges to the United States and other regional actors. In this lecture, Deputy Ambassador Hadass Nisan examines how we should view the situation in this part of the world, and unpack its implications for U.S. and Philippine foreign policy.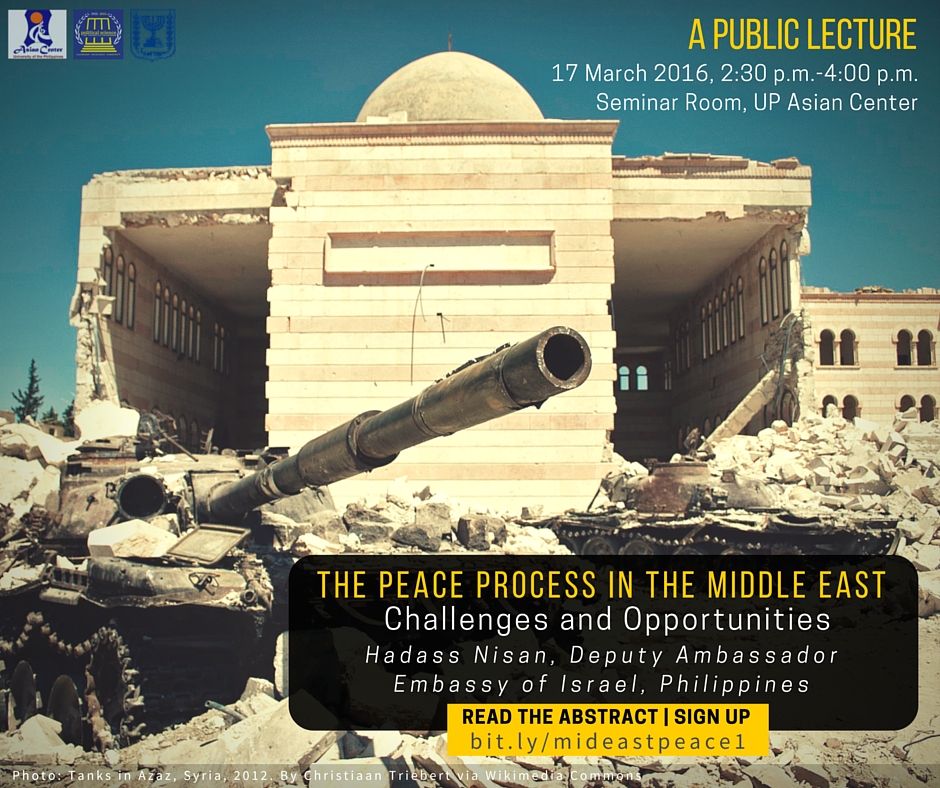 Ms. Hadass Nisan assumed her position as the Deputy Chief of Mission in Manila in October 2015 after completing the professional training of the Israeli Ministry of Foreign Affairs. Prior to her work in the Israeli Ministry of Foreign Affairs, Ms. Nisan was an entrepreneur, artistic director, and producer of sociocultural projects in Israel. She has a vast amount of experience in the last 10 years in the nonprofit sector. Alongside the projects in Israel, she also took part in global initiatives in Australia, Poland, the United States, Jordan, and Bulgaria, just to name a few. 
---
The UP Asian Center offers M.A. degrees in Asian Studies with four fields of specialization: Northeast Asia, Southeast Asia, South Asia, and West Asia. The Center also has an M.A. program in Philippine Studies that allows students to major in Philippine society and culture, Philippine foreign relations, or Philippine development studies. The Center offers a Ph.D. program in Philippine Studies in conjunction with the College of Arts and Letters and the College of Social Sciences and Philosophy. Get an overview of these programs. The Asian Center also houses a peer-reviewed, open-access journal, Asian Studies: Journal of Critical Perspectives on Asia. It has published several books and monographs, and hosts or organizes various lectures and conferences.