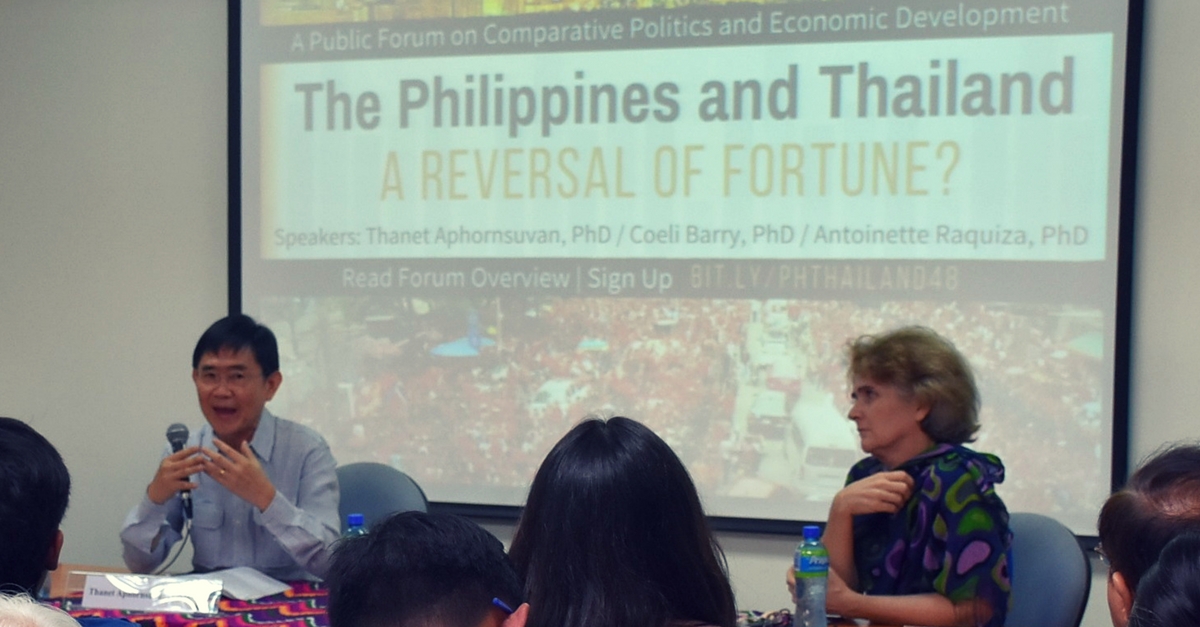 Over the past decade, the Philippines and Thailand experienced a reversal of fortunes. The Philippines, once regarded as the sick man of Asia, is now one of the fastest growing economies in the world. Thailand, once considered as one of East Asia's emerging tiger economies, is experiencing a long-term economic slow-down.
In a public forum titled "The Philippines and Thailand: A Reversal of Fortune" held on 8 April 2016, Dr. Thanet Aphornsuvan of the Thammasat University, Dr. Coeli Barry of Mahidol University, and Dr. Antoinette Raquiza of the UP Asian Center discussed the factors that would account for the difference in the two countries' economic performance
The discussion underscored the crisis of political legitimacy and the role of the Thai middle class in its political and economic transformation. The cultural idioms on deference and hierarchy also explain the dynamics of the existing sociopolitical context in Thailand. In the case of the Philippines, it was the changes in the configuration of the global economy, coupled with the rapid increase in the country's international trade in services, that allowed for the Philippines's rapid growth rate.
The forum, held on 8 April 2016, was organized by Bugkos Research Program of the UP Asian Center in partnership with the UP Department of Political Science and the Third World Studies. 
---
The UP Asian Center offers M.A. degrees in Asian Studies with four fields of specialization: Northeast Asia, Southeast Asia, South Asia, and West Asia. The Center also has an M.A. program in Philippine Studies that allows students to major in Philippine society and culture, Philippine foreign relations, or Philippine development studies. The Center offers a Ph.D. program in Philippine Studies in conjunction with the College of Arts and Letters and the College of Social Sciences and Philosophy. Get an overview of these programs. The Asian Center also houses a peer-reviewed, open-access journal, Asian Studies: Journal of Critical Perspectives on Asia. It has published several books and monographs, and hosts or organizes various lectures and conferences.