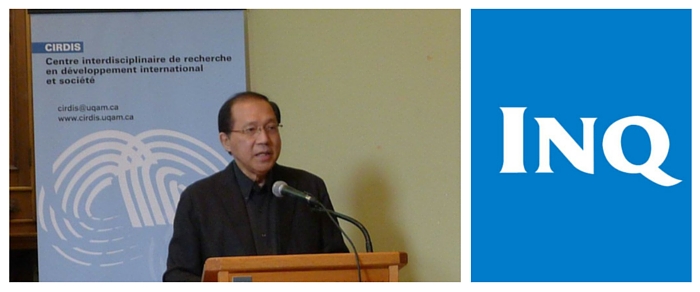 Dr. Ed Tadem of the UP Asian Center delivering a presentation at a Montreal conference in October 2015. 
---
 "Is the Philippines ready for an impending global economic downturn?" asks Dr. Eduardo Tadem of the UP Asian Center.
His commentary, "Global Economic Downturn Could Affect PH", published in the Philippine Daily Inquirer last 24 February 2016, surveys four global trends and argues how they can and will affect the Philippines.
Marshaling a range of statistics, Dr. Tadem briefly described "China's economic decline; continuing economic troubles in Europe, the United States, and the newly emerging economies; Japan's recession; the decline in global oil prices."
How will these economic woes impact the Philippines?
First is the "severe constriction of its exports." Dr. Tadem points out the Philippines' high economic dependence on Japan and China, its main trading partners. Philippine exports to China reached 746.82 million in December 2015, making the latter the "third-biggest export market for Philippine-made goods," behind Japan.
Chinese and Japanese economic difficulties, however,  has already affected Philippine export growth, which dropped from 11.3 percent in 2014 to 5.5 percent in 2015. And with oil prices at record lows, the country  faces the prospect of 1.5 million Filipinos in the Middle East "losing their jobs and returning home with no work awaiting them."
Professor Tadem specializes in rural development, agrarian reform, and the peasantry, among other topics. The editor in chief of Asian Studies: Journal of Critical Perspectives on Asia, he handles graduate courses on Southeast Asia and on Theories and Perspectives in Asian Studies. His most recent publication is "Technocracy and the Peasantry: Martial Law Development Paradigms and Philippine Agrarian Reform," 2015. Journal of Contemporary Asia, Vol. 45. No.3.  Visit his faculty profile.
Read more: Free Publications: By Asian Center Faculty and Staff
---
The UP Asian Center offers M.A. degrees in Asian Studies with four fields of specialization: Northeast Asia, Southeast Asia, South Asia, and West Asia. The Center also has an M.A. program in Philippine Studies that allows students to major in Philippine society and culture, Philippine foreign relations, or Philippine development studies. The Center offers a Ph.D. program in Philippine Studies in conjunction with the College of Arts and Letters and the College of Social Sciences and Philosophy. Get an overview of these programs. The Asian Center also houses a peer-reviewed, open-access journal, Asian Studies: Journal of Critical Perspectives on Asia. It has published several books and monographs, and hosts or organizes various lectures and conferences.