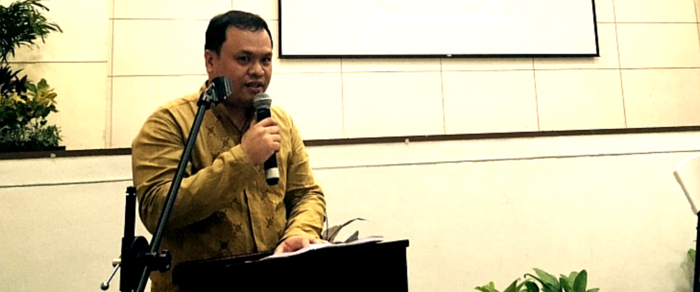 Photo: Dean Santarita, Asian Center file photo.
---
Dean Joefe B. Santarita of the UP Asian Center presented a paper, "Beyond the Indian Ocean: India and its Blue Economy Partnerships in the South China Sea," at the Delhi Dialogue VIII held from 17 to 19 February at the Institute for Defence Studies and Analyses (IDSA), New Delhi, India.
Below is the abstract of Dr. Santarita's paper:
"The oceans are shared resources which require a trans boundary perspective and active partnerships of various stakeholders. Just like any bodies of water, the South China Sea (SCS) is an important 'development space' that needs utmost attention and collaboration. Unfortunately, this space is currently the source of contention between countries such as China, Vietnam, and the Philippines, among others. Nevertheless, the attempt to develop the blue economy in the SCS demands new partnerships among the stakeholders within and across the area, including India. The latter's interest to get involved in the blue economy within the SCS zone, aside from its the Indian Ocean, is not surprising given its long history of interaction with Southeast Asian countries as manifested by its Act East Policy, a rejuvenation of its Look East Policy.
This paper, therefore, explores India's recent engagements with Southeast Asian countries to steer a sustainable blue-economy in the SCS. In particular, this paper documents collaborative programs and activities between India on the one hand, and Philippines and Vietnam on the other. These collaborations pertain to food security, the promotion of sustainable marine development and management, and the creation of wealth-generating opportunities based on inclusive, oceans-based economic growth. Lastly, it will also explore the role of Indian and ASEAN business and industrial sectors to complement government initiatives in effectively managing both fisheries and nonliving sea resources in the area."
Dr. Santarita was part of the panel "ASEAN-India and the Ocean Economy Dynamics."
According to India's Ministry of External Affairs, the Delhi Dialogue is "a premier annual track 1.5 event to discuss politico-security, economic and socio-cultural engagement between ASEAN and India," which "has been held annually since 2009." This year's Delhi Dialogue VIII is themed "ASEAN-India Relations: A New Paradigm" and features three sessions, Business, Ministerial, and Academic,  through which the participants -- businessmen, government ministers, and scholars -- will explore the different dimensions of ASEAN-India ties.  Track 1.5 diplomacy generally entails participation of both state (official) and non-state (nonofficial) actors. View the concept note and program for Delhi Dialogue VIII.
The Delhi Dialogue VIII: ASEAN-India Relations: A New Paradigm was organized by the Ministry of External Affairs, Government of India in collaboration with IDSA, among many others.
While in New Delhi, Dean Santarita and other participants from the Philippines were hosted for dinner by Her Excellency, Ma. Teresita C. Daza, Ambassador of the Philippines to India and Nepal.
Dr. Joefe Santarita is Dean and Associate Professor at the Asian Center, University of the Philippines Diliman. He specializes in Indian studies, migration studies, Philippine culture and society, maritime history and Southeast Asian political economy. Dr. Santarita, who obtained his Ph.D. in South Asian Studies from the National University of Singapore, also handles several graduate courses at the UP Asian Center, including those on Regionalism and Community Building in Asia, Modern Asia, and Asia in Antiquity, among others.  Visit his faculty profile.
---
The Asian Center offers M.A. degrees in Asian Studies with four fields of specialization: Northeast Asia, Southeast Asia, South Asia, and West Asia. The Center also has an M.A. program in Philippine Studies that allows students to major in Philippine society and culture, Philippine foreign relations, or Philippine development studies. The Center offers a Ph.D. program in Philippine Studies in conjunction with the College of Arts and Letters and the College of Social Sciences and Philosophy. For an overview of these graduate programs, click here. The Asian Center also publishes Asian Studies: Journal of Critical Perspectives on Asia, the latest issue of which can be downloaded at the journal's website. View recent and upcoming Lectures & Conferences and read other News & Announcements.Join our mailing list to receive invitations to lectures, conferences, etc.