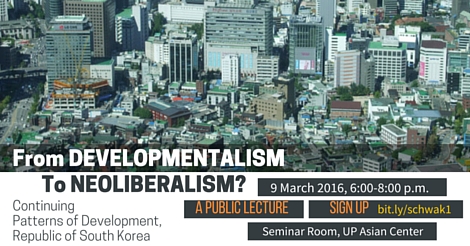 The UP Asian Center will host a public lecture, "From Developmentalism to Neoliberalism? Continuing Patterns of Development, Republic of Korea" by Juliette Schwak of the City University of Hong Kong. The lecture will be held on 9 March 2016, 6:00 p.m. to 8:00 p.m. at the Seminar Room, Hall of Wisdom, GT-Toyota Asian Cultural Center, Asian Center, University of the Philippines Diliman. The lecture is free and open to the public; seating is on a first-come, first-served basis.
The lecture analyzes the debates on the Republic of Korea's changing patterns of development. One school of thought argues that South Korea has abandoned developmentalism in favor of neoliberalism, especially in the aftermath of the Asian financial crisis in 1997. Yet, as the lecture will stress, while certain institutions of the developmental state have been dismantled, continuities exist between the two models of development. From a historical perspective, the developmental state and neoliberal state pursue different strategies but share institutional features and one goal - economic growth. Continuities include: top-down, state- orchestrated capitalism; power networks between state elites and business leaders; a similar contempt for labor; and, a hierarchical worldview in which economic development is a means toward reaching the status of "first-world nation".
This lecture is organized by Dr. Antoinette Raquiza for three graduate classes of the UP Asian Center.  

About the Speaker
Juliette Schwak is a PhD candidate at the City University of Hong Kong. Her thesis, "Building and Exporting Korean Competitiveness Society (1961-2015)" focuses on Korean nation branding and development assistance policies. Her research interests include nation branding, global competitiveness policies, critical development studies, critical theory (specifically on Foucault), and the role of consultants in contemporary policy-making.
About the Photo
The image used above is that of Seoul in 2008 taken by user InSapphoWeTrust via Wikimedia Commons. 
---
The Asian Center offers M.A. degrees in Asian Studies with four fields of specialization: Northeast Asia, Southeast Asia, South Asia, and West Asia. The Center also has an M.A. program in Philippine Studies that allows students to major in Philippine society and culture, Philippine foreign relations, or Philippine development studies. The Center offers a Ph.D. program in Philippine Studies in conjunction with the College of Arts and Letters and the College of Social Sciences and Philosophy. For an overview of these graduate programs, click here. The Asian Center also publishes Asian Studies: Journal of Critical Perspectives on Asia, the latest issue of which can be downloaded at the journal's website. View recent and upcoming Lectures & Conferences and read other News & Announcements.Join our mailing list to receive invitations to lectures, conferences, etc.