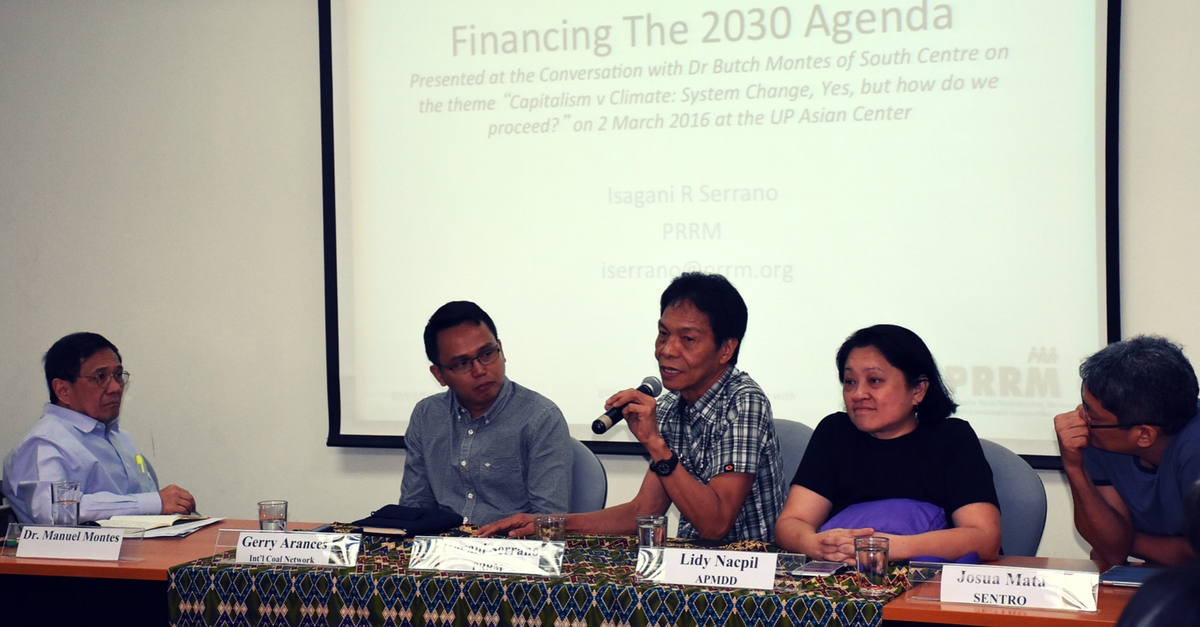 The need to shift from the current system of production to a more sustainable one that balances human and environmental needs was the focus of the public lecture "Capitalism Vs Climate Change: Systems Change, Yes, But How Do We Proceed?" held on 02 March 2016. The event's lead speaker, Dr. Manuel F. Montes of the South Centre in Geneva, discussed how there are international agreements reflecting the global community's' agreement to collectively reduce greenhouse gas emissions and shift to more sustainable means of production, such as the Paris Agreement and Sustainable Development Goals. However, he also noted that these are non-binding and cannot compel action from participating countries.
Also contributing to the discussion were the panel of reactors, which included Ms. Lidy Nacpil of Asian Peoples' Movement on Debt and Development, Mr. Josua Mata of Sentro ng mga Nagkakaisa at Progresibong Manggagawa, Mr. Isagani Serrano of Philippine Rural Reconstruction Movement, and Mr. Gerry Arances of the International Coal Network. They discussed the possibility of creating employment opportunities that are linked to climate change mitigation initiatives, recalibration of taxation policies for funding them, and the need to be more conscious of the Philippines' carbon footprint as the country continues on its growth path.
The public lecture was organized by the UP Asian Center's Bugkos Research Program, in cooperation with Focus on the Global South, Freedom from Debt Coalition, Philippine Movement for Climate Justice, SENTRO, Alyansa Tigil Mina, Philippine Rural Reconstruction Movement, Asian Peoples Movement on Debt and Development, and Action for Economic Reforms (AER).
---
The Asian Center offers M.A. degrees in Asian Studies with four fields of specialization: Northeast Asia, Southeast Asia, South Asia, and West Asia. The Center also has an M.A. program in Philippine Studies that allows students to major in Philippine society and culture, Philippine foreign relations, or Philippine development studies. The Center offers a Ph.D. program in Philippine Studies in conjunction with the College of Arts and Letters and the College of Social Sciences and Philosophy. For an overview of these graduate programs, click here. The Asian Center also publishes Asian Studies: Journal of Critical Perspectives on Asia, the latest issue of which can be downloaded at the journal's website. View recent and upcoming Lectures & Conferences and read other News & Announcements. Join our mailing list to receive invitations to lectures, conferences, etc.