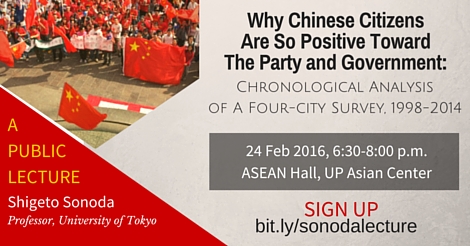 The Asian Center, University of the Philippines Diliman will be holding a public lecture, "Why Chinese Citizens Are So Positive Toward The Party and Government: A Chronological Analysis of a Four-City Survey, 1998–2014" by Professor Shigeto Sonoda of the University of Tokyo. The lecture will be held on Wednesday, 24 February 2016, 6:30 p.m. to 8:00 p.m., G/F, ASEAN Hall, GT-Toyota Asian Cultural Center, Asian Center, University of the Philippines Diliman. The lecture is free and open to the public; seating is available on a first-come, first-served basis.
Below is a summary of Professor Sonoda's lecture:
In spite of a lot of arguments about the "Collapse of CCP's rule," many opinion polls are still showing the popularity of the government among ordinary Chinese citizens. Many social scientists have been discussing the possibility of democratization due to the rise of middle class; the spread of higher education and marketization; or the challenges to CCP's governance due to the rise of many social problems (air pollution, corruption, social inequality, and so forth). However, the Chinese political system seems to be maintaining its rigidity and stability.  Many experts on China Studies are facing such "dilemmas" and "contradictions." This lecture briefly introduces the Chinese Four-City Survey, which had a sample size of 4,000 and was conducted in Tianjin, Shanghai, Chongqin, and Guangzhou from 1998 to 2014.  Basic findings will be presented,  followed by an analysis and interpretation of how to understand the above-mentioned "dilemmas" and "contradictions."  Some additional, but interesting findings will be put forward, as well.
Professor Sonoda's lecture will be held as part of a Chinese Studies class taught by Dr. Tina Clemente, Associate Professor, who will serve as moderator.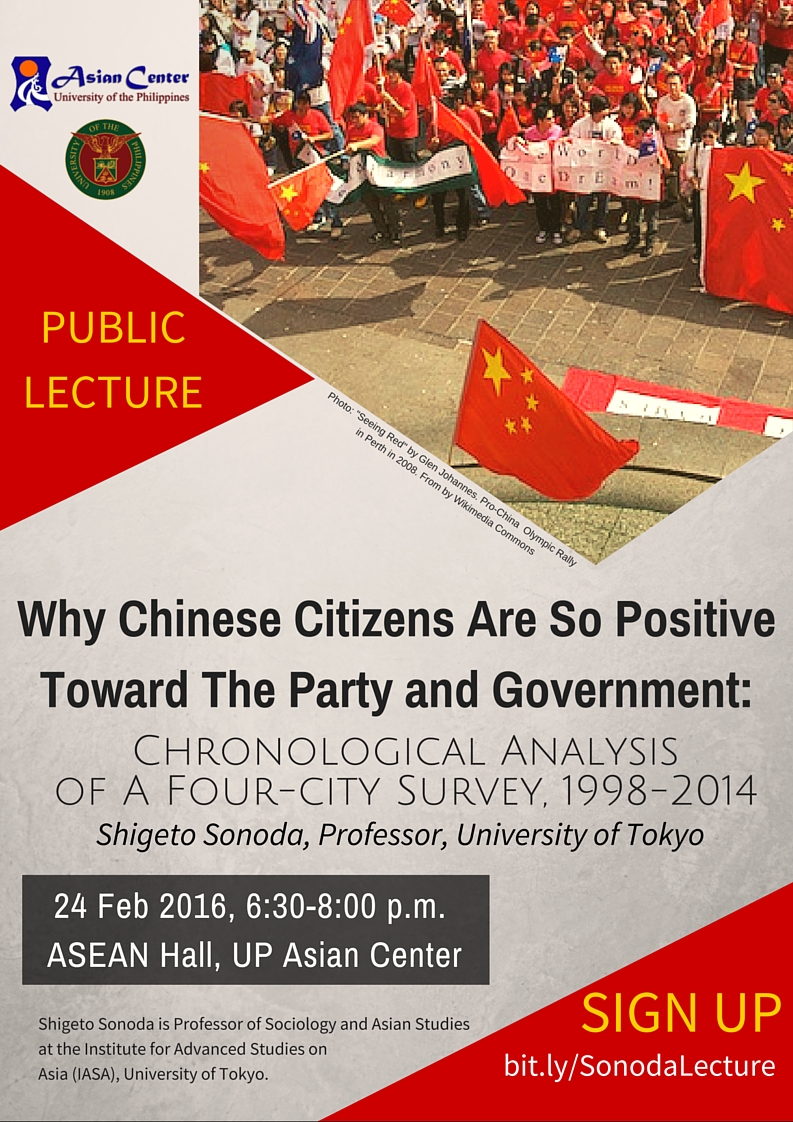 Shigeto Sonoda is Professor of Sociology and Asian studies, Institute for Advanced Studies on Asia (IASA) at the University of Tokyo, where he is also Department Head of Graduate School of Interdisciplinary Information Studies (GSII) and Deputy Director General of Division of International Affairs. Professor Sonoda has conducted several research projects, including AsiaBarometer 2003-2008, Asian Student Survey 2008-2014, and Chinese Four-City Survey 1998-2014. His special interest is in social stratification and globalization of cultures in Asia, and in the localization of Japanese companies in Asian countries.  
Among his latest publications include several edited volumes in Japanese: Linkage and Estrangement in East Asia (Keiso-Shobo 2015);  A History of Japan-China Relations, 1972-2012, III and IV (University of Tokyo Press, 2012 and 2014);  Emerging Middle Classes in East Asia (Keisho-shobo 2012); and Where Chinese Society is Heading for?: Dialogue with Chinese Sociologists (Iwanami Shoten Publishers 2008). He is the author of Social Inequality in Contemporary China, published in Japanese in 2008 by Chuo Koron and given Special Prize of 20th Asia-Pacific Award. Visit his web profile.
Photo: Posters announcing Professor Sonoda's lecture at the UP Asian Center. The featured image is, "Seeing Red" by Glen Johannes, which shows a "pro-China olympic rally in Forrest Chase in Perth." Downloaded from Wikimedia Commons. View image.
---
The Asian Center offers M.A. degrees in Asian Studies with four fields of specialization: Northeast Asia, Southeast Asia, South Asia, and West Asia. The Center also has an M.A. program in Philippine Studies that allows students to major in Philippine society and culture, Philippine foreign relations, or Philippine development studies. The Center offers a Ph.D. program in Philippine Studies in conjunction with the College of Arts and Letters and the College of Social Sciences and Philosophy. For an overview of these graduate programs, click here. The Asian Center also publishes Asian Studies: Journal of Critical Perspectives on Asia, the latest issue of which can be downloaded at the journal's website. View recent and upcoming Lectures & Conferences and read other News & Announcements. Join our mailing list to receive invitations to lectures, conferences, etc.