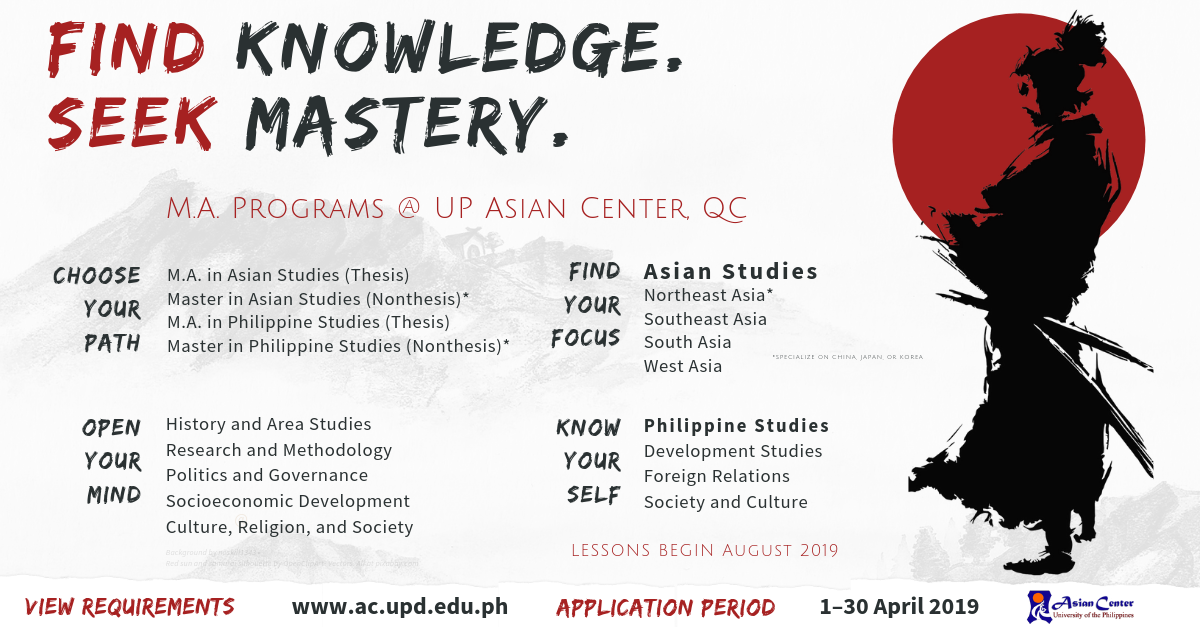 ---
The UP Asian Center now welcomes applications to its graduate programs on Asian Studies and on Philippines for the first semester, Academic Year 2019–2020, which starts in August 2019. Application period is from 1 April – 30 April 2019.
CHOOSE YOUR PATH
♦ Master of Arts in Asian Studies (Thesis)
♦ Master in Asian Studies (Nonthesis)
♦ Master of Arts in Philippine Studies (Thesis)
♦ Master in Philippine Studies (Nonthesis)
FIND YOUR FOCUS
♦ Asian Studies
◊ Northeast Asia (specialization on China, Japan, or Korea)
◊ Southeast Asia
◊ South Asia
◊ West Asia
KNOW YOURSELF
♦ Philippine Studies
◊ Development Studies
◊ Foreign Relations
◊ Society and Culture
OPEN YOUR MIND
♦ History and Area Studies
♦ Research and Methodology
♦ Politics and Governance
♦ Socioeconomic Development
♦ Culture, Religion, and Society
For inquiries, please email This email address is being protected from spambots. You need JavaScript enabled to view it. or call 981 8500 local 3578.
---
The Asian Center offers M.A. degrees in Asian Studies with four fields of specialization: Northeast Asia, Southeast Asia, South Asia, and West Asia. The Center also has an M.A. program in Philippine Studies that allows students to major in Philippine society and culture, Philippine foreign relations, or Philippine development studies. The Center offers a Ph.D. program in Philippine Studies in conjunction with the College of Arts and Letters and the College of Social Sciences and Philosophy. For an overview of these graduate programs, click here. The Asian Center also publishes Asian Studies: Journal of Critical Perspectives on Asia, the latest issue of which can be downloaded atthe journal's website. For other news and upcoming events at the Asian Center, click here.