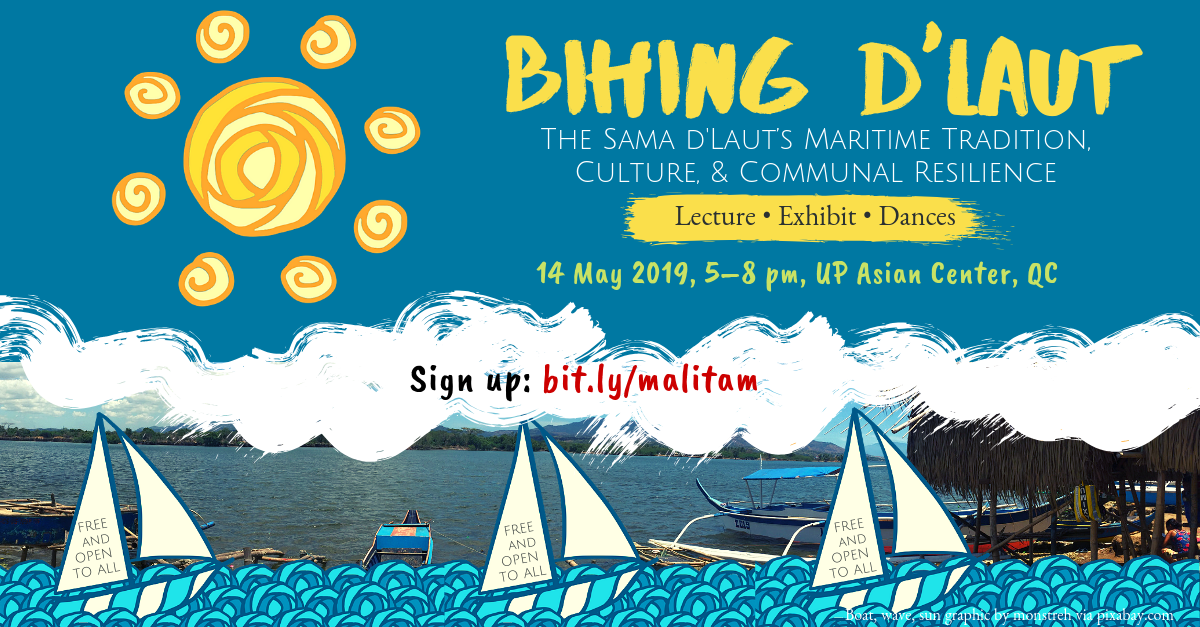 The students of Philippine Studies (PS) 201 of the UP Asian Center invite you to Bihing DiLaut: The Sama diLaut's Maritime Tradition, Culture, & Communal Resilience, on 14 May 2019, 5–8 pm, UP Asian Center, Quezon City. The event features a lecture on Sama Badjao, two performances of igal dances, and a photo exhibit. It is free and open to the public, but seating is first-come, first-served. Participants are encouraged to sign up
LIST OF ACTIVITIES
Diversity and Excellence in the Maritime Culture of Sama Badjao: A Lecture
In this presentation, Professor MCM Santamaria of the UP Asian Center will discuss ritual, music, and dance as cultural properties that exhibit diversity yet link various Sama Badjao communities in the southern Philippines and beyond.
Giving his reaction to the lecture is Mr. Sonny Aliman from the Sama DiLaut (Badjao) community in Batangas City, Philippines.
Sama D'Laut (Badjao) Dance: A Performance
Showcasing their culture is the Malitam Badjao Community Dance Group from Batangas City.
The Sama D'Laut in Batangas: Reflections from the Field and Photo Exhibit
Three students of PS 201 reflect on their visit to the Sama Bajau community in Barangay Malitam, Batangas City last April 2019. They will also put up photographs from their exhibit that showcase the everyday lives of the Sama Badjao community.
The students can accompany the participants as they walk around the exhibit hall, providing context to the photos, sharing background information, and the like.
Choreographed Igal Dance: A Performance
The Bunga Arts Link will showcase an igal performance. Spearheading the cultural event is the Bunga Arts Link (BAL) under the artistic direction of Dr. MCM Santamaria of the Asian Center, University of the Philippines Diliman. BAL is a group composed mostly of non Sama-Bajau researchers, writers, dancers and musicians engaged in the study of the igal dance tradition and in the production of contemporary choreographic creations.
Igal Interactive: A Dance Demonstration
Participants can take part in a demonstration of igal dance that will be conducted by the Malitam Badjao Community Dance Group and Bunga Arts Link.
ABOUT THE ORGANIZERS
This event is organized by the students of Philippine Studies (PS) 201: The Philippines in the Asia-Pacific under Dr. Henelito Sevilla, Jr., Assistant Professor at the Asian Center, University of the Philippines Diliman.
For inquiries, please email This email address is being protected from spambots. You need JavaScript enabled to view it. • View vicinity map.
---
The Asian Center offers M.A. degrees in Asian Studies with four fields of specialization: Northeast Asia, Southeast Asia, South Asia, and West Asia. The Center also has an M.A. program in Philippine Studies that allows students to major in Philippine society and culture, Philippine foreign relations, or Philippine development studies. The Center offers a Ph.D. program in Philippine Studies in conjunction with the College of Arts and Letters and the College of Social Sciences and Philosophy. For an overview of these graduate programs, click here. The Asian Center also publishes Asian Studies: Journal of Critical Perspectives on Asia, the latest issue of which can be downloaded at the journal's website. For other news and upcoming events at the Asian Center, clickhere.