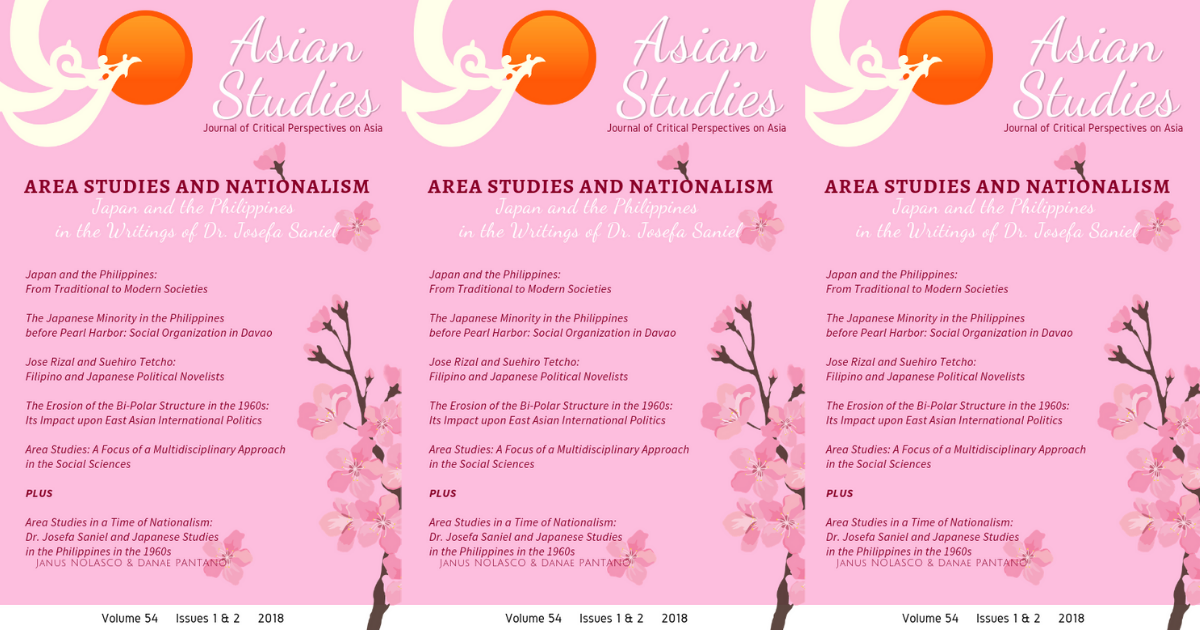 Asian Studies: Journal of Critical Perspectives on Asia — published since 1963 by the Asian Center, University of the Philippines Diliman—has released special issue featuring the works of Dr. Josefa Saniel, former Dean and now Professor Emeritus of the UP Asian Center. The issue reprints five previously published articles in the journal, and comes with a tribute essay written by Mr. Janus Nolasco and Ms. Danae Pantano, University Researcher I and University Research Associate II, respectively of the UP Asian Center.
Below are the contents of the issue
INTRODUCTION
Introduction
Maria Cecilia T. MEDINA and Janus NOLASCO
TRIBUTE ESSAY
Area Studies in a Time of Nationalism: Dr. Josefa Saniel and Japanese Studies in the Philippines in the 1960s
Janus NOLASCO and Danae PANTANO
ARTICLES
Japan and the Philippines: From Traditional to Modern Societies
The Japanese Minority in The Philippines Before Pearl Harbor: Social Organization in Davao
Jose Rizal and Suehiro Tetcho: Filipino and Japanese Political Novelists

The Erosion of the Bi-polar Power Structure in the 1960's: Its Impact Upon East Asian Countries

Area Studies: A Focus of the Multidisciplinary Approach in the Social Sciences
SELECTED PUBLICATIONS OF DR. SANIEL

List of Selected Publications of Dr. Josefa Saniel
PANTANO, Danae

---
The Asian Center offers M.A. degrees in Asian Studies with four fields of specialization: Northeast Asia, Southeast Asia, South Asia, and West Asia. The Center also has an M.A. program in Philippine Studies that allows students to major in Philippine society and culture, Philippine foreign relations, or Philippine development studies. The Center offers a Ph.D. program in Philippine Studies in conjunction with the College of Arts and Letters and the College of Social Sciences and Philosophy. For an overview of these graduate programs, click here. The Asian Center also publishes Asian Studies: Journal of Critical Perspectives on Asia, the latest issue of which can be downloaded at the journal's website. For other news and upcoming events at the Asian Center, click here.