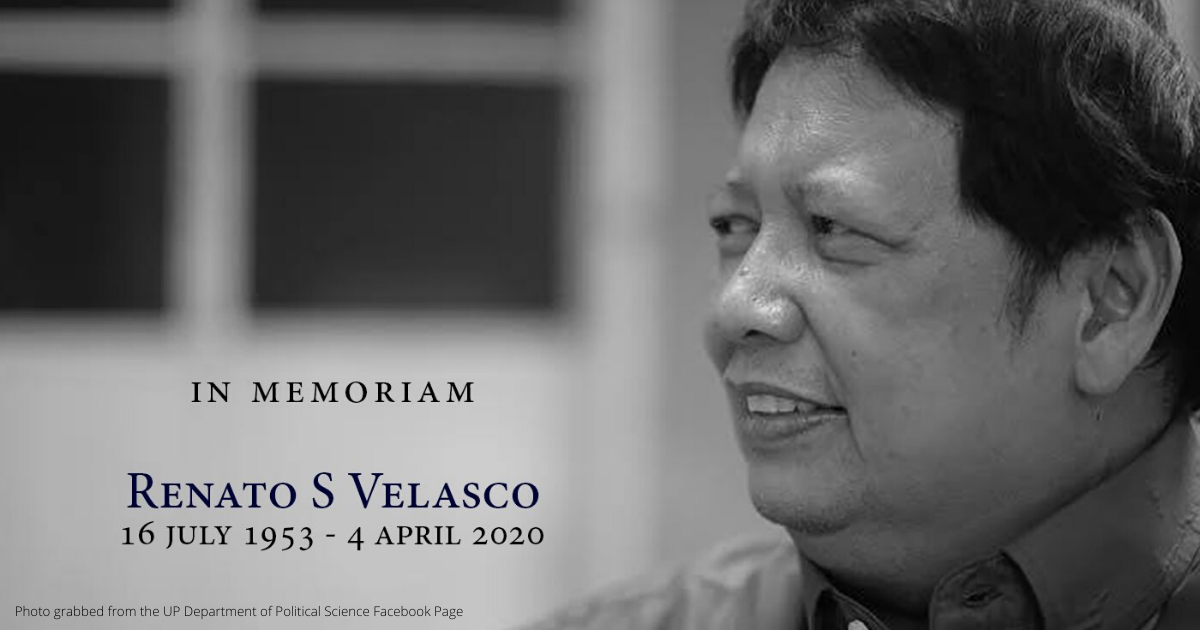 Dr. Renato S. Velasco, alumnus of the UP Asian Center, passed away last 4 April 2020, at the age of 66.
Dr. Velasco obtained his MA in Asian Studies from the college in 1985. Prior to this, he finished cum laude upon graduating with AB History from the University of the Philippines. He obtained his PhD in Political Science also from UP. He was remembered as a "star student" by one of his former political science professors, Dr. Clarita Carlos (Rappler). He also obtained a Monbusho (Japanese Ministry of Education) scholarship at the University of Tokyo (The Manila Times).
Dr. Velasco was an activist in his student days (Manila Times), seeking suffrage for freshment students and winning and serving as council representative of the College and Arts and Sciences. He later entered the academe and taught courses on, among others, "Philippine politics, comparative politics and political dynamics" (Iskwiki) at the UP Department of Political Science, where he was associate professor. He was also editor of the UP Newsletter under UP President Edgardo Angara. He also taught at the Department of Social Sciences, University of the Philippines Manila.
Dr. Velasco's publications include chapters in various pollical science books such as "The Philippines" (1999) in Democracy, Governance and Economic Performance: East and Southeast Asia by Ian March, Jean Blondel and Takashi Inoguchi (Tokyo: United Nations University Press); and "Parties, Elections and Democratization in Post-Martial Law Philippines" in Philippine Politics and Governance: An Introduction by Noel M. Morada and Teresa Encarnacion-Tadem (Quezon City: UP Press, 2008).
In the latter, he analyzed the role of political parties in policy making and highlighted their limitations because of their nature: "Their low level of institutionalization restricts their ability to be agents of policy aggregation and social mobilization. They are essentially parties of notables whose main support is drawn from political elites. Most of them were set up primarily to serve the presidential ambition of its founders, who in turn direct and control most of the policies and activities of these organizations."
Other writings include his master's thesis, Fifty Years of Filipino Economic Nationalism: the National Economic Protectionism Association (NEPA) 1934-1984, (1985); China's Export-Led Growth: Policies, Impacts, and Lessons, (1994), written with Ma. Theresa Carino, Patricia Ann V. Paez; The Philippine Legislature Reader (1989), co-edited with Sylvano Mahiwo and to which he contributed, "Campaign Tactics in the 1987 Legislative Elections; and The Politics of Philippine Debt, 1986–1990 (1992). He also published The Japanese Occupation in Malaya and in the Philippines: The Chinese Factor (1990) in Asian Studies: Journal of Critical Perspectives on Asia.
Dr. Velasco held top positions in the government and other institutions. He was a former Director of the Philippine Information Agency (PIA) under the term of Pres. Gloria Macapagal Arroyo, whom he also served as Chief of Staff when she was a senator. As its former leader, his legacy in the PIA was the head who "steered PIA with his unique brand of firm yet compassionate and intelligent leadership; a humble and generous dedicated public servant who sees the potential of young leaders and encourages them to excel in the work that they do" (Rappler). He also became the deputy chief of the Presidential Management Staff, under same president, and once served as Chief of Staff of Mar Roxas when he was a congressman. He also had worked as Assistant Secretary of the Department of Social Welfare and Development
He was also a top official of the Technical Education and Skills Development Authority (TESDA). Over the years, he also served in the Alternative Fuels Corporation of the Philippine National Oil Company, the Development Bank of the Philippines, John Hay and Port Point Development Corporation, and the PNOC-Exploration Corporation (Rappler).
Dr. Velasco was also president of the Association of Philippine-China Understanding (APCU). His passing was lamented as a loss in the academic community that seeks to further improve relations between the two countries (Rappler). He was honored via a Zoom meeting of the UP Alpha Sigma Alumni Association.
---
The Asian Center offers M.A. degrees in Asian Studies with four fields of specialization: Northeast Asia, Southeast Asia, South Asia, and West Asia. The Center also has an M.A. program in Philippine Studies that allows students to major in Philippine society and culture, Philippine foreign relations, or Philippine development studies. The Center offers a Ph.D. program in Philippine Studies in conjunction with the College of Arts and Letters and the College of Social Sciences and Philosophy. For an overview of these graduate programs, click here. The Asian Center also publishes Asian Studies: Journal of Critical Perspectives on Asia.