Sabang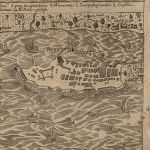 CONTACT: HOW CAN WE HELP YOU?

Please direct all inquiries to the Conference Secretariat via email:
This email address is being protected from spambots. You need JavaScript enabled to view it.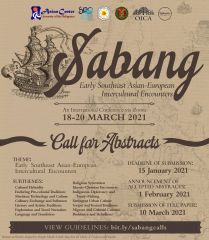 ABOUT THE CONFERENCE
The word "Sabang" in Visayan and several other Philippine languages refers to the juncture of bodies of water; it encapsulates the meeting of cultures and the centrality of the Philippines in Southeast Asia-Europe exchanges. "Sabang: Early Southeast Asian-European Intercultural Encounters" aims to discuss the varied cultural legacies of this encounter.
While the conference's inspiration draws primarily from the Philippine-Spanish experience, it also seeks presentations on and from neighboring Southeast Asian countries that:
Highlight similarities and differences with the Philippine experience

Employ inter- and trans-disciplinary approaches to understand cultural exchange and hybridity
---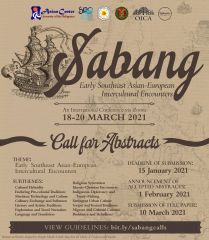 RATIONALE
The Philippines' entanglement with Hispanic and Hispanicized cultures from the sixteenth century facilitated the flow and exhange of goods and ideas to and from Asia, on the one hand and the Americas and Europe, on the other. The Philippines, Manila in particular, played a crucial role not only as an important trans-shipment point for American silver, Chinese porcelain, textiles, and other products, but also as a melting pot of cultures. The 500th anniversary of the Philippine-Spanish encounter provides an opportune moment to analyze and reflect on the vaunted yet largely understudied intercultural encounters between Europe and Asia.
---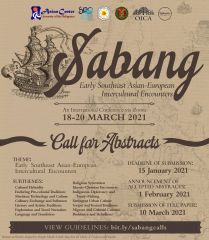 ORGANIZERS
Asian Center, University of the Philippines Diliman
National Historical Commission of the Philippines
Office of the Initiative for Culture and the Arts, University of the Philippines Diliman


CONFERENCE CHAIRS
Ariel Lopez, PhD, Assistant Professor, Asian Center, University of the Philippines Diliman
Noel Christian Moratilla, PhD, Assistant Professor, Asian Center, University of the Philippines Diliman