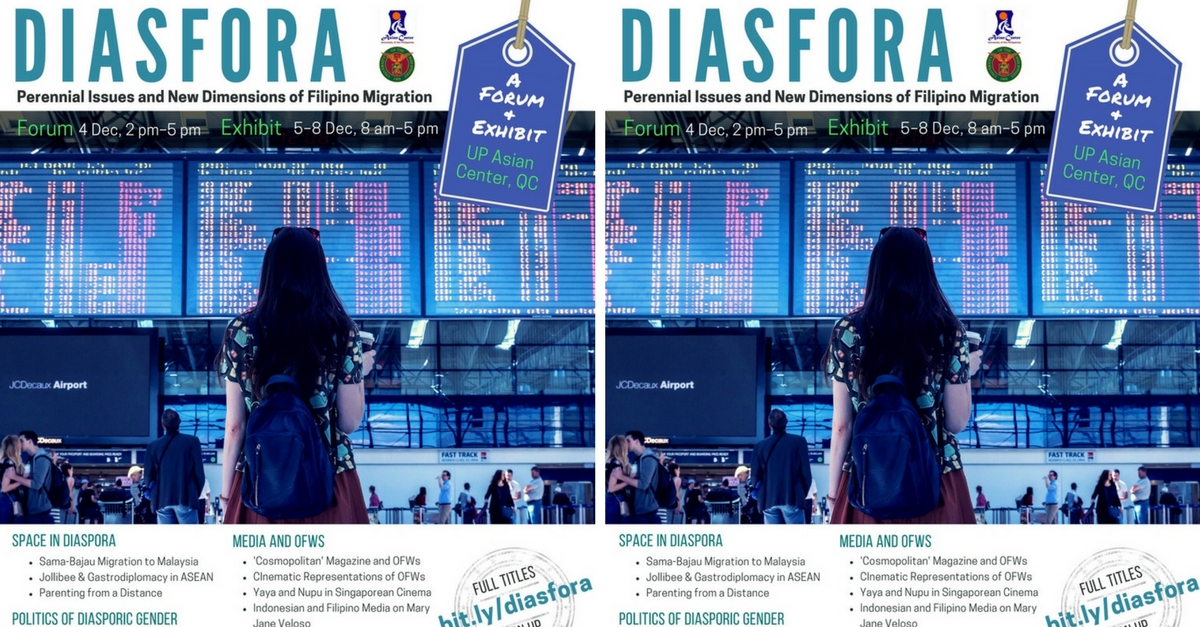 ---
Take a closer look at the contemporary Filipino diaspora at a forum and exhibit, DiasFora: Perennial Issues and New Dimensions of Filipino Migration, from December 4 to 8, Philippines Hall, UP Asian Center, Quezon City.
The forum will be held on 4 December, 2017, 2:00 pm to 5:00pm, while the exhibit will be open from 5 December to 8 December, 8:00 am to 5:00 pm, both the Philippines Hall. Both the forum and the research exhibit are free and open to the public, but interested participants are requested to sign up.
ABOUT THE FORUM AND PROGRAM
On 4 December, graduate students of the Philippine Studies (PS) 216 class under Dean Santarita will present their research, through posters, on various facets of the Filipino diaspora.
The forum will start at 2:00 pm with a keynote address, after which the students will discuss their own research. Once all the studies have been presented, attendees are welcome to go around the exhibit hall, approach a specific poster, and engage the students with questions.
The presentations are divided into three themes/panels:
SPACE IN DIASPORA
POLITICS OF DIASPORIC GENDER
THE FILIPINO DIASPORA in MEDIA and CINEMA
ABOUT THE EXHIBIT
The posters will be available for public viewing from 5 to 8 December, 8:00 am to 5:00 pm, Philippines Hall, UP Asian Center, QC. 
ABOUT PS 216 and DEAN SANTARITA
Philippine Studies 216: The Filipino Diaspora is one of the graduate courses on Philippine Studies offered by the UP Asian Center's MA programs in Philippine Studies. The course description of PS 216 is as follows: "the concept of "diaspora" as a product of Philippine migration experience, understood via multidisciplinary perspectives, models and approaches. The course examines "Philippine existence" beyond the borders of the modern nation-state, visits selected diasporic sites, and studies location-specific issues and challenges."
Dean Santarita specializes in Indian studies, migration studies, Philippine culture and society, maritime history and Southeast Asian political economy. Dr. Santarita, who obtained his Ph.D. in South Asian Studies from the National University of Singapore, handles several graduate courses at the UP Asian Center, including those on Regionalism and Community Building in Asia, Modern Asia, and Asia in Antiquity, among others. 
VENUE And VICINITY MAP
Vehicles entering the UP Asian Center (GT-Toyota Asian Cultural Center) grounds can only do so via the gate on Magsaysay Avenue that is near a UP guardhouse, a few meters away from Katipunan Avenue, and across Maynilad. A small gate for pedestrians on Guerrero St. lies across the College of Law parking lot and a few meters away from a waiting shed, where the Ikot jeepney, and jeepneys from Philcoa and SM North pass by. VIEW VICINITY MAP and GOOGLE STREET VIEW
INQUIRIES And ATTENDANCE
If you are planning to come with/as a big group (a class or delegation), please inform us the number of participants at  This email address is being protected from spambots. You need JavaScript enabled to view it.. It would also be best if their names could be registered online or if you could send us a list of their names. 
YOU MAY BE INTERESTED
---
The UP Asian Center offers M.A. degrees in Asian Studies with four fields of specialization: Northeast Asia, Southeast Asia, South Asia, and West Asia. The Center also has an M.A. program in Philippine Studies that allows students to major in Philippine society and culture, Philippine foreign relations, or Philippine development studies. The Center offers a Ph.D. program in Philippine Studies in conjunction with the College of Arts and Letters and the College of Social Sciences and Philosophy. Get an overview of these programs. The Asian Center also houses a peer-reviewed, open-access journal, Asian Studies: Journal of Critical Perspectives on Asia. It has published several books and monographs, and hosts or organizes various lectures and conferences.